This morning's sunrise was unmanageable with the tiny sensor and the somewhat limited dynamic range of my modest Canon G11. I have nothing but praise for this camera, considering that I am a relatively poor person. We just bought our first new car in nearly twelve years. I'd like to purchase a camera which would cost, with lenses, nearly a third of the price of our new Nissan Navara. That would be patently insane. Therefore, I squeeze the lemon. I do not, in any way, resent being relatively impoverished. I certainly live as a rich man here in Paradise, so why should I complain? I can't afford an expensive car. Where would I drive it? I don't own a Rolex. I don't own any watch. Why would I need one? In Paradise, things happen when they happen. I am rich beyond my wildest dreams of three or four decades past. It's a richness that money can't buy.
Anyway, the contrast ratio between the sun and the clouds was greater than any camera can handle. Only the human eye can deal with these conditions. I began to wonder if I might use that to my advantage. What if I could turn day into night?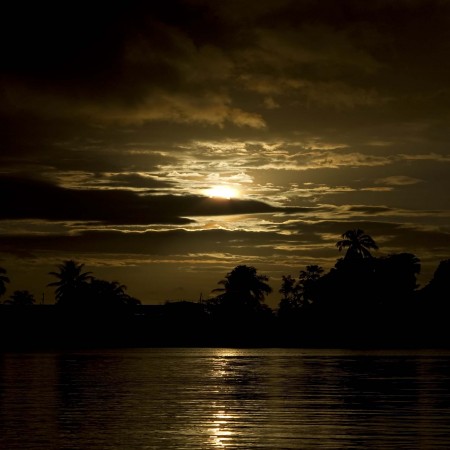 Well, it's not totally convincing, but the general effect is pleasing.
When I turned around and saw the morning sun lighting up our house and the garden all I could think was, "Wow. Gotta have that shot!":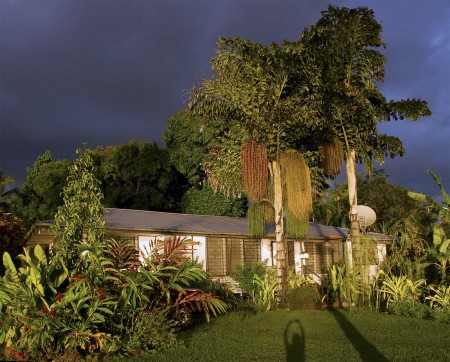 Too bad about that ugly TV satellite dish spoiling the shot. It's tacky. I should Photoshop it out. What's amusing about this shot is that you can see my shadow. I'm like the ghost appearing in the hall of the mansion. I held my trusty G11 up as high as I could to get just the right angle. The other shadow is one of our coconut trees.
Down at the water's edge I could not resist yet another shot of one of my favourite plants commonly called the Sensitive Plant or the Tickle-Me Plant (Mimosa pudica):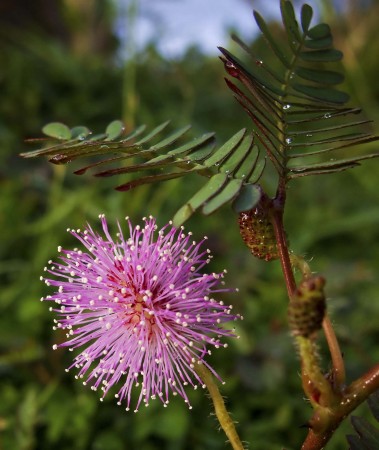 Its flowers remind me a cheer-leader's pom-poms and the leaves fold up magically if you touch them.
Half a lifetime ago, I never dreamed that I would live the rest of my life in a place where I would have orchids growing in my yard: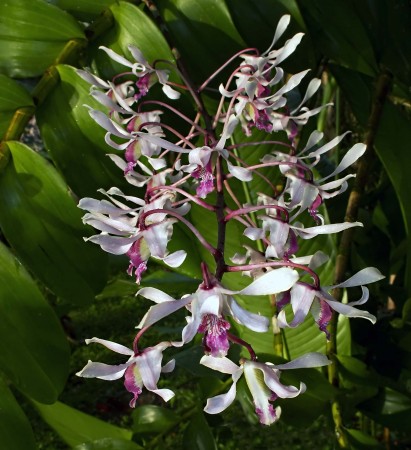 Life can be full of surprises. Let it flow, baby, let it flow.
Even the now familiar orange lilies were decked out in their sparkly caps of morning dew: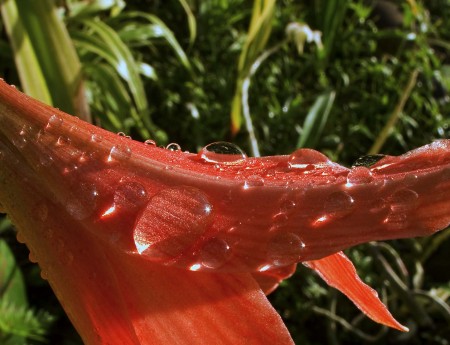 I will never tire of shooting water drops. There's a purity of imagery there which is difficult to top. Less is more.
Today is about images. I suppose that you've guessed that already. I enjoy letting the images speak, because images can speak more eloquently than words, at least my words. I was hunting for my wonderful green spiders who frequent the yellow flowers forever blooming in our garden. They have been curiously absent recently. Today I found one laying in wait for a meal: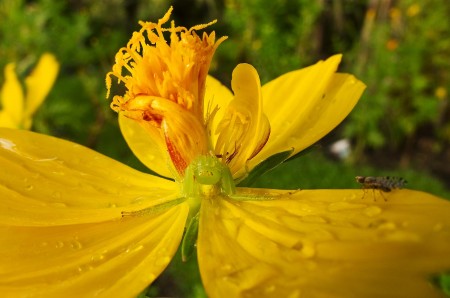 Does the fly sense danger? I think not. The spider is designed to be covert. Its posture mimics the shape of the flower.
Even as the spider slowly moved its legs to conform more closely to the contours of the flower, the fly approached: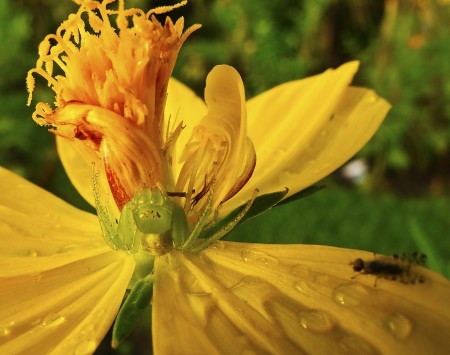 And then the fly flew. Was the spider disappointed? I doubt that a spider thinks much about disappointment. It's a waiting game. Patience is the key. The occasional meal will suffice. Would that we had such patience.
Yes, the spider waits and my attention is focused upon it. My concern is the perfect image. The spider is takes no note of me. Even as I hold the stem of the flower to adjust the angle, the spider is unconcerned: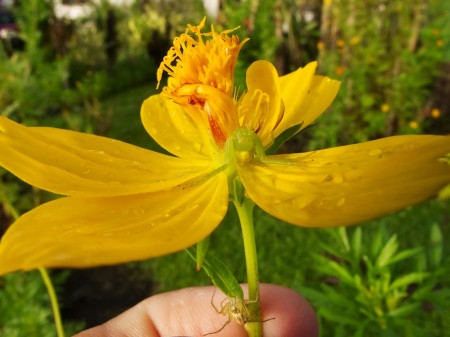 My concentration prevented me from noticing, until I had this shot on the screen, the other spider, which had completely escaped my attention.
How much we miss when we concentrate on one thing!
Tags:
fly
,
lily
,
Mimosa pudica
,
orange lily
,
orchid
,
orchids
,
sensitive plant
,
spider
,
sunrise
,
tickle-me plant
,
water drops