Posted in
Under the Sea
on July 19th, 2010 by MadDog
Here is the way I like to see Faded Glory's anchor. This is a shot from The Eel Garden near Pig Island. There is a big sandy bowl there which makes a good anchorage. You can safely drop anchor there with no worry of damaging any coral. Coral damage when anchoring is a constant worry for us. Fortunately, we can usually see the bottom clearly and find a bare rock or sandy spot in which to drop anchor. After getting in the water, we always check the lay of the anchor to make sure that we will inflict no damage.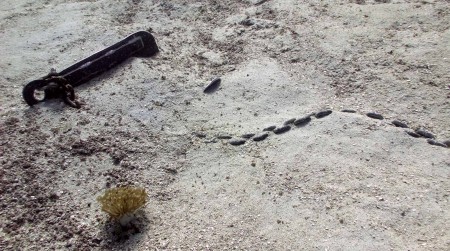 Nevertheless, there is sometimes broken coral. We have no money to put in proper moorings at dive sites. A few years ago we all contributed to having about a dozen stainless steel hooks drilled into the reefs. There were to be floating buoys on each site. We could tie up to these buoys and avoid dropping anchors on the reef. Withing weeks, all of the floats on the buoys had been stolen. At the present time there is only one buoyed dive site, The Green Dragon B-25 bomber.
Local divers have no money to do this. All we can do is be as careful as possible. Several representatives of so-called environmental organisations who claim to want to do wonderful things to "save the reefs" have sat in my office and extolled the virtues of their efforts. I have yet to find any of them who will actually come forward with the funds to provide proper facilities to protect the dive sites from anchor damage. Talking to school kids is fun and it's cheap. In my opinion, it is about as effective as spitting on a forest fire. When am I going to find an environmental organisation which is ready to put its money where its mouth is?
That's enough rage for a Monday morning.
This is Fire Coral. It's name is not a joke: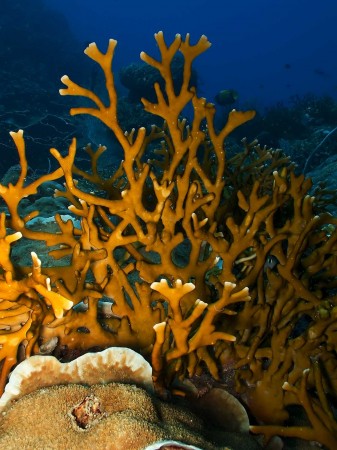 Back when I was young and exuding clouds of testosterone fumes, I enjoyed the macho look of diving without a wet suit. I had a little more blubber as protection from the chill then. Our water averages about 28-29° C, so as long as you keep active, you don't get cold. I remember a few times when I inadvertently brushed against fire coral. It is a distinctly unpleasant experience. If I had to describe it, I would say that is not unlike having been mauled by a tiger and then getting someone to pour vinegar into the wounds. It will get your attention.
Way down in the bottom of the sandy bowl at The Eel Garden is a Bulb Anemone (Entacmaea quadricolor) which I have been photographing for several years: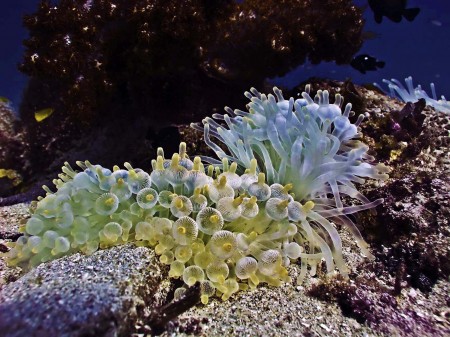 Th odd thing about this anemone is how it changes colours. Sometimes it looks sick. I remember when we used to keep a salt water aquarium. I would bring back anemones and keep them in the tank until they began to look a little tired. Then I would put the back where I got them. After a while, they would regain their original healthy look. Finally I got tired of all the work and guilty about all the stress I was causing to poor critters which had done nothing but give me pleasure. I gave the tank away and decided to look and not touch.
I don't know why these Sea Squirts (Phallusia julinea) are so outrageously yellow. I photograph them often because they always make an interesting image: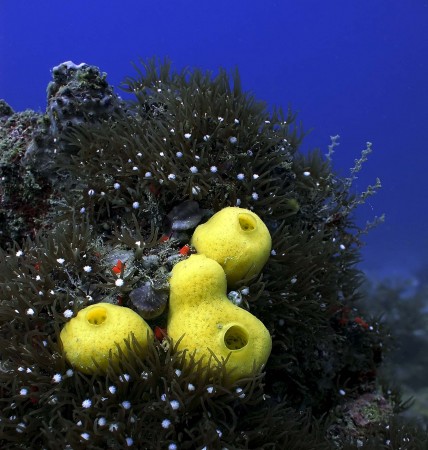 In this shot I used a very throttled-back flash to lighten up the foreground and allow the background to appear darker. I'm discovering many new techniques as I get bored with doing the same thing week after week. It reminds me of when I bought a new Corvette back in our rich days. Every month I drove it faster. Finally I got a speeding ticket and decided to sell it. What I'm doing now is much safer.
I love the colour contrasts in this shot of a Red and Black Anemonefish (Amphiprion melanopus):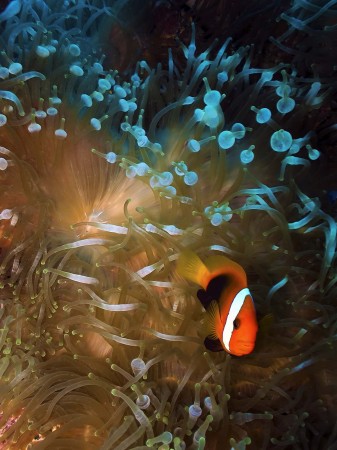 It one of the effects that I'm working on. I want to get some contrast between the artificial sunlight from the flash and the saturated aqua and blue shades of the water at deeper stages of the dive.
One of the things which I have always loved about photography is that there are a gozillion ways to take a picture of the same thing. How may ways could you photograph a tree? It fascinates me. After years of shooting underwater, I'm now getting bored enough by it to start exploring seriously. It's going to be an interesting ride.
Tags:
Amphiprion melanopus
,
anchor
,
Bulb Anemone
,
eel garden
,
Entacmaea quadricolor
,
faded glory
,
fire coral
,
Phallusia julinea
,
pig island
,
Red and Black Anemonefish
,
sea squirt