The ladies predominated the numbers on the boat today by three to one. We had five divers in the water today at The Eel Garden near Pig Island.   I got some pretty pictures of marine critters and a couple of nice shots of two of my favourite models. This morning it looked like a rain-out. The sky was dismal and the sea was up. By 10:00 the sun was out, but it was still a bumpy ride. I'm all worn out from the day's fun, so I'll spare you a lot of my usual senseless chatter.
We went Triggerfish hunting, which can be a risky sport, but there were none around. I had thought to give the ladies a thrill, but the fish were not cooperating. Down at the bottom of the sandy bowl, I found one of my favourite anemones with a pair of Red and Black Anemonefish (Amphiprion melanopus) staying close to their Bulb Anemone host Entacmaea quadricolor: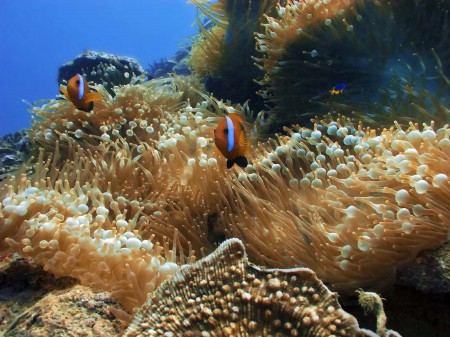 I've been photographing this same anemone for years. Every picture is different. How could I get bored with it? These are very likely females.
Down on the catamaran, the underwater fashion shoot was all set up. The water was clear and the light was right. Geneviève Tremblay took her turn first: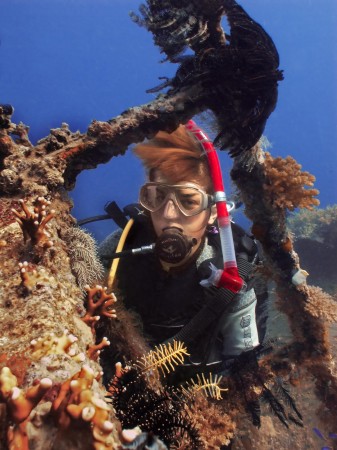 I don't think that I have to tell you that Geneviève is female.
About that time a huge school of Purple Anthea females (Pseudanthias tuka) came rushing past: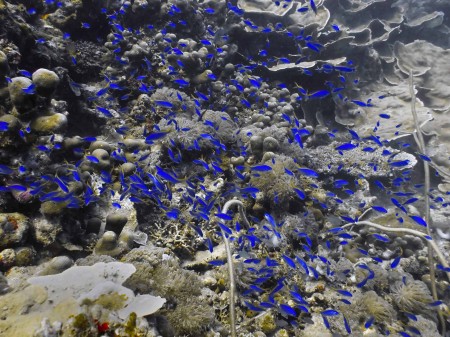 What's going on here?
The next thing I see is Ush doing a "Tiger Ambush" pose: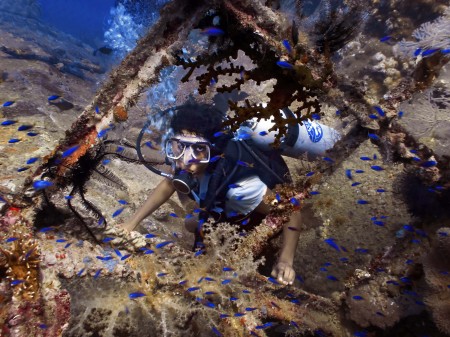 Need I mention that it is a female tiger?
I have no idea if this pretty little Starfish (Fromia nodosa) is female or not. In fact, my science fact bin is empty. I can't remember if there are male and female starfish and I'm far too tired to care: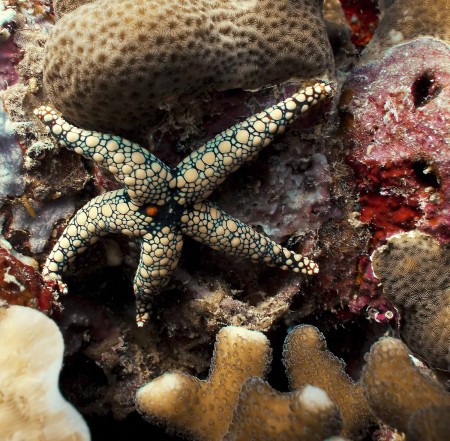 It certainly looks feminine.
That's it. I'm finished.
Tags:
Amphiprion melanopus
,
Bulb Anemone
,
eel garden
,
Entacmaea quadricolor
,
fromia nodosa
,
geneviève tremblay
,
pig island
,
pseudanthias tuka
,
purple anthea
,
Red and Black Anemonefish
,
starfish
,
ush