Today's post will be as brief as yesterday's because it's been another grueling day of frantic activity and anxiety. It seemed to be starting off as badly as the last few days, but turned out very nicely.
Here is Eunie ensconced in her luxurious boudoir of the Cairns Private Hospital. Yes, she is still yellow, but at least we know what is causing it: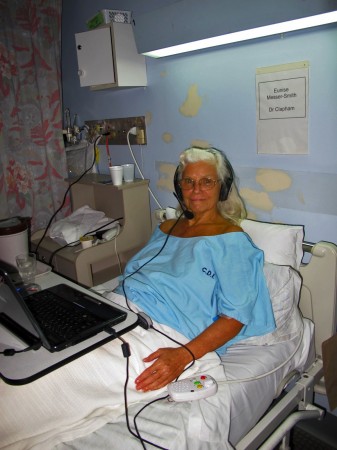 It seems that she has a blocked bile duct. She will stay in the hospital until about Saturday while they get her pain medication adjusted and make sure she's okay otherwise. Then she will come back to the apartment with me until next Wednesday. On Thursday, the surgeon will install a stent in the bile duct and (or) remove the gall bladder. The prognosis is very good.
We haven't been told yet how long she will have to stay in Cairns. We should know that next week