Posted in
Mixed Nuts
on August 6th, 2010 by MadDog
I never planned to discuss medical matters of any kind here, because I had this silly idea that just because we have always been as healthy as horses, we would probably just drop dead sometime and never really have to be sick. How nice that would be. Well, you've seen bright yellow Eunie yesterday.
Here is what the sunrise looked in Cairns this morning before the day's load of stuff hit the fan: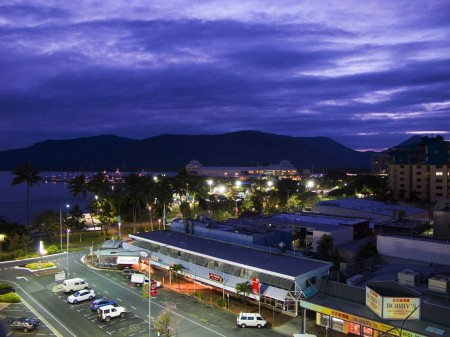 As reported yesterday, Eunie has a constricted common bile duct leading into her small intestine. This is what is causing bile, the bright yellow pigment, to back up into her liver and make her a sickie. There are two ways to fix this. If they find gall stones on next Thursday, they will pretty much stop and wait a week and then remove her gall bladder. This is the preferred outcome for us. PRAY FOR GALL STONES!  If it it something else restricting the flow, the will put in a thing called a stent, which will enlarge the opening. The problem with this is that it has to be cleaned or replaced at least once a year. This is NOT the preferred outcome.
Here is a mob of fruit bats (flying foxes) in a tree near the Cairns Private Hospital. They tried their best to drop their fragrant fruit bombs on me, but I dodged every one. They look just like the ones we have in Madang: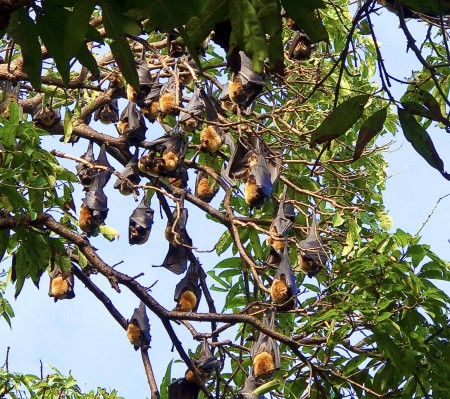 The sight of them and their constant screeching was comforting.
Today's post will be a short one, because I'm wasted. Here is the sunset from the hospital window: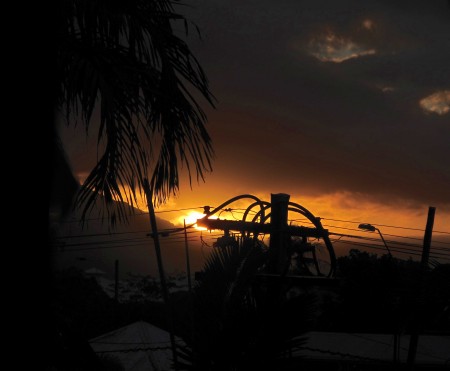 I leave you with this request. If you are the praying kind, please pray for GALL STONES!  If praying isn't your bag, then please THINK of gall stones.