Posted in
Mixed Nuts
on August 17th, 2010 by MadDog
Well, as much as I find it discouraging, it is proving impossible for me to do daily posts. This is very irksome for me, as writing provides some down time and a bit of escape. I am hoping that once we settle down to some kind of routine, I will be able to set a time during the day when I can concentrate on my journal. I need it. Many enjoy reading it. I don't want its character to change. I need something stable in my life right now.
On Saturday night, we enjoyed the company of friends at the home of Tony and Lorraine Collins in Cairns. Recent developments with Eunie's health have placed us in Cairns for the unforeseeable future.
Here is the happy gang at the dinner table: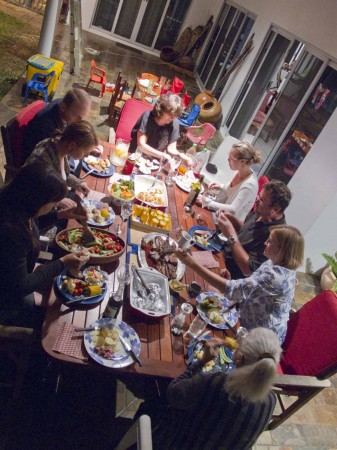 Eunie is on the close end of the table next to the empty spot. I was standing on a chair to take the shot. Tony's magnificent BBQ skills were in top form. I had some Rosemary Lamb that was ethereal.
Max provided the major entertainment for the evening with his incredible Celestron computer guided telescope: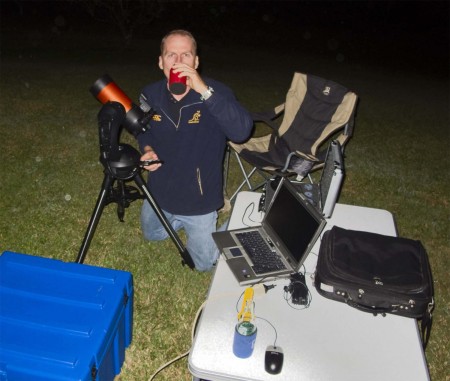 It took a while to get it set up. As you can see, it is thirsty work.
After viewing some fantastic images of the terminator line on the moon on his laptop screen, we retired back to the table to view and devour The Amazing Cake: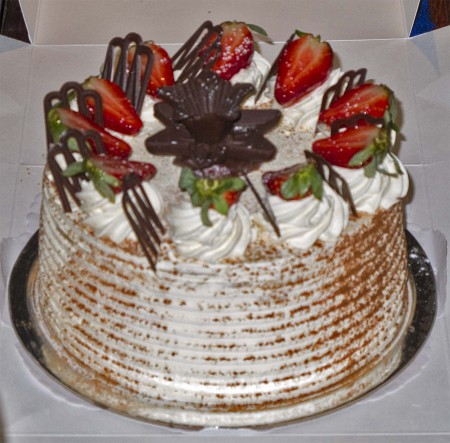 I've seen cakes like that in shop windows. I had no idea that they were actually meant to be eaten. It seems somehow wrong, like using a Rolls Royce to haul your junk to the landfill.
After decimating The Amazing Cake, the moon had retired and Max went looking for "other things":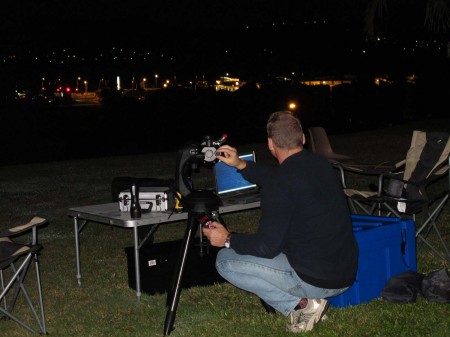 The best that he could come up with was a Woolworth's sign many kilometres away which filled the entire screen with the big, red letters, "Wool".
We are still waiting for more information. An oncologist from Brisbane is coming to Cairns on Thursday. We are expecting to see him then or the next day. The biopsy reports should be back by then. We are hoping that he will be prepared to recommend a course of treatment at that time. It looks most likely now that we will be in Australian for an extended period of time.
We desperately need to get our visas changed to Medical or we will need to leave the country in 90 days and return – a needless expense. We are hoping our credit cards will carry us until the insurance company begins to reimburse us for all of the medical costs, which have reached nearly A$10,000 already. We have to pay up front and wait until the insurance company pays us back.
I desperately wish I had good news, but we just have to play the cards as they are dealt.
I am astounded at the sheer mass of readers who have left comments, sent emails, or contacted me on Facebook (CrazyByChoice). I have always written about the relationship between me and Eunie and it appears that a lot of people other than me have come to love her also.
Peace to you, my friends.
Tags:
cairns
,
lorraine collins
,
telescope
,
tony collins