Posted in
Guest Shots
on August 18th, 2010 by MadDog
Regular readers will know that there is a lot going on in our lives that is not easy to deal with. At the end of this post, I'll give the latest news concerning Eunie's health situation. In the meantime, it's important to focus on positive thoughts and action. For me, aside from dealing with the immediate situation, I need to use the spare moments that I can find to keep Madang – Ples Bilong Mi what it has come to be. A diversion and source of amusement and freshness for myself and our readers.
A friend, Sue Fletcher, suggested that I might have a look at the photographic work of her granddaughter, Lindsey Butler. What a pleasant suggestion that turned out to be! I am very much interested in the work of young photographers. Many tend to be less interested in the technology and more focused on the imagery. To me, this is the very essence of photography. It is the image which speaks.
I asked Lindsey Butler to send to me a selection of photographs which she felt most defined style. I'm not going to comment on them. Lindsay has done an excellent job of doing so.
So, without further chatter from me, let's have a look at a Fresh Face in photography.
~  ~  ~  ~  ~  ~
I was taking a road trip through Brady, Texas and passed a beautiful railroad track in the middle of the country. It was drizzling, about to rain and I didn't want my camera to get wet so I was in a hurry and set the camera on the track. When I looked through the lens I saw my dog, so I set my self-timer and walked up to him. Never thought I would have captured such a neat image!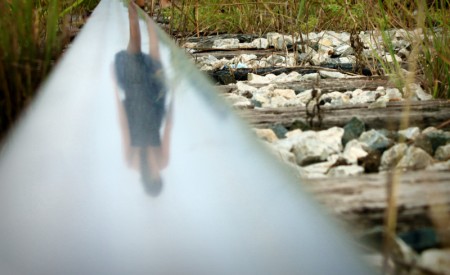 This is part of a barbed wire fence in San Angelo, Texas. If you have ever been to Texas, you should know how much barbed wire exists in this state. It really captured a pretty West Texas day. And being a West Texan made this photo special to me. I love the rust, and the open fields behind. I felt it really captured the freedom and openness of West Texas.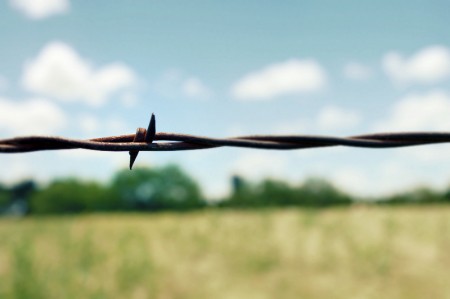 A little girl playing in her playhouse. I love this picture because it portrays the innocence of children. Today people forget to stop and appreciate life, everything moves so fast. I want to capture life as a piece of art, something you can treasure for years.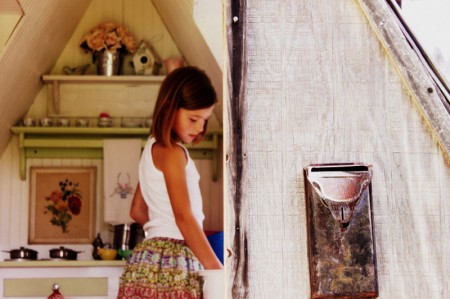 The fourth is one of my very favorites. I feel like I am more talented at capturing beautiful moments in life, and less at posing people into awkward positions. She is two-years-old and children are impossible to keep still at that age, so I just asked them to play and I would see what I could get. I was so happy to get the chance to photograph these two and the love and happiness they share. She is such a beautiful little girl!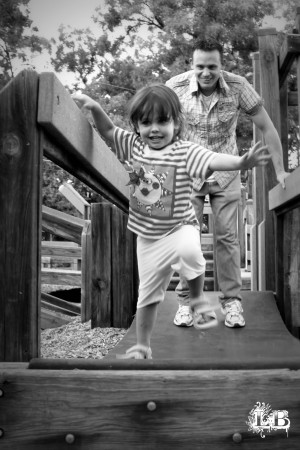 The fifth one, is also a favorite. Babies are so full of joy and smiles really are contagious. Every time I look at this picture I smile. Babies can sometimes be a challenge to photograph when they are awake because they jump and move so quickly. I think the trick is to catch them when they are happy and learn a couple of tricks to make them giggle. Luckily I have always had a way with babies and this one in particular is my niece!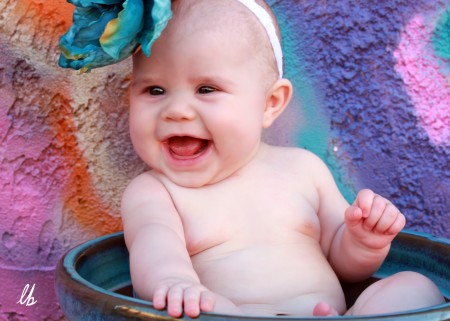 Angles! Angles! Angles! When I am taking pictures I always try to think outside the box and get in places I know I will get a good view. I will lay on the ground, stand on a car, or be two or three inches from a clients face. I think that is how you get good photographs. Otherwise, anyone could be a photographer. The trick is having an eye for it.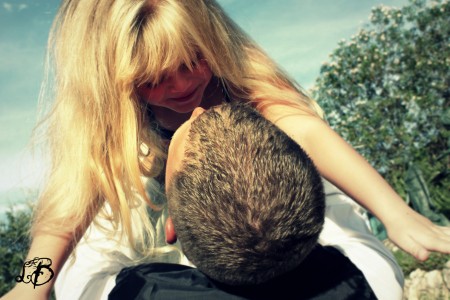 The last one I attached is of a father and son. While I mainly try to take more natural pictures I think it is important as a photographer to be able to get any type of picture. Again, I try to think outside of the box and get different kinds of posing ideas rather than the kind you took in school for the yearbook. Photographs should capture the person's soul, personality, and character.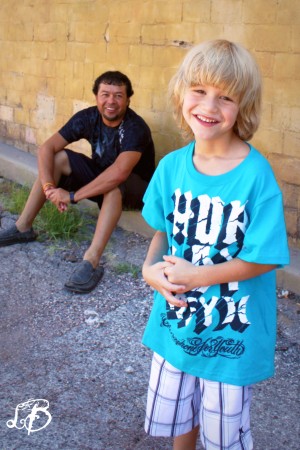 ~  ~  ~  ~  ~  ~
Well, that was certainly refreshing. Good for you, Lindsey. I'm glad that Sue suggested that I have a look at your work. I'm very happy to show your lovely images to our readers.
On to the news – there isn't any. We are awaiting here in Cairns, meetings with two oncologists. We will have no real direction until sometime next week. The waiting game is on.
Stay tuned.
Tags:
lindsey butler