Our dear friends Trevor Hattersly and Karen Simmons came yesterday to stay with us for the weekend. What a pleasure it is to have them here. I'll talk more about why at the end of the post.
While I'm at it, I'll explain my tactic for keeping Madang – Ples Bilong Mi a pleasant place to visit while still giving information concerning Eunie's medical condition. I'll present my usual weirdness in the beginning of each post. Casual readers can, as usual, like it or not, according to their tastes. At the end each post I will give any news concerning Eunie. This seems to be the best way to keep the character of the journal as it has been in the past, while still giving out information which is of concern to some readers.
So, if you're here for the distraction or frivolity, read as far as you like and then go your happy way. If you're here for the news, try to wade through my craziness and continue to read to the end.
My assignment yesterday evening was to deliver some terribly technical photographic instruction to Karen, who wanted to be able to use her Olympus SP590UZ camera more creatively. Since I'm not a "press that button and don't ask questions" kind of guy, it required a nighttime field trip to demonstrate the techniques.
Our first stop was in the hotel lobby to talk about low light, slow shutter speeds and white balance: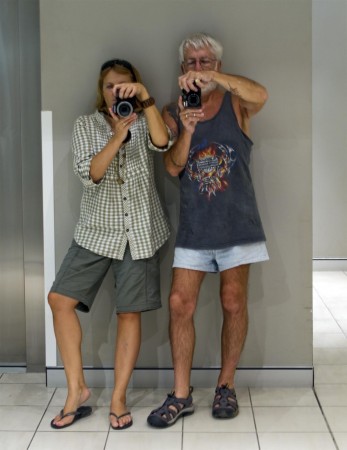 I can't believe how funky my shoes look.
Those shoes are not me!
Karen's pose seems to imply intense concentration. Today, I'll present the images which I took. Tomorrow, Karen will be our Guest Shooter with the images from her camera.
Our first street expedience was to talk about camera bracing and the use of slow shutter speeds to get interesting motion blur effects. Here I braced my Canon G11 on top of the rear view mirror of a car and waited for Karen to tell me when vehicles were coming so that I could get some blurred tail lights: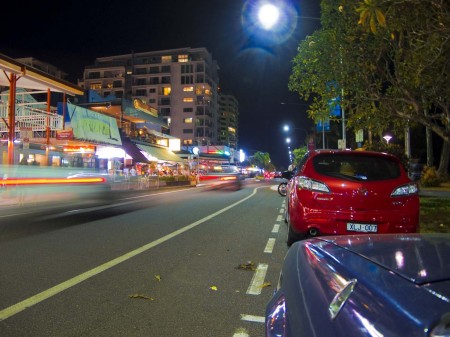 The blurring of the cars changes what would be a pretty ordinary image into something a little more dynamic. This was a one second exposure.
Still on the subject of motion blur and slow shutter speeds, we moved over to the ocean side of the Esplinade along the sea wall to catch some Phantom Walkers, also shot at a slow shutter speed with the camera sitting on a sign post: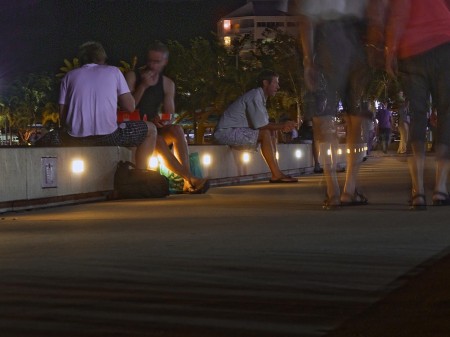 People who were sitting relatively still are sharply defined. Those who were moving are blurred. It's not rocket science.
All modern digital cameras have a variety of "Scene" settings. Some of these are very useful, because you can't easily set the camera up manually to create the same effect. On this one we used the "Night Snapshot" setting on the G11 to get Karen sitting primly by the swimming pool with the fountain in the background: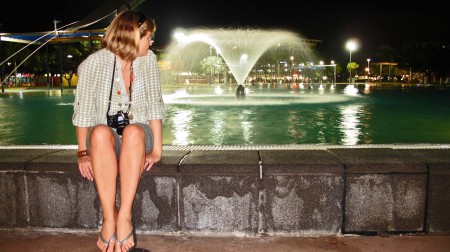 For this setting the camera needs to be braced or on a tripod to keep the background from blurring. The total exposure time was probably a half second or more, so the camera must be held absolutely still for that period of time. At the end of the exposure, the flash goes off, hopefully properly exposing the foreground. One can get some very interesting shots with this setting.
On our way back to the apartment, we were startled out of our wits by the sudden appearance of two tiny UFOs, which whizzed past us up Aplin Street heading in the direction of the outback: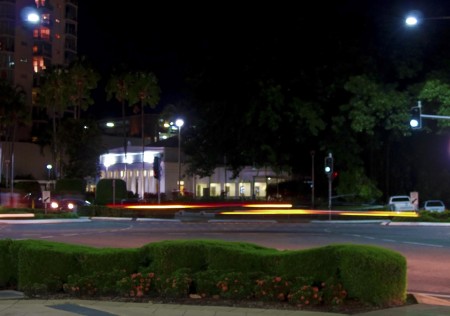 They were accompanied by weird "wa-wa-wa-wa-wa-wa" noises that faded away into the warm tropical night leaving behind an ominous silence. We waited in intense anxiety for a second or two and then went upstairs. "I don't think they noticed us." was my cautious comment.
The final lesson of the evening was a nice little panorama of Cairns at night, at least the part that we can see from the balcony:

All in all, a very pleasant experience. Karen seemed quite pleased to see what she could do with her camera. There will be more lessons later.
~ ~ ~ ~ ~ ~ ~ ~ ~ ~ ~ ~
Tonight, at the unusual hour of 21:00 we will be seeing a top-notch oncologist at the office of our surgeon. The oncologist operates out of Brisbane at a hospital which specialises in these disorders. Our hope is that he will tell us that Brisbane is our best logistical option. We have excellent support near Brisbane. Trevor and Karen's presence here this weekend is a genuine blessing. Karen spent the afternoon yesterday investigating on the web information that Eunie needs, but I simply cannot deal with at the moment.
Tags:
cairns
,
canon g11
,
karen simmons
,
olympus SP-590uz
,
ufo