Today was a good day, because we would be very alone without our friends and two of our best are here with us in a time of need. Yesterday I worked a bit in the afternoon and later in the evening with Karen Simmons, who has a very nice Olympus SP590UZ camera, but wanted to learn how to do some things a little more exciting than snapshots. I was only too happy to oblige.
We started out on the balcony with lessons about shutter speed and aperture, probably the two most important fundamentals one needs to understand about a camera. It's not rocket science, but they are things which casual shooters are probably not thinking about.
After a while, Karen was understanding it all, but getting restless. We started on the fancy options of her camera. One is a highly tricked-out panorama mode which actually builds the shot inside the camera so that you don't have to fiddle with it in Photoshop. You just download the finished image onto your computer:

That's a very respectable image of the Cairns Marina from the balcony of the apartment. So far, so good. We're into the advanced shots already.
Of course, we had to go down into the streets in the evening for the really fun shots, such as this UFO candidate which is actually the blurred lights of a passing car. Once Karen started to use the shutter speed priority setting on the camera to select a very slow shutter and she learned to brace the camera securely, she was able to take shots such as this until the novelty began to wear off: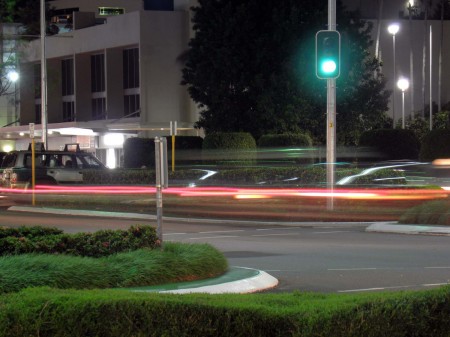 It doesn't take long. One thing leads to another.
There is a big festival on in Cairns now. On the Esplinade was a big tent sporting some action. It was good for Karen to have a go a what I would consider nearly impossible shots: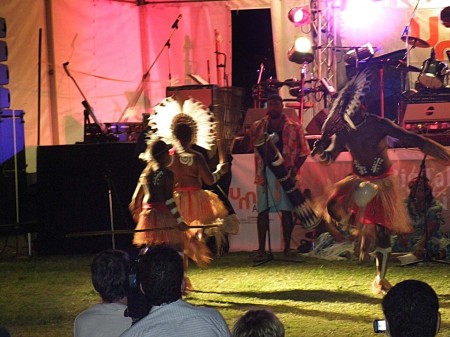 Though just about every condition for a decent shot is missing here, she still managed to grab a decent image of some Torres Straits Islanders performing a traditional dance.
This is my favourite of Karen's shots for the night. Simply placing the camera on a flat surface for bracing allowed this beautiful low shutter speed image, as long as the girl didn't move: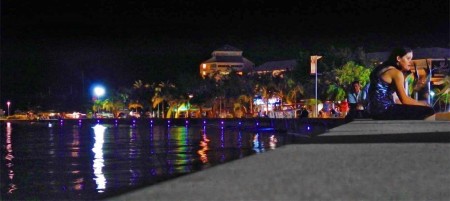 Fortunately, she was sitting quite still.
This is another real beauty. The lighting and composition here is very pleasing. Karen was amazed at the shots she was getting with just a little understanding and practice: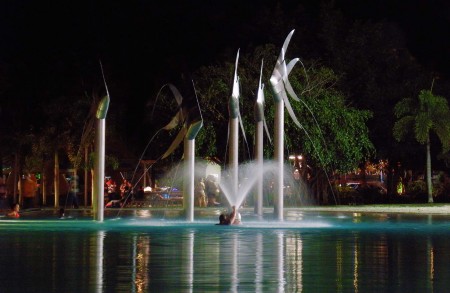 She managed to catch the single swimmer playing with the water gushing from the fountain.
Karen wanted to shoot the fountain close up to catch the water spray. I told her that I didn't think it would be possible with the amount of light available. I was both right and wrong. There was not enough light to freeze the drops, but what she wanted was the impression of the flowing streams: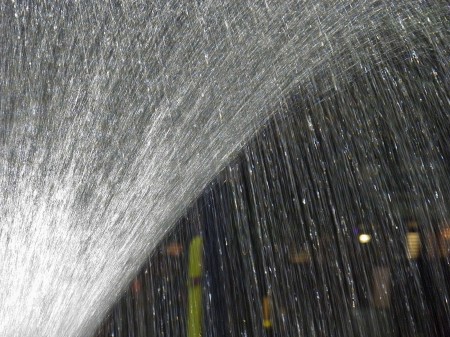 After fiddling with the camera for a while, she got exactly what she wanted. Frankly, I would not have thought to do this, but it is an excellent image technically and the composition is very interesting.
One thing that people who fancy themselves as good photographers sometimes lose is the crazy spontaneity that sometimes produces a very amusing image. Here is a beautiful example of what I'm talking about.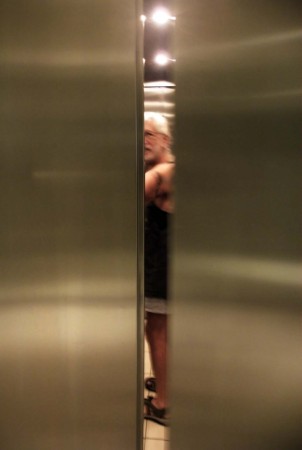 Again, I would never have thought to try this shot. It's nearly impossible to get the timing right.
Fortunately for me and you, Karen didn't know that. My advice is don't learn too much. You'll start thinking like a geek.
Good on ya, Karen.
~  ~  ~  ~  ~  ~  ~  ~  ~
Tonight we see an oncologist for the first time concerning Eunie's condition. I can never remember feeling more anxiety in my life. It is the first time that we may have a chance to catch a glimpse of the future. If you know my wife, you very likely already love her. She is simply that kind of person. If you are a thinker, think good vibes in her direction. If you're a prayer, pray for a merciful verdict this evening.
Tags:
cairns
,
karen simmons
,
olympus SP-590uz
,
ufo