Today's post won't be windy. I'm winded. I had no idea that I was going to be so busy and feel as if I'm accomplishing so little. Yesterday evening was our last night with Trevor and Karen, who came down to Cairns to visit us. It was, of course, bittersweet. We left Eunie alone for a while to get pizzas to bring back to the room to eat while we watched a couple of movies.
Naturally, I had my camera with me and there is no such a thing as killing time if you have your camera in your hand. You can divert your attention to creating something, even if it is inconsequential. As I saw the variety of lights on the Esplinade, I got to thinking about lights. Brilliant, eh?
Man's lights and the lights of nature – both illuminate. Some of man's lights are beautiful. Think of the streams of glory from a stained glass window or the adrenaline beauty of fireworks. Others are horrid, such as the deadly flash of a thermonuclear bomb. Nature too provides a variety of lights, benign, such as the moon, or nurturing or deadly as chance may be in the sun's rays: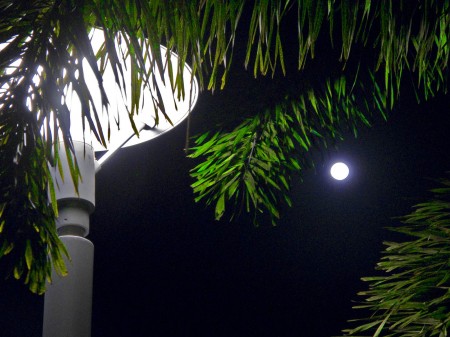 Some of man's lights are open to a wide range of artistic interpretation. Here I captured the tail lights of passing cars in a fifteen second exposure with the camera rather shakily balanced on top of a post: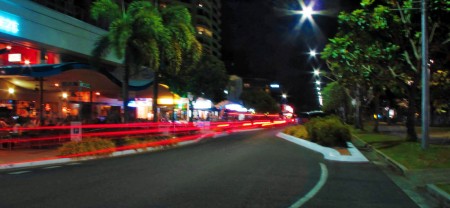 The cars are mere streaks. Most people have blurred into non-existence. As I looked at the image in the preview, the title came to me instantly. Watch Long Enough – Everything Changes.
But some lights are different. They illuminate, but not through the sensations of the eyes. They illuminate the soul.
I positioned myself quite a distance away for this shot, so I think that I can honestly say that it is candid: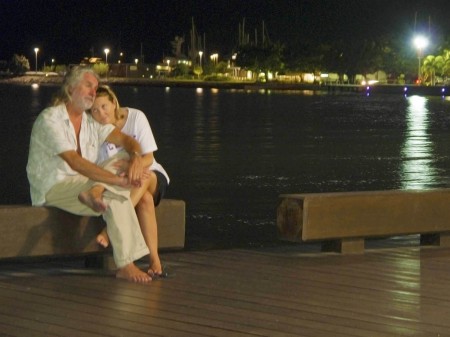 Trevor and Karen dropped everything that they were doing, blew a bunch of hard-earned cash, and came to be with friends to share our suffering, cheer us up , provide necessary counsel, cry with us, laugh with us and shine some much needed light on the subject of hope. This is not to mention the practical details which Karen helped Eunice with – ones which I am not yet ready to face.
How many friends can you count that would do that?
This is the light of treasure.
~ ~ ~ ~ ~ ~ ~ ~ ~ ~ ~ ~ ~ ~ ~ ~ ~
I wish that I had some news today. Eunie stayed up late last night watching movies and went to bed happy. Her colour seems to be improving – she's less yellow. Her appetite has also improved. These are good signs for her strength which she is going to need in the future. We have not yet heard from the oncologist about our move to Brisbane, but it is only Tuesday afternoon as I write this. My own condition is fragile and I know that I cannot allow this to continue. I know that I will be better able to cope when we are in Brisbane with our friend Val, because she is a strong, take-charge woman and takes no nonsense from me. I will have to toughen up considerably to keep her from beating me up for being a wimp.
After decades of softening myself, sensitising myself, growing absurdly empathetic and always, always, learning that the more I give the more of what I need that I receive, I find myself now suddenly weak and ineffectual in situations where I need to be forceful and decisive.
It is a puzzlement.
Tags:
cairns
,
karen simmons
,
light
,
moon
,
trevor hattersley