Posted in
Mixed Nuts
on August 30th, 2010 by MadDog
When I walked out on Val's little porch at the top of her back stairs yesterday afternoon I saw a thermometer. Still wearing three sweaters in the warmest part of the day, I wasn't sure that I even wanted to look at it. I finally decided it was important information and noted, barely visible in the faded red line 20°C. I can't work out what that is in F, but it's a lot colder than I am used to, having lived in the most tropical of the tropics for nearly half of my life.
Looking at the mounting of the thermometer, I was amazed to see that it is from Madang and another era long gone. If you click to enlarge, you may be able to read:
MODILON MOTORS
TAXI  PHONE  55
MADANG
Let me tell you that it's been a long, long time since there have been any taxis in Madang. I can barely remember one or two of them when we arrived in 1981. This thermometer obviously predates that, since I don't know how long ago you could dial a two digit number in Madang. It may have been a special sort of line: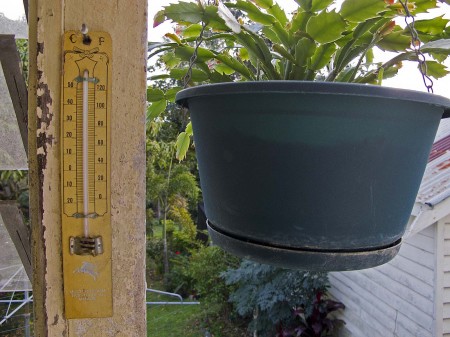 I have not had time or energy to do much but walk around the yard and shoot a few pictures. Nevertheless, I'll show you some.
I don't know what kind of tree this is and Val could not find it in her garden book. Hopefully, someone will identify it and leave a comment: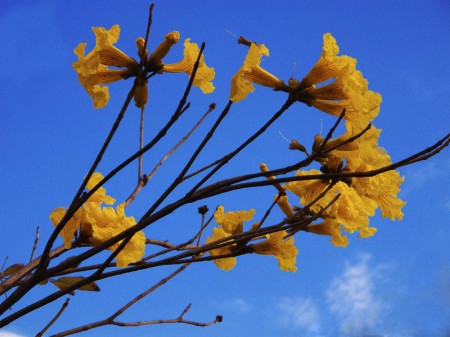 The tree looked a bit forlorn and scraggly. I have to remind myself that September is spring here.
The Nasturtiums were about as red as I have ever seen: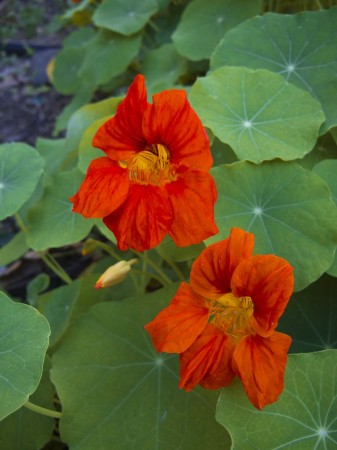 They always remind me of water lilies which are growing out of the water.
Val tells me that this is Browallia. I wouldn't know better. There is a yard next door that looks like Sanford and Son's Junkyard, or Steptoe and Son, if you are from the UK. Here you are looking through the fence from order into chaos: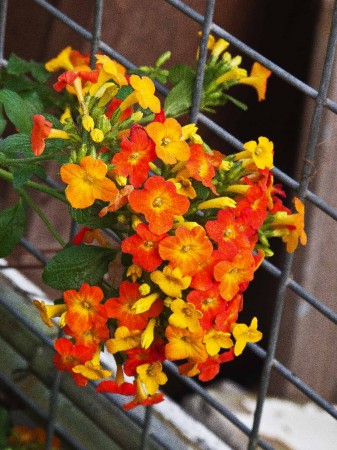 Apparently there are orange and yellow varieties. It looks to me as if this particular bush can't make up it's mind.
Hiding down in a corner in the late afternoon sun I found some Azalia blossoms: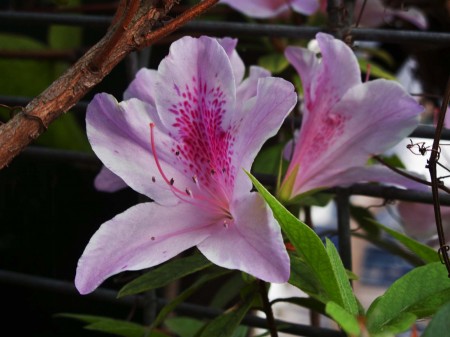 The light was fading, so I didn't hold much hope. The result isn't bad, if you don't mind a soft look.
~ ~ ~ ~ ~ ~ ~ ~ ~ ~ ~ ~ ~ ~ ~ ~ ~ ~ ~
Eunie had a very rough day yesterday. I am quite concerned about her. Since her earliest appointment is not until the 2nd of September, we are playing a horrid waiting game. There is a care centre just two doors away from Val's house. We will go up there today and get someone to come down and look at Eunie to see if there is anything that they can do for her. She does seem a bit better today.
Tags:
azalia
,
browallia
,
gympie
,
nastertium