Posted in
Mixed Nuts
,
On Tthe Road
on September 2nd, 2010 by MadDog
When I reoriented myself this morning after a restless night and a couple of hours of trying to go back to sleep and finally giving up, I was startled to see, after getting my computer going, that it has been only two days since I last posted here. It seems like a week.
First, let me tell you that we are once again amazed by grace that we find ourselves safely and comfortably sheltered, fed and counseled by dear old friends. We are presently staying at the home of Mick and Marg Horwood in Brisbane.
I stumbled out into the garden this morning to take a couple of pictures, because I can't stand to write without images, even if they have little to do with my subject matter: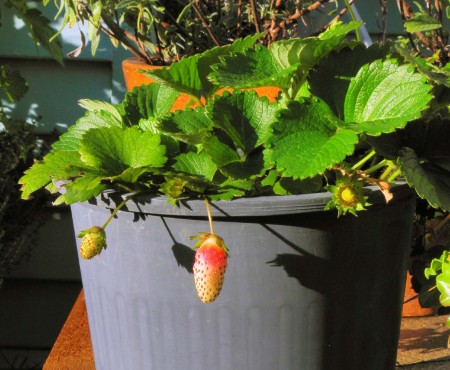 Above is an image of promise, fat little strawberries growing warm in the morning sun.
The title today, The Way Things Happen is very ambiguous. I don't have a lot of time to write, so I'll have to cram it in quickly, like my breakfast. What follows is a digest of random happenings mostly good, some less so. Don't expect it to make any sense.
My charger for my Canon G11 has chosen the morning to give up the ghost. Fortunately, I brought my Olympus SP590UZ along and it uses AA batteries. So, when the Canon battery dies, I'll still have a camera. Okay, bad news, good news.
As I mentioned, we have once again found safe haven to protect and nourish us as we face the current terrors.
Our dear friend Richard Jones showed up yesterday evening from Madang. I am astounded, but not surprised at the love that is being poured out for Eunie. Carol Dover, recently relocated in Vanuatu, is also flying in soon.
This is a plant I found in the Horwood's garden that seems unlikely – possibly designed by a committee: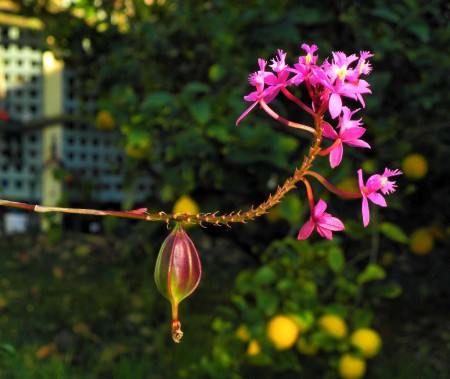 You will note a very nice lemon tree in the background.
Our son, Hans, arrives today from Hamilton, Ontario. It's difficult for me to express my emotions now, because I have to maintain a certain numbness. It will be good to have him here to see his mom and hear with us what the future holds.
Regular readers will know that I don't throw my religious beliefs in your face. It's not the purpose of this journal. Ask me, I'll tell you. However, I must say that it is a strange experience to be wandering in this desert of profound negative feelings, which you can imagine for yourself. What makes it stranger yet, but eases the journey, is the way that every time we get to the point where I am thinking to myself that I simply do not know what to do, some unexpected door opens and I find an oasis of relief. As for myself, I attribute this to God's mercy.
Eunie and I have always known that we would have to travel such a road at some point. I always hoped that I would simply drop dead some day and Eunie could carry on. She's so much better equipped to deal with life than I. Now the sequence seems to be in question.
All that I know for certain is that a couple of nights ago we nearly lost her. However, with the help of Val and her doctor's house call (!), we got her back. I told Val quite frankly that, if she had not been there for us, Eunie would very likely not have survived another day.
That's about all the rambling that I have time for this morning. Today is going to be interesting.
~ ~ ~ ~ ~ ~ ~ ~ ~ ~ ~ ~ ~
I won't go into the gory medical details, because it's only the outcome that matters. Three nights ago, after seeing Eunie go downhill rapidly for several days while we were waiting for our appointments in Brisbane, she crashed. She was nearly unresponsive, could not stay awake and would not eat or drink. Val's private GP came to the house after his office hours and said that we needed to get her into the Gympie Hospital, which we did the next morning with difficulty in Val's car. He blood pressure was shocking. The anti-inflammatory she had been taking since receiving a stent in her bile duct had caused her to bleed in her stomach. They hooked up many hoses to her and began to rehydrate her. They also gave her two units of blood.
Eunie bounced back eventually after a morning of us hearing discouraging words. Yesterday, she was stable enough to transport her by ambulance to Wesley Hospital in Brisbane. She is scheduled today for an MRI and some other tests. There will be some other kind of scan also.
As of last night, she was in no pain. I expect within a few days to hear some prognosis from the oncologists.
NOTE: I am going to try to answer all of the comments that I am receiving and all of the email messages. Every message is important to me, but I may not be able to keep up with the flood. I'm sure that you will understand this.
Tags:
brisbane
,
mar horwood
,
mick horwood
,
val jerram