Posted in
Mixed Nuts
,
On Tthe Road
on September 3rd, 2010 by MadDog
The War Council is assembling. Val Jerram is at our sides daily. Richard Jones is here now from Madang. Carol Dover is flying in from Vanuatu. Marg and Mick Horwood are providing shelter, food and their good counsel. And yesterday, after an exhausting 36 hours of travel, our son Hans arrived from Hamilton, Ontario: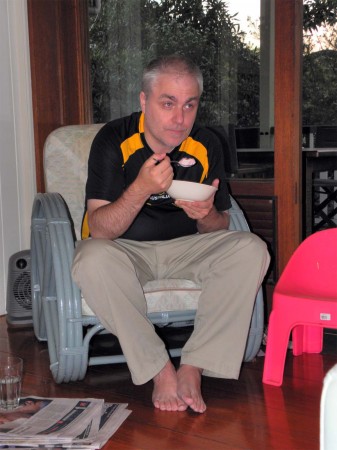 There are a lot of journeys involved here.
The strangest and most difficult of all these journeys is a sort of recapitulation of life itself. We are all, every one of us, you, as you read this, on a great journey – the journey that lasts exactly one lifetime. Now, as the friends who are fortunate enough to be able to engage in the battle on the field itself gather, we are joining ranks and marching together. As Marg feeds one her pet Magpies on the veranda the bird seems to wonder why she is in such a rush: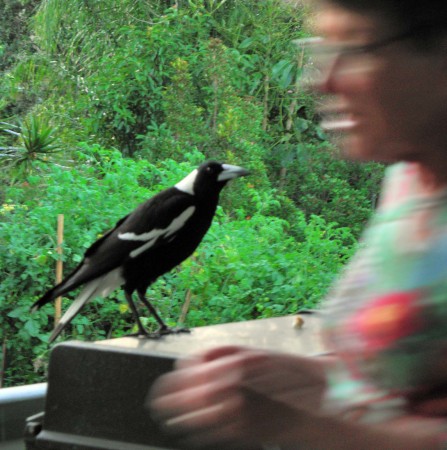 The daily routine must be maintained, but time seems to fly past at a dizzying speed.
I'm not the General of this little army. I can feel that my capacity to cope is fading daily. I'm blessed beyond reason to be surrounded by such a capable and loving cadre.
Along with the Magpies came a pair of Butcher Birds: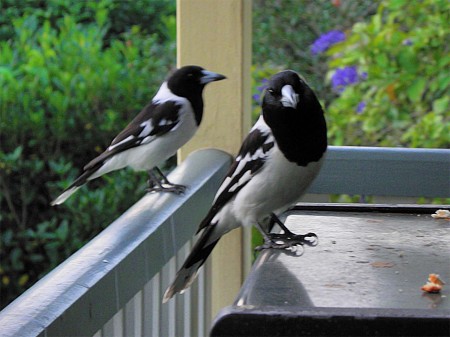 ~ ~ ~ ~ ~ ~ ~ ~ ~ ~ ~ ~ ~ ~ ~ ~
Eunie had a rough day yesterday in the noisy MRI machine. They did a general one of the whole area and a special one of the area around the liver. That's enough medical details. The point of this is to determine whether the tumor is operable or not. Also under consideration are chemotherapy and radiation treatments.
The action seems to be moving faster. Eunie was told last night that she will be having some other kind of test today. I don't know as yet what it is. I will be leaving for the hospital in a few minutes. I imagine that it will be a day or two before we have an answer concerning treatment.
Please understand that I may not be able to answer every comment that is left here on our jornal. The time is simply not available. I'm not ignoring any of them. I read every one and so do many other readers. I know that you will understand if I do not respond to a comment directly.
Tags:
brisbane
,
butcher bird
,
hans messersmith
,
magpie
,
marg horwood