I don't have much time to write and the title of this post says it all. I've always tried to keep this journal up-beat. It's good for me and I think that it's good for readers. However, I am in the unhappiest time of my life at the present time and this IS my journal – a record of my journey. It would be a sham if I did not record my true feelings and the events which give rise to me. My closest friends have advised me so.
Many readers will want to tune out. Others will resonate. The nice thing about the web is that you get to choose.
As ill as Eunie is, she told our son, Hans, that she wanted him to get out of the hospital for a few hours and distract himself. There was a huge festival of fireworks last night called QBE Riverfire here in Brisbane. I sent Hans out with Eunie's camera and asked him to get some shots. He did a quite respectable job: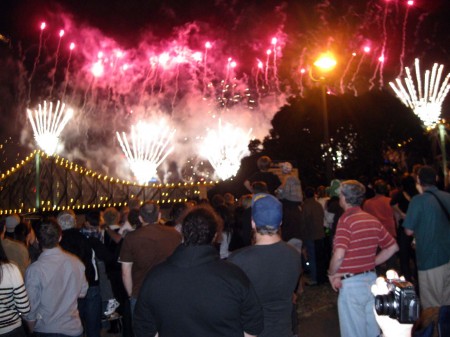 Hans went with Rich Jones, Carol Dover and Tracey Lee and her partner Peter. You've met all these friends before here in happier times.
I feel myself becoming unglued at the seams. It's a ripping sensation. Every day brings new horrors, a fresh dose of sadness and warning lights flashing back in the control centre of my brain. I know that the one thing that I absolutely cannot do is succumb to exhaustion and crash. I know how a deer feels when it freezes in the headlights.
I'll not burden you often with gloom and doom, but I'll keep it honest. I long for the past, but I know that life is now in the process of changing to something else – something unknowable. We always fear the unknown.
Stay tuned, if you like. I may find happiness again someday.
~ ~ ~ ~ ~ ~ ~ ~ ~ ~ ~ ~ ~
Eunie has terminal cancer. We are trying to get her back to Gympie to give her comfort there in the home of our friend, Val Jerram, until she passes. It's likely a matter days or weeks. If you are a praying person, this should be the focus of prayer now – Pray that God get's Eunie into good enough condition that she can be transported 2.5 hours to Gympie so that Val and I can care for her in Val's home until she passes. This is based on the information that we have received so far from doctors.