Posted in
Mixed Nuts
,
On Tthe Road
on September 9th, 2010 by MadDog
Man, this is hard. I don't know how to write this. I just have to put one word in front of another. Eunie was one of those people who you feel like will be around forever. We know it's not true, but we don't want to think about not having her.
Yesterday morning, after only a couple of hours of discomfort, she asked for some stronger pain relief. Shortly afterwards she fell asleep and her breathing calmed and she was peaceful. Not long after that, her spirit departed her body.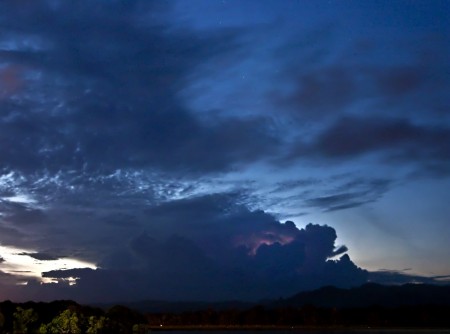 It has been only a few weeks that we have known that Eunie was seriously ill. Eunie feared few things in life. She was one the most fiercely brave people I have ever known. She did not, however, want to have anything at all to do with pain. The fact that she left us so peacefully and without pain was a blessing to us all.
So, Eunie's sunset in now complete. The lightning in the image above represents her amazing spirit.
After every sunset, there is another sunrise. This is the way the world turns. So it is with the spirit, as I believe. If I did not believe so, I would not be able to carry on. I carry on now because of this promise and because to falter and waste away would be a dishonour to Eunie.
Eunie's sunrise must be truly glorious.

I have no more words for now. I don't know what the next few days will bring. Hans is going back to his family in Canada tomorrow morning. I have my remaining support team here with me – Marg and Mick Horwood tonight at their house and Val Jerram, Rich Jones and Carol Dover who will be travelling to Gympie with me to Val's home.
Sometime next week I will return to Madang. I both long for and dread it. I've never felt such conflicting emotions. To those in Madang:  you are getting back a shell of a man, but I have no fear that all will be well after a while. Life for me will never be "normal" – as it seemed before. I have to hang onto the hope that there will be a new sunrise for me.
~ ~ ~ ~ ~ ~ ~ ~ ~ ~ ~ ~ ~
I was stunned to see that there were 28 comments waiting for me this morning. I can't possibly answer each one, but I do read every one.
Tags:
eunice messersmith
,
eunie
,
sunrise
,
sunset