Posted in
Mixed Nuts
on September 11th, 2010 by MadDog
It would be a hideous betrayal of honour to my dear Eunie if I allowed my despair to envelop me and the many joyous and exciting things in life which we shared. One small thing in our shared experience of life which enriched us both has been, over the last three years, Madang – Ples Bilong Mi. She was and remains my most faithful reader.
Don't get me wrong. There will be much weeping and gnashing of teeth yet to come. I'm starting a processes which is not unlike being run over by a freight train. Just when you think you've felt the last of it, along comes another set of wheels. I hope that I'll feel better in a year. Asking more than that seems unreasonable.
Dying is a complicated game. Eunie's passage was blessed by little pain and great dignity. To the end, her faith preserved her from fear. Oh, that we all could go with such style. When I tell the story to her mates, they will say, in the Australian manner, "Good on ya, Eunie!" – Job Well Done! However, it has left me behind with a huge mess. Stacks of unthinkable paperwork, often smudged by tears from me and my friends helping me grind through it.
For those of you who have gone through this before, you will understand my gruesome fascination with it. It seems simultaneously impossible to do and impossible to ignore. Life for the survivors depends on taking care of the mountainous cascade of insufferable minutia. If I did not have my friends to help me, I would fall down in a heap.
Which brings me to the title of this post. Some might think it a little early for frivolity and this is true. This is not frivolous. It's serious business. I've always said to anyone who was in the least amused by what I say that life is like the most fantastic play that has ever been performed and you are the scriptwriter and star. That's not to say that everything you write will be performed as written. The Director has something to say about that. However, by and large, we are expected to compose the script carefully while producing as much enjoyment in the audience as possible.
So, with this blank page before me, how to I begin the script for Act II, Scene I? Well let's start with Labradoodles, some good mates and a fascinating new experience.
We have a dear friend in Brisbane who once graced Madang with her presence. She is a nurse and she was with Eunie in the last few days making sure that everything was tended to in the most careful manner.Tracey Lee raises Labradoodles. One of these gorgeous little critters is going to Laos and the other to The Philippines. I suppose that they must be in great demand: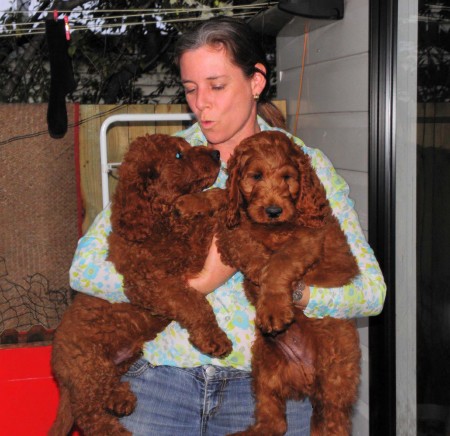 Aside from the fact that they are ludicrously cute, they are also covered with the softest fur I have ever felt. Minks, eat your hearts out.
Here is another much missed vanished resident of Madang who took time from her own busy life to lighten my load, Amanda Watson: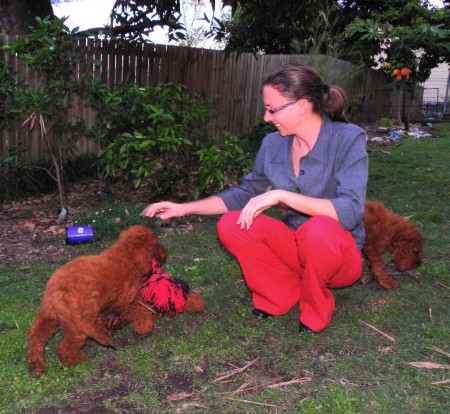 While in Madang, Amanda was a keen diver and much fun out on Faded Glory.
Whenever anyone takes a decent photo of me, I like to hang onto it: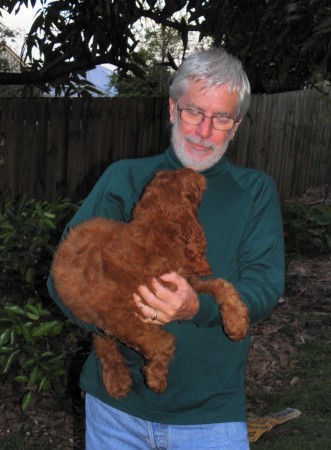 I seldom like the photos that I see of me, but this one works just fine. I'm your basic old dude who's been through the grinder a few times and had the most of the rough edges worn off. My dear Eunie provided most of the labour to spin the wheel, sparks flying everywhere. In my mature years I have some to see that a good, smart woman finds some raw ingredients and bakes the man that she wants. The recipe varies from time to time, but women are infinitely patient in getting what they need.
There was a long time in my life when I felt fairly worthless and most people agreed with me. You would not have wanted me as a friend. Eunie baked me into the man I am today. Not such a bad guy. I'll hold that in my heart, along with many other precious things until I draw my last breath.
Now, some may want to drop out at this point, because I'm going to show you a little tableau of tolerance. Eunie had the kind of love which we Christians call "Christlike" (duh). It's not rocket science. It's easy. You simply love everybody, regardless of their condition. The rationale is likewise easy to understand. It is only through love that we truly win hearts. Everybody knows that.
Here with Peter, Tracey's partner, Amanda Watson, Carol Dover, Tracey and Richard Jones is Michelle Rose, A. K. A. Michael Charles Turnbull: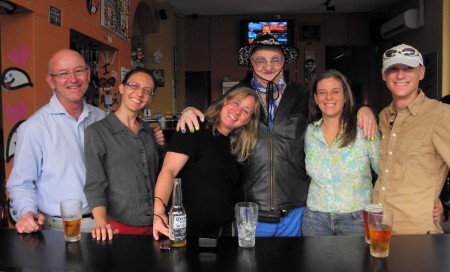 Michelle, as he prefers, saw us sitting at the open front of a little pub and stopped for a chat. As one might suspect, there has likely been no small portion of heartbreak in this life. Eunie would have sat down for a little while and talked with Michelle about that life. He would have felt loved.
So, what is the first line in Act II, Scene I of the rest of my life?
Well, it's pretty much the same ol' same ol'.
All you need is love.
Tags:
amanda watson
,
Carol Dover
,
richard jones
,
tracey lee