Posted in
On Tthe Road
on September 13th, 2010 by MadDog
A Major Distraction:
Now, five days since my dear wife Eunie crossed her final bridge, life is grinding on with a bizarre surrealism that I did not think possible. In fact, none of this is thinkable. Some of you out there will know exactly what I am talking about. The rest will find out soon enough.
Fortunately, my friends, really my propper-uppers, recognise my need for distraction and have continued to drag me out for "walks" and provide me with videos in the evening and valiantly attempted to keep me from brooding at the computer or, worse yet, sitting with the thousand yard stare in my eyes. Meanwhile, I'm putting on as brave a face as I can manage for their sakes and mine too, if the truth be known.
Sunday's major distraction was the Mary Valley Historic Railway, which under happier circumstances I would have enjoyed more. Here is one of the locomotives and its tender on the turntable at the end of the line: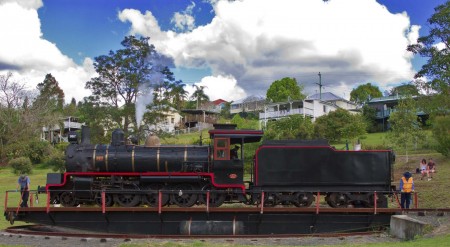 It is quite a contraption. The whole shebang spins around slowly until it is going back the way it came. Then the locomotive hooks up to the what was the back of the train and pulls it back to Gympie.
I'll intersperse the misery with the fun stuff as I go along just to keep you informed and on your toes. Today, I have the chores of going to the funeral home to sign yet more papers and pay for Eunie's cremation, going to the dentist for who knows what and having a new will drawn up. Pardon my sarcasm when I say that I have had better days. I have to remind myself that I've had much, much worse.
This is probably the most illustrative image of what the The Valley Rattler is all about – a nostalgic and amusing, if somewhat rocky ride behind a puffing steam engine across some very beautiful Australian countryside: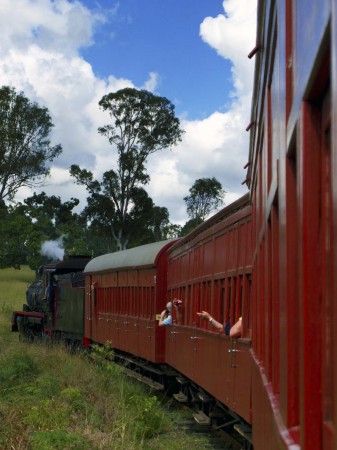 I didn't see any kangaroos.
This is the Club Car. The entire railway is operated by volunteers. It is really quite amazing. When you take into account all of the time and skills required to keep it going it's hard to fathom the dedication required: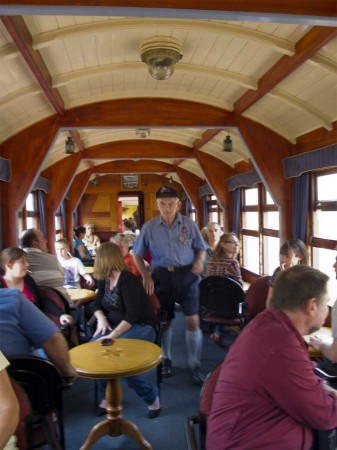 All of the money required is raised through the sale of tickets and charitable events.
Tomorrow I will go back to the funeral home to get Eunie's ashes. In the morning there will be a memorial service at the Anglican Church. Tomorrow afternoon Rich, Jenn and I will bid farewell to Val and thank her for being a rock for us. We will then drive back to Brisbane and stay overnight. On Wednesday, the three of us will fly back to Madang – yet another thing to simultaneously long for and dread.
And here is a view into the heart of the beast: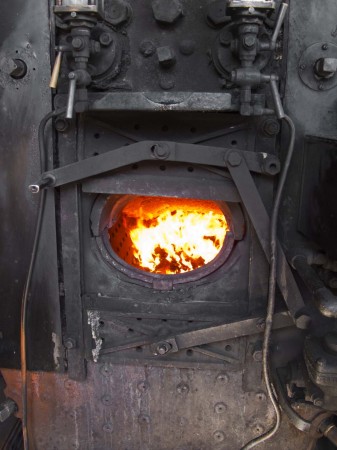 There is roughly four hours of travel time which consumes about two tonnes of coal.
Here is a shot of the guy who drives the train. On the day we travelled with him he was celebrating his 80th birthday. Happy birthday, Mr. Engineer: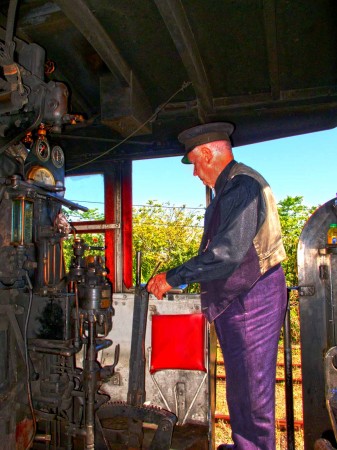 The next few days are going to be very hectic and disturbing. Every time that I think I'm dragging myself out of deep denial I find myself thinking that it simply can't be true. It's a bad dream. I got four hours of sleep last night – the worst night yet. I can't stop the chatter in my head. Last year's New Year's Resolution was to teach myself to turn off negative, unproductive thinking – stop trying to think myself out of insoluble problems. By mid-year, I was largely successful. Now that's all blown away like the sparks from The Rattler's boiler.
It may be a couple of days before I get a chance to post again. I'll be back. Hopefully, I'll feel like writing something less sombre. We'll see.
Tags:
gympie
,
jenn miller
,
richard jones
,
val jerram