Posted in
Mixed Nuts
on September 17th, 2010 by MadDog
I have been travelling for a couple of days and also fell into a black hole of no web access at my house, so this is the first time I've had a chance to post. A lot has happened. It's time to catch up.
One thing that I was dreading was the memorial service at the Anglican Church in Gympie. I simply did not see how I could get through it. I'm now reminded that the human spirit is usually stronger than the particular human thinks it is. In other words, you can take a lot more than you think you can.
As it turns out, it was absolutely magnificent. I'd love to tell you the names of all who were in attendance, but I think that might be an invasion of privacy. I was frankly surprised at the number and variety of familiar faces I saw there. If any of the attendees are reading this, please accept again my heartfelt thanks for your efforts to be there to remember Eunie and prop me up.
Carol Dover sang Amazing Grace is her lovely manner with a mid-southern accent and mountains of soul. Tears flowed like a river. The pastor said that he had never heard singing such as that in that place and I can believe it. It was fitting, comforting and magnificent. It was perfect.
Richard Jones delivered a eulogy which made me proud to know him and count him as a friend. Rich had been chosen as the man on the spot. After what he and Jenn had been through – all of us had been through – it was not an easy task nor one to take lightly. We had all read it when he was finished composing. We knew that the truly hard part would be getting through it. His brief pauses to compose himslef during the reading were both understandable and fitting.
As Val took me to a friend's house to pick up the mail they had collected for her while we were all in Brisbane, I spied this wonderful sunset: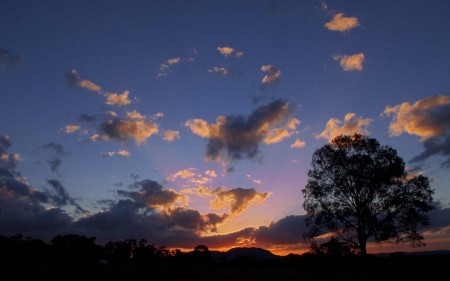 Throughout this ordeal for those who knew Eunie, so many people have been right where I needed them to be. It's a testament to someone who radiated love and attracted it back to herself. Here is another shot of the sunset: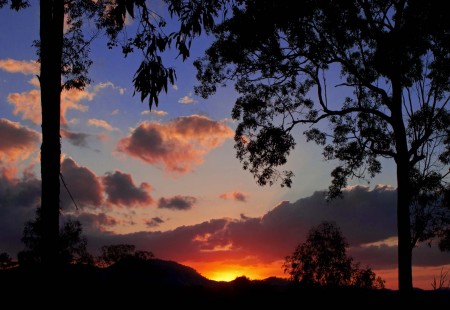 Once again, the next day – signing a new will, going to the dentist – people were there. Nobody said, "Call me if there's anything I can do." and then turned away. They just started doing whatever they saw needed to be done. Somebody once told me a story about "The Guy Who Cleaned Shoes". This fellow would show up at a house in his neighborhood where there was some sort of death-related gathering and ask people to remove their shoes and line them up in the hallway. Then he would get his shoeshine kit out and polish everyone's shoes. This is the kind of action I've been getting.
Val's lawyer would not let me pay for drawing up a new will with one day's notice. Rich and Jenn went to the funeral home to pick up Eunie's ashes for me, saving me the agony. Carol and Amanda sat quietly with me, holding me when I needed it. I want to mention more examples, but hesitate to open private spaces. If you are reading this, you know who you are. I love you for being there.
Here is a picture of Eunie at her desk – right where she belonged – taken not long after she was elected Director of the Pioneer Bible Translators Papua New Guinea Branch: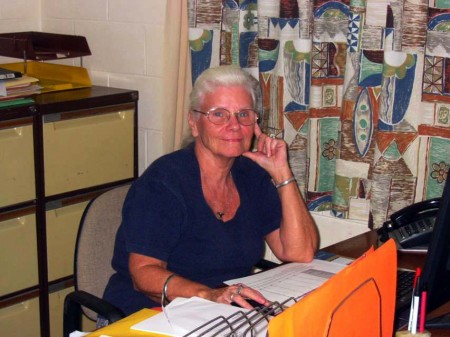 It may be a couple of days until I am able to post again. I have no web access at my house – something is broken in my wireless link – and I'm dealing with some emotional issues, as you can imagine.
I'll be back.
Tags:
Carol Dover
,
gympie
,
jenn miller
,
richard jones
,
val jerram