Posted in
Under the Sea
on September 21st, 2010 by MadDog
On Saturday, after what seems like a year, but was only about six weeks, I went back into the water. It was a grey day and Astrolabe Bay was calm. I went out on Sanguma with Richard Jones.
Since Faded Glory rolled over and sank in about two metres of water in front of my dock the day we left for Australia to get medical treatment for Eunie, I have no boat at present. It is at the marine repair shop waiting for me to pick it up. Trevor Hattersley has checked on it a couple of times and says that it's running well. If the control cables don't rust and freeze up, she should be good to go.
I tie the stern to a mooring point well out from the dock – usually. Over several weeks the mooring point had been moving closer to the dock. I did not know why. I do know that it was too close. I couldn't get enough pull on the stern from the mooring, so at high tide the bow of the boat got hooked over the edge of the dock. When the tide went down . . . well you can guess what happened. Water came seeping, then roaring over the transom and the back end of the boat settled on the bottom and she rolled over on her side.
When it rains it pours.
Anyway, this afternoon Richard Jones brought Sanguma over to my house and I put on my dive gear and went out and wrapped a big chain around the engine block that is the base of the mooring point. I then tied a new piece of rope around the chain and put a float on the end of it. Okay, now I can go over to the marine repair place and get Faded Glory back home where she belongs.
Isn't that exciting? One less thing.
At Planet Rock the water was full of particulate matter. That makes for pretty poor picture taking unless you are up very close. The marine photographer's mantra in murky water is "the closer the better". Any time you see a Broadclub Cuttlefish (Sepia latimanus) is reason enough to take a shot at it: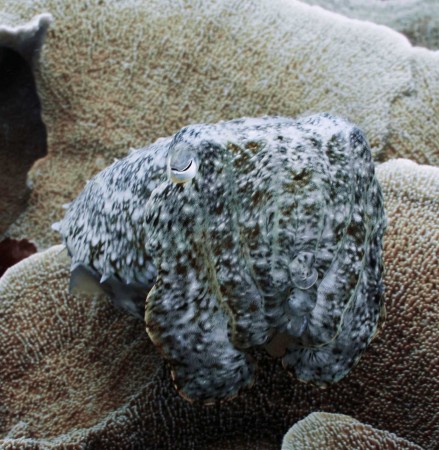 This is certainly not the best shot of this critter that I have managed. In fact, it's rather ho-hum. Nevertheless, I saw it and here it is for your viewing pleasure. I have heard that some restaurants serve cuttlefish. I wouldn't eat one if I were starving (well, maybe). It's not as if they are endangered, it's just that they are my friends. One doesn't eat one's friends.
The Magnificent Anemones (Heteractis magnifica) were splendid. The whole top of the rock is plastered with them in many riotous hues. On Saturday most of them were in their "jug" configuration. I confess I don't know what this indicates. They are usually stretched out more or less flat for feeding. Possibly the day was dim enough that they reckoned it was night: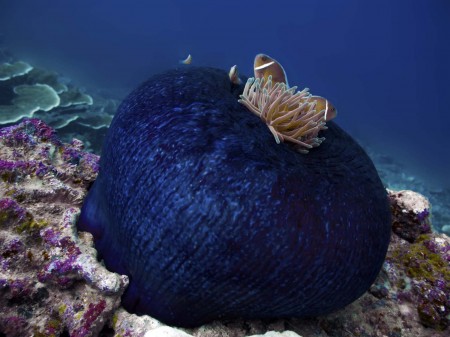 Who knows what an anemone thinks? I certainly don't.
This one shows one of the many bright colours on the underside: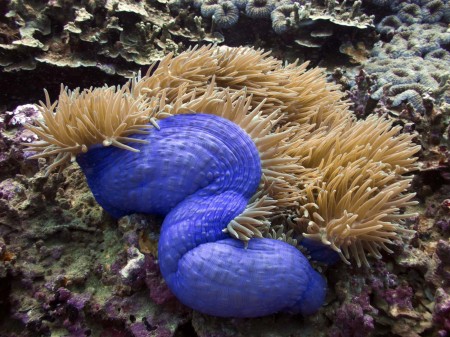 I have some more shots of other colours which I will post in a day or two. I've backed off to posting every other day, since I need to conserve my strength to mine the mountain of paperwork that has been generated by Eunie's passing and still do my work at the office. Who knew I would be so busy? I didn't expect it. Add that to the list of Things I Never Thought Of.
Th last shot here is my favourite. These are Pickhandle Barracuda (Sphyraena jello) with a couple of Bigeye Trevally at the bottom of the image: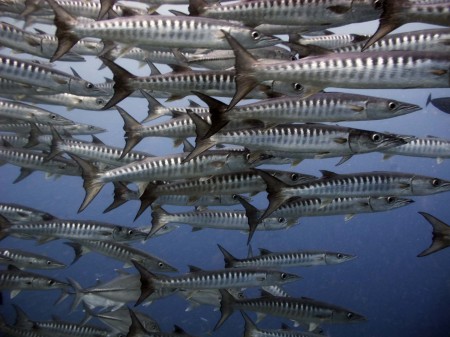 They led me on a merry chase to get the shot. When playing with such schools one needs to be careful not to ascend too quickly. That can lead to serious consequences. "The bends" or Decompression Illness is only one mistake away.
For those out there who are checking up on me I'll say that I'm "doing as well as can be expected". Actually, my friends are telling me that I"m doing considerably better. I'm having a hard time seeing it that way, but I'll take that as encouragement. I will go to Divine Word University on Thursday morning to make arrangements for a memorial service in the chapel there. Rich Jones is going with me as an advisor and to hold my hand. I seem to need a lot of hand-holding these days.
Hey, that's what friends are for.
Tags:
Broadclub Cuttlefish
,
heteractis magnifica
,
magnificent anemone
,
pickhandle barracuda
,
planet rock
,
sepia latimanus
,
Sphyraena jello