Posted in
My Garden
on September 24th, 2010 by MadDog
It seems as if it has been a year since I last had a morning stroll in my garden. I'll start by saying that I'm sad that I can't manage to post every day. Part of the reason for this is that I simply have too much work to do. Insurance claims, learning to manage my personal finances (a strange new experience for me) and a hundred other time consuming duties call on me to spend an average of twelve hours a day at the computer or chasing down details.
However, the bigger problem is that I'm finding it difficult to extract much enjoyment from life. I know that this will pass as I get over the steep mountain of absolutely necessary busy work and can get a glimpse of the peaceful valley beyond.
Just outside my front door, there is a hibiscus bush with deep red flowers. It also sports freckled variegated leaves. Here is the blossom which greeted me this morning: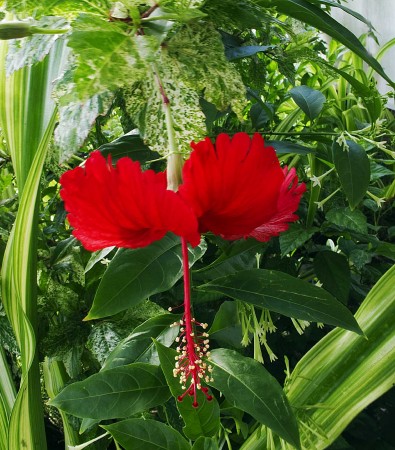 In the background at the right of the reproductive bits of the hibiscus flower you can see some blossoms of my night-blooming jasmine.
My friend Val Jerram has cautioned me against viewing every obstacle to happiness or seemingly onerous task as a problem. She suggests instead that I see them as challenges. I did not really understand this until I began to apply a long forgotten technique from the days when I was battling crippling depression. The trick is turning it around. For instance, one of the obstacles to happiness is the seemingly insurmountable problem of learning to manage the rather complex personal and business finances about which I have been absolutely ignorant for more than three decades. Eunie was so good at managing all this and did it so effortlessly that it didn't seem worth my attention. I am now paying for the luxury that I enjoyed for so long.
So, applying the technique of turning it around, I am trying to view the obstacle as an opportunity to take charge of my life again instead of rapidly drifting into a truly hopeless situation. Only a modest learning curve and entering a few hundred transactions into bookkeeping programs stands between me and the confidence that I so desperately need.
Around the corner from the front steps is another hibiscus bush with outrageously hues leaves: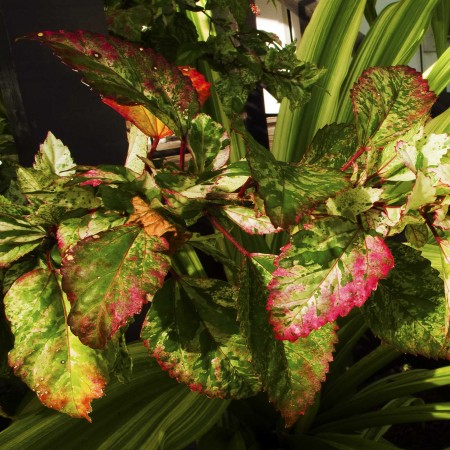 What is that all about?
Out by the little round garden with a candlestick tree in the middle are some small white hibiscus. Bees are usually swarming around these in the morning. Today they must have been sleeping late: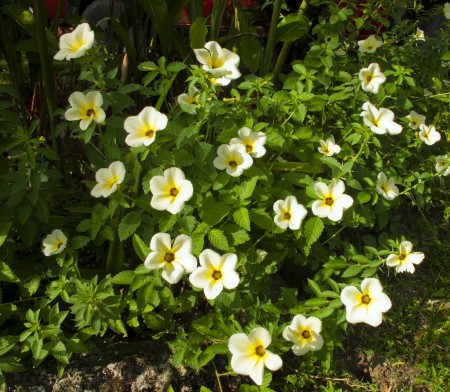 You can see some bees feeding on these blossoms here and here.
And, of course, no stroll through the garden would be complete without the orange lilies: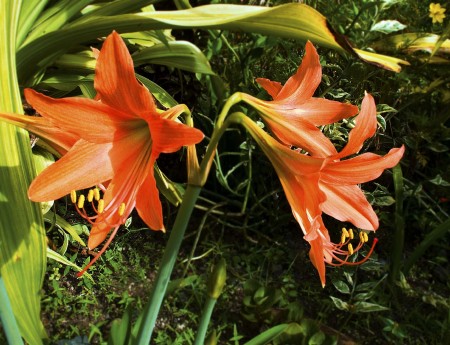 I need a holiday.
Tags:
hibiscus