Posted in
Mixed Nuts
on October 13th, 2010 by MadDog
I have been feeling as if I have been concentrating here a great deal on current events concerning Eunie's passing and neglecting to feed myself and my readers with enough variety of ideas and images to keep us all distracted. After all, aside from being a personal journal, Madang – Ples Bilong Mi is intended to be a minor but useful distraction from the vagaries and vicissitudes of the daily grind. However, as I look back over the last couple of weeks, I see that there is still some variety there and I may not have strayed as far into my navel as I had thought. Pardon the existentialist humour.
So, as I have not completely disappeared into that dark, furry place (though it was a close call), I'll tell you what happened on Saturday.
As those who have been reading MPBM and holding my hand on this journey will already know, this is the second Memorial Service for Eunie. The first was held in Gympie, Australia. Having survived that one, I felt reasonably confident that I would make it through once again. It is so strange just how much one can exaggerate, as such an event approaches, the magnitude of the suffering which will be on offer. I imagined having a stroke and falling down dead, an idea which leaves me thinking, "Eh! What would be so bad about that?", aside from the horrible mess it would leave behind for my friends. And then I think, "Remember what a Drama Queen you are, stupid!"
The sad part of this is that I get so caught up in self-pity (not for the first time in my life) that I completely miss the point of what's going on. Well, that wasn't the case on Saturday or at least I think it wasn't. I'll get to that in a minute. First, let's lighten this up a little. I need to let the sad face rest for a bit.
It my entire long and mysterious life, I do not recall ever having anything at all to do with a mayor. This seems a little odd. One would think that it would require active avoidance to have escaped the attention of or never have had the need to interact with a mayor. But not me. I take the road less travelled. Until now: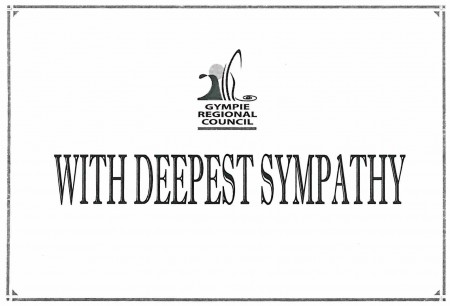 What you are looking at is a Sympathy card from the Mayor of Gympie, Australia and his good wife. This arrived in my mailbox one day and caused me to scratch my head. Does the funeral director notify the mayor's office when someone is processed through on the way to the final destination? Does someone in the mayorial chain of command read the death notices? Or, as I suspect, did my friend Val Jerram have something to do with this? Hmmm . . . Busy, busy, busy.
Okay, here is another puzzle: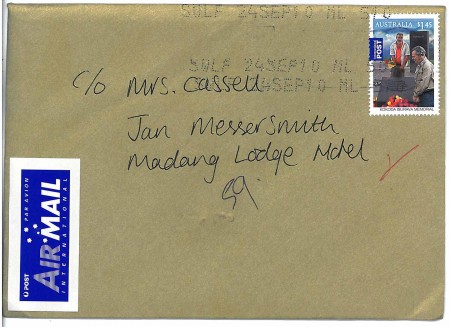 I believe that, by any standard, this could be called an incomplete address. The town name is implied, providing you know the geography of Papua New Guinea, as is, of course, the country. However there is no street address or P. O. Box. Di Cassell is well known, but not that well known. When Di gave it to me, we both engaged in a little head scratching. We agreed that it was worthy of a slot in a post on MPBM. I'd say that someone at Australia Post was really on his toes that day. [Please excuse the use of the masculine pronoun to cover all of those Postmen and Postettes. English sadly lacks multi-gender pronouns. His/her, just doesn't cut it.]
On Saturday, the crowd was not as large as we thought it might be. That was neither a disappointment nor a source of concern. Every person who needed to be there was there. It's just the way it played out. I don't estimate very well, so I won't bother saying how many. Here's a shot that includes most of the group which came to, as the expression goes, pay their respects: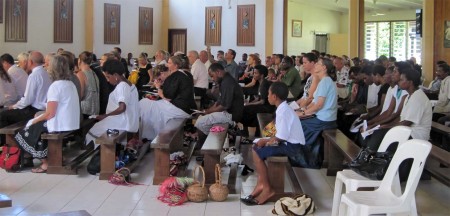 Early in the service a group of ladies from our office and from the Country Women's Association sang Jesus Keep Me Near the Cross, one of Eunie's favourites. For the first time since I returned from Australia, I dissolved in a flood of tears. I had been waiting for that. It was good: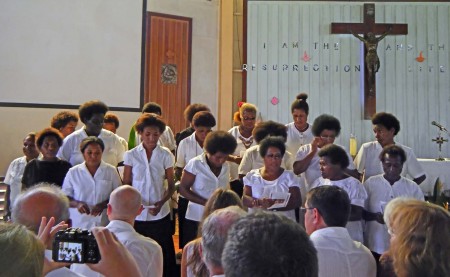 The group included our haus meri, Juli, who has been managing our household for twenty-seven years, freeing Eunie to concentrate on her work. I also invited Sisilia, our next-door neighbour, to sing with the ladies.
When William Butler, one of the senior members of our organisation and a friend who knew Eunie far better than most rose to speak about Eunie's work, I fell apart again as he began to read John 3:16 in Waran, the language in which he has been working for over thirty years. I can not imagine a more fitting way to represent the focus of all of Eunie's efforts, bringing the message of the Gospel to the people of Papua New Guinea in their heart languages.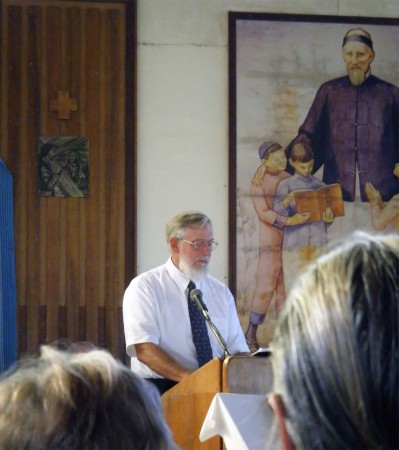 William was his usual eloquent self. Through my sobs I heard him speak with admirable skill and the great passion of a true friend. When he was finished I was exhausted for the moment and feeling very grateful to him for such a beautiful tribute to my wife.
I wish that I had an image of Mike Cassell delivering the eulogy which he wrote for Eunie. A great number of the Madang "family" were present on Saturday. I know that all who were there appreciated Mike's honest and loving portrayal of Eunie's life and her many contributions to the welfare and happiness of the community. Again, I was overcome.
Paradoxically, some good things are made more powerful and meaningful because they are hard to endure. Saturday was a hard day for me, and for my friends. It freshened the wound of our loss and brought back anew the sadness we feel when denial is subdued and we realise once again that we will never again see the radiant smile and hear the joyous laughter of our Eunie. And yet, there was benefit for all of us. We had our opportunity to collectively remember and celebrate a life well lived. We could pool our grief and leave some of it in that place, ready to proceed with our lives while carrying Eunie home in our memories.
It was a good day.
Tags:
di cassell
,
mike cassell
,
william butler