Posted in
Mixed Nuts
on October 17th, 2010 by MadDog
At the end of my last post, I talked about my current inability to derive joy from activities which have previously provided me with the emotional, intellectual and spiritual satisfaction which we all crave. This disablement has resulted in a strangely lifeless life. I'm sure that for many readers this will be preaching to the choir. As I've said before, this is my first experience with dire personal tragedy. I'm a late comer just catching up with most people my age.
My friend suggested that, as I engage in these experiences, say a Saturday out with friends on the boat SCUBA diving, that I pretend to enjoy it. I took this to mean that I should try very hard to not let my mind wander to subjects best left alone for the moment and that I engage with others as if nothing had happened and laugh when it seems appropriate and so on. You can make up your own list of fakery. The theory is, I suppose, that if one does this consistently it will become real. This makes some kind of wacky sense to me.
A day or so later I got a Facebook message from Ush Antia who has departed Madang, but is fondly remembered by her friends. Having read my remark about pretending, she sent to me a very interesting link. A guy named Dan Gilbert presented a twenty-one minute lecture titled Why Are We Happy? I'm not going to go into detail about the content, because you can watch it for yourself. I'll just say that our prefrontal cortex gives us some remarkable abilities that we may not ordinarily recognise. Here's a little blurb about the lecture:
Dan Gilbert, author of Stumbling on Happiness, challenges the idea that we'll be miserable if we don't get what we want. Our "psychological immune system" lets us feel truly happy even when things don't go as planned.
Really, if you are less than ebullient concerning life in general, you might want to view it.
In order to investigate and reorient myself to what my current standards of happiness are, I decided to conduct a little experiment. All of the images which have speared in Madang – Ples Bilong Mi are in one folder on my computer. I set out to scan through these several thousand images as quickly as possible, getting as far as I could in five minutes and pick out eight pictures which instantaneously, as in a word association test, elicited the response, "happy". This is not as easy as it sounds.
Some of the images seem logical responses while others are puzzling. I'll comment briefly on each one, if I can think of anything to say.
This one is so obvious that it requires no analysis. It is a composition of many tiny images from MPBM in a mosaic which simulates a picture of Eunie and I at our anniversary party.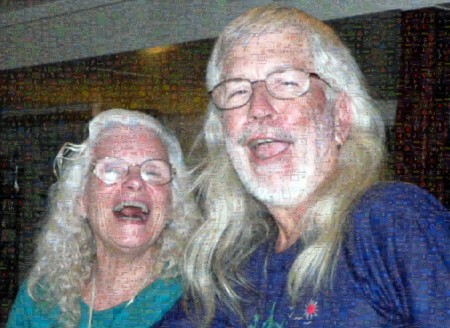 Who would not respond with "happy" to this?
This one is not so straightforward. It's important to remember that analysing these lightning responses one-by-one is a bit like Monday morning quarterbacking.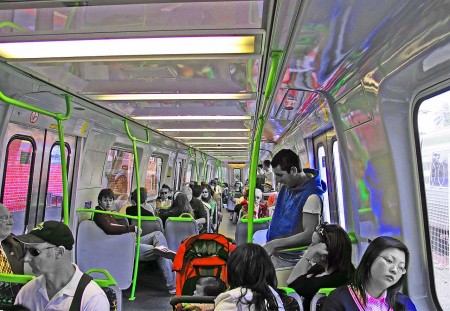 I think that I responded with "happy" here because, though the surface message of the image is decidedly not happy, the experience of expressing these feelings in an artistic manner was happy. I derived considerable pleasure from the process of capturing a precise mood in an image.
This one of Carol Dover goofing off during a dive is another obvious choice. Friends always make me happy. That's because I have no troublesome ones. That has not always been true in the past.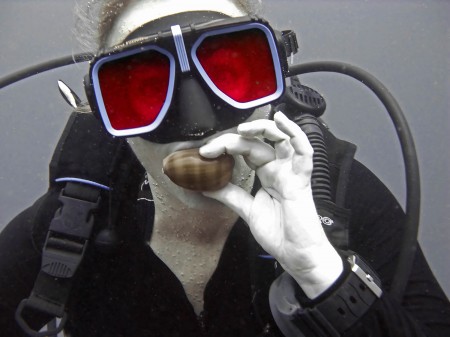 While it is sad that Carol is no longer here in Madang, true friendships never leave the heart.
This shot of a Bulb Anemone (Entacmaea quadricolor) got the "happy" tag because it is one of my favourite underwater images and always makes me think about the great mysteries of the sea.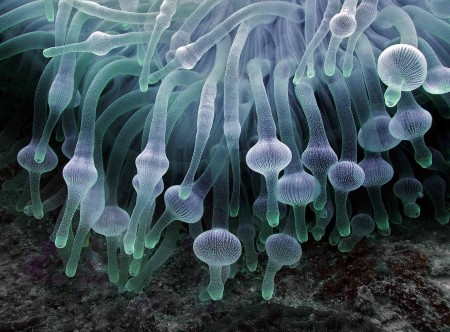 It is one of the few underwater images in which I have deliberately fiddled with the colours. This is not the natural colouration of this anemone. However, I wanted to accentuate the surreal beauty and alien quality of the creature. So I did. That's the beauty of digital photography. You can do anything you like.
This one is not to difficult to figure out either. It immediately brought to mind all of the wonderful times I spent with Eunie in far away places. I don't remember anything about this lovely statue which we found in Berlin of a young woman releasing a bird. I do remember that we both were captured by its beauty and significance. It belonged in that place.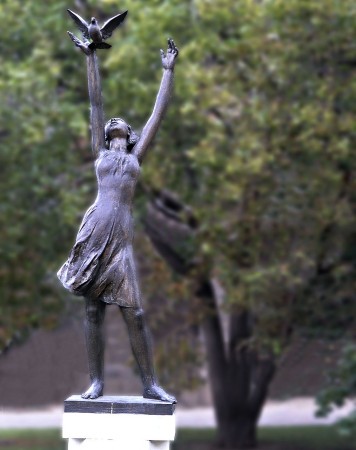 Eunie and I were very fortunate to have been able to travel considerably during the last thirty years. The necessity of moving back and forth between Papua New Guinea and North America gave us the advantage of seeing many places without spending much extra money.
As I looked back over my choices and pondered my response to each, this one gave me slight pause. It is of a lady selling her produce at the Madang town market.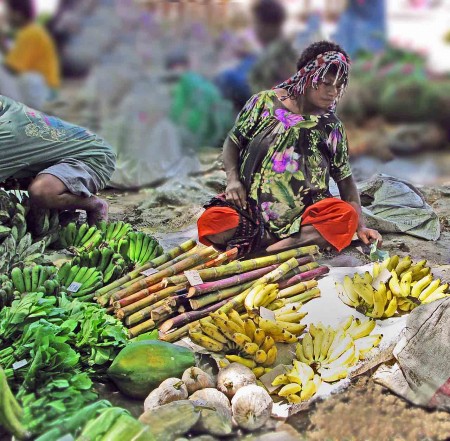 I did enjoy working with the image. It required quite a bit of effort to get it just the way I wanted it. However, I don't think that is why it struck the 'happy" chord. Maybe it represents home to me. That's a bit of a stretch, but it is close enough.
This baby balancing shot taken up at Blueblood is a no-brainer. Kids, friends, tropical warmth and water, a party . . . who would not think "happy"?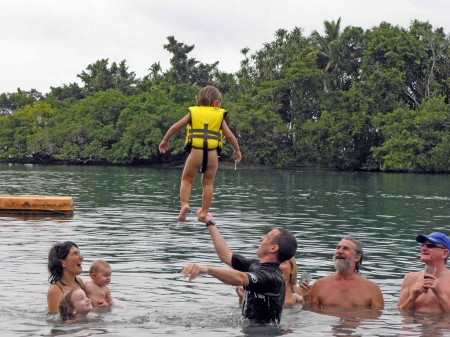 I'm beginning to see a pattern here.
The last shot also is obvious – family. I got this image of Tamara, Pippa and Audrey on the train returning from the Bata Shoe Museum in Toronto. It is one of my favourite images of Hans' little family.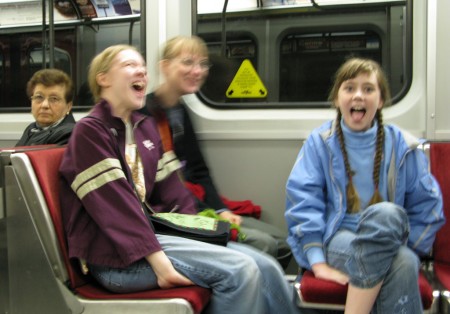 Though there is the sadness of so seldom seeing them, happiness is the feeling I enjoy whenever I think of them.
What can I take away from this little exercise? I'm not sure that I know. All that I can do is make an observation.
Of all of the ideas, things and people in the images above, only one is physically missing. While it is a very crucial point that my wife is no longer on the scene, everything else remains, at least for the time being.
So, the question is, can I take what remains, do a lot of pretending and take the lessons of Dan Gilbert's lecture to heart, trusting my brain to rewire itself in its own self interest as a function of its natural immunity against adversity and despair? Will my prefrontal cortex kick in and create a new standard of happiness?
I trust that it will. And when it does, it will feel real to me. Right now, I don't see how it can happen. That it will happen requires trust in something much bigger than my brain. God will have to handle that one.
I trust that God will do that for me.
Tags:
audrey
,
berlin
,
blueblood
,
Bulb Anemone
,
Carol Dover
,
dan gilbert
,
Entacmaea quadricolor
,
market
,
pippa
,
tamara
,
ush