Today I can't think of anything to say about living in my skin that doesn't feel to me like whining. The usual array of great heavy objects falling from a colossal height continue to rain down on my head. This week's deluge began today. The details aren't important to anyone but me, so I shan't bore you. It suffices to say that it's getting hard to stand up. So, instead of going all sissy on you, I'll tell you a little story, two in fact.
Way back when, maybe a quarter of a century ago, we were in Lae to buy a car. It was a four-wheel-drive Daihatsu jeepy sort of thing. Anyway, we were in the auto showroom waiting for some paperwork. Suddenly, everyone went sort of stiff and jittery. There were a few nervous giggles, something which usually presages trouble. Everybody seemed to be looking in my direction. After checking my fly, I looked around cautiously. Standing behind me, staring at me with teary eyes was the tallest Papua Guinean woman I have ever seen. I'd guess that she was about fifty years old, but guessing age here is pretty useless. I was paralysed by curiosity and wonder.
A glance around revealed that everyone was looking from the corners of their eyes. Folks here often seem not to notice crazy people. As illustrated by the many people who walk on the very edge of the pavement a half-metre from whizzing vehicles with their backs towards the traffic, the general idea seems to be that if one cannot see the danger, it doesn't really exist. In this case, there didn't seem to be any danger, but the woolly forests on my arms rose up in anticipation. She took a hesitant step, seemed to make up her mind about something and walked toward me looking straight into my eyes. That got my attention, as it is almost unheard of. She stopped in front of me and asked, "Are you Jesus Christ?"
To this day, I can't remember how or if I answered. In fact, I'm unclear as to what did happened next. It must have been anticlimactic.
Okay, another one.
Not too many years after that, I was sitting in our Suzuki jeepy thing in the parking lot of a now defunct food store. Eunie was inside buying some stuff. I was to lazy to go with her. I had the window down. In the side rear-view mirror I noticed a thirty-something guy walking up to the car. Caution always being wise, I pulled my arm in and readied myself for some action. I didn't like the look of his stride. It was too determined.
Reaching the car, with no preamble he said, "Hello, I'm Elvis Presley." Ever quick with a snappy comeback, I ventured, "I've got a lot of your records." And that was it. He turned and walked away. You were probably expecting more. There isn't any.
These two incidents somehow got wired up in my brain. I suppose that the connection is obvious. Whether there is any message there is open to interpretation. Let me tell you what I took away from them. You can decide if it sounds nusto and leave a comment explaining why or why not. It's all up to you.
Some people have problems with genes or chemistry or injury or illness – that's a given. Other people go off to lunar mindscapes for less obvious reasons. It's not so much that they are crazy. It's more that life has been crazy for them. One copes the best one can. One does what one must do. One deals with it. "Just get on with life." "Take one day at a time." This is what we are told. But, what if it all becomes too much? Some are stronger, tougher, more resilient, more anaesthetised against pain than others. Some will survive the onslaught. Others will perish.
I have infinite sympathy for those whose minds are broken, regardless of the cause. However, I am especially sad for those who have been beaten down by life. Perhaps it is because I've been there, I'm there again now.  I understand the feeling that one might fall over the edge with the next shove. It's familiar territory. It's terrifying.
So, maybe the two people about whom I have thought so many times over the years were not so unfortunate. They seemed blissfully unaware of their predicaments. Perhaps that's the way to go – silently slipping into insanity without being aware of it.
And now . . . On with the fish.
We've dispensed with the Bad. Now we'll have the Good and the Ugly. This critter should be familiar to you by now. It's the Common Lionfish (Pterois volitans):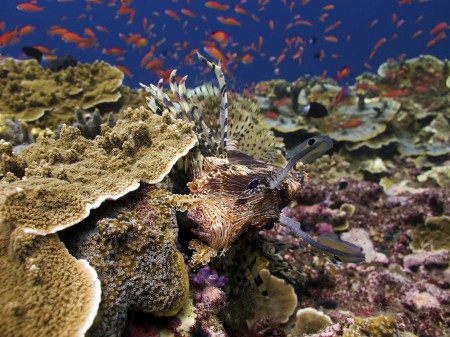 I think that it's a reasonably good picture, if you like your fish in full context. We get a nice idea of what it looks like in its habitat. I frightened this one when I poked my camera at it to get it to move to a more photogenic location. I think that it believes that it is hiding now.
Here is a shot from directly above looking down: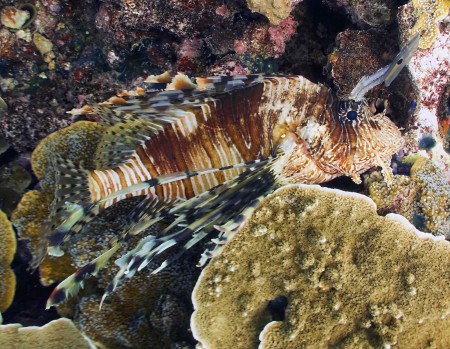 No matter what I did, I couldn't make this shot look nice. It lacks something, but I can't honestly say what. It simply doesn't sing. Maybe somebody can tell me why. I have photographer's block.
Here's a nice little shot of a couple of Clark's Anemonefish (Amphiprion clarkii):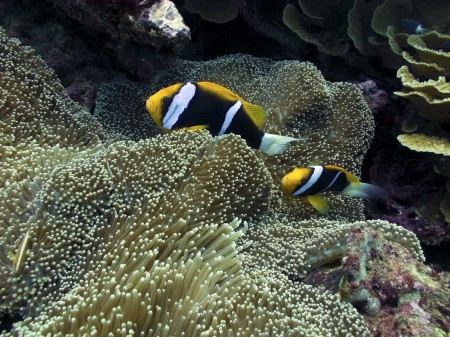 It's odd that I only now notice that there is also a Pink Anemonefish in the lower left corner. I did not see it at all as I was working on the image. How the mind works! Or doesn't.
This is a flash-lit shot of some Anthea milling around. The brightly coloured tubular objects are Organ Pipe Coral: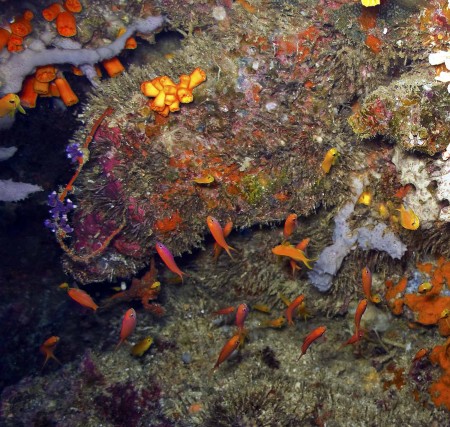 Though the colours are pretty, they are completely artificial. The spectrum of the flash matches sunlight at the surface of the water. You would never see these colours with the naked eye.
This little fellow is a Reticulated Dascyllus (Dascyllus reticulatus):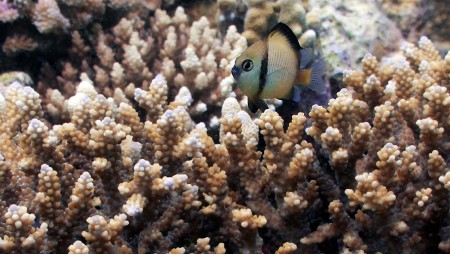 They usually dive down into the forest of horns of coral for protection. This one was curious and stayed out to keep an eye on me.
I wonder if he is crazy?
Tags:
Amphiprion clarkii
,
anthea
,
clark's anemonefish
,
Common Lionfish
,
Dascyllus reticulatus
,
planet rock
,
pterois volitans
,
reticulated dascylus