Posted in
Mixed Nuts
on November 3rd, 2010 by MadDog
Yesterday was Melbourne Cup Day. If you are not an Australian or you don't hang around with Australians, then that might not mean much to you. Let me tell you that it is a very big deal here. The Country Women's Association of Madang threw a lovely shindig yesterday –  the Eunice Messersmith Melbourne Cup Day Party. It made me very happy to attend.
Our local Wonder Woman who goes by the alias of Maureen Hill assisted the ladies of the staff of the CWA Cottage who, along with other members, organised a terrific lunch and provided a delicious fruit punch and a well-stocked bar, an obligatory facility for Melbourne Cup Day.
Maureen sported a stunning chapeau featuring my favourite orange lilies: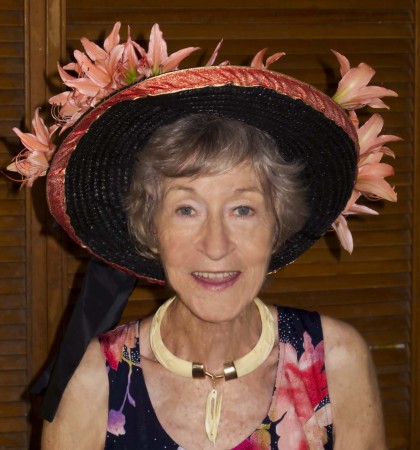 Sometimes I think that Melbourne Cup celebrations are more about hats and less about horse racing, though the race was quite exciting and ended with a nice surprise for me.
Lady Anna had come in from Kar Kar Island with Sir John. I hope that I'm not mistaken, but I believe that Lady Anna won the Best Dressed prize: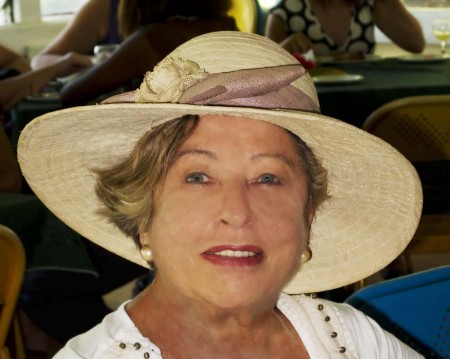 All of the ladies were decked out in their finest.
I wore an old but respectable silk shirt and tropical white trousers. I have one pair of black leather shoes which have not succumbed to jungle rot. I wore them with an ancient pair of black socks with only a few holes, none of which showed. I love to tell uppity youngsters that I have underwear which is older than they are. It's true!
Not to be outdone, Trevor represented the men of CWA (we are both dues-paying members) with this smart number which he picked up in a used clothing store in London: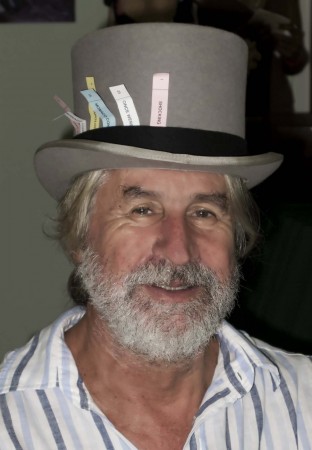 The betting tickets make snappy accessories.
I can't say that I'm particularly proud of the pictures. I was shooting for fun, not technique. I ran them all through a noise and softening filter to get the look I wanted. They are just a bunch of shots of people having fun. I always loved to go to the CWA Melbourne Cup Party with Eunie. She enjoyed it so much and I simply enjoyed soaking up that feeling which I got from being with her when she was having fun.
The ladies did seem to enjoy the attention of my camera. Here is Maggie in her very fine leopard spotted cap: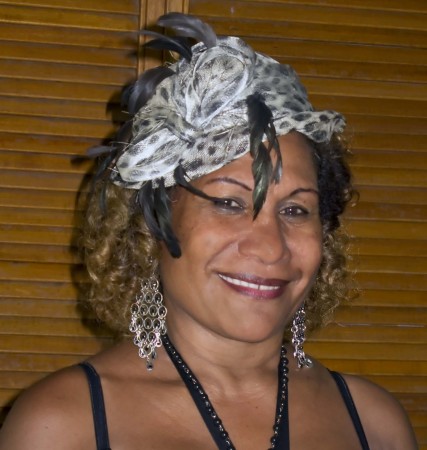 Maggie's daughter, Annie, was a stunner in this outfit: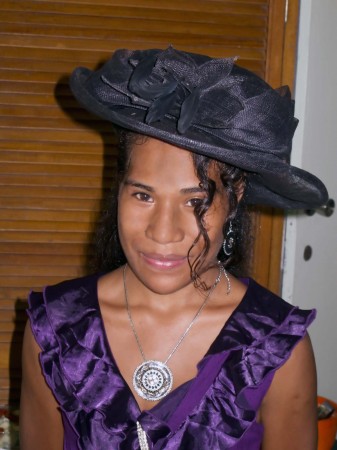 And Leanne showed her lovely smile for the lens: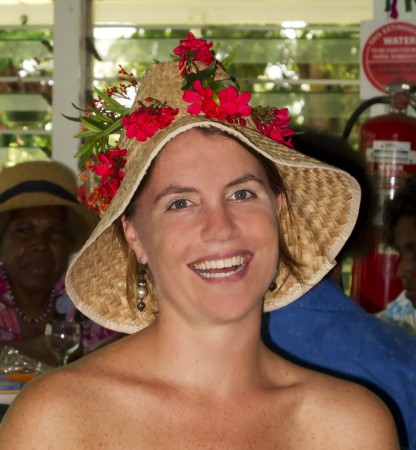 The name of the horse which won the race as Americain. I found this intensely amusing. As the winners were delivered their spoils, I stood and asked why anyone, having thought about it, would not have bet on that horse. The connection between the party for Eunie, one of the few Americans in Madang, and the fortuitous name of the horse should have been obvious. Americain paid about twelve to one. Too bad that I forgot to bet.
Here Karen shows off something which might be called a hat, I suppose: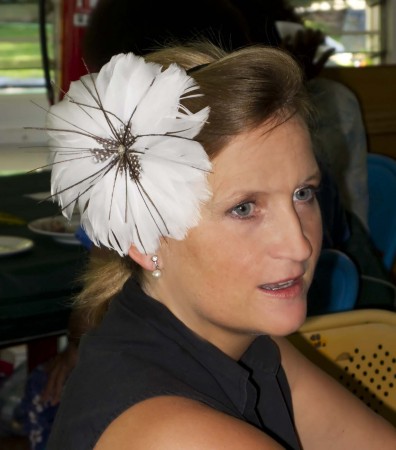 Whatever it is, I like it.
This is Helen. I like this unpretentious headgear. It claims to be a hat and nothing more. Sometimes less is more: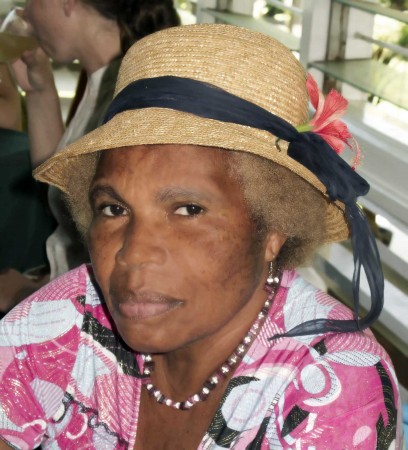 It's a good look for Madang.
Heather was not in a mood for complex metaphors. This hat shouts Melbourne Cup Day!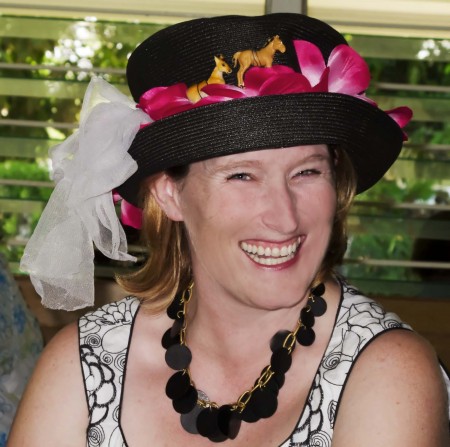 I wonder where she found those little horses.
CWA was one of Eunie's passions. It is one of the more remarkable organisations in Madang. I can't think of another wholly local operation which does so much good with so little. The cottage makes a nice income as do the social functions. All of the income in excess of expenses is spent in support of local needs such as the Children's Nutirion Ward of the hospital and Kindergarden Long Ples (pre-school programs at the village level) among many others.
Every time I think of CWA I have happy moments. I had some very happy moments yesterday.
Thank you, ladies.
Tags:
americain
,
country women's association
,
CWA
,
melbourne cup