Posted in
Items for Purchase
on November 12th, 2010 by MadDog
This post is way out of the usual for Madang – Ples Bilong Mi. I'm afraid that it's not going to be of much interest to most readers. I won't apologise, since I have to do it. I'll be back later with something more interesting. I didn't have much fun writing this, so I need to entertain myself also.
Since I seem to have fallen on hard times lately, I'm forced to think and do things which were formerly unthinkable and un-doable. One of those unthinkable things is to sell, as quickly as possible, an object (just at thing, I keep reminding myself) with which I never imagined parting. That thing is Eunie's car.
I've always thought of it as Eunie's car, because I've never personally known a woman who was as eager to spend so much time working on a car. I did a lot of the mechanical stuff, but Eunie's passion was the cockpit – "Hey, this is where I sit. It's got to be nice!", she'd say. There is a bumper sticker still hanging on the wall in her former office that says, "I ♥ My Spitfire."
So, my good friend Steve Hassfurder, with the help of friends, has gotten the Spit out of the garage of the house which I must sell before it drags me into the bottomless pit. He got it started and tells me that it runs fine, as I expected it would.
I've been fretting (my hobby) concerning how I can get the news out that the car is for sale. It dawned on me only today that my largest audience is right here on MPBM. Nothing ventured, nothing gained. So, with no further self-pity, here is the text and photos which I prepared to send to Steve:
1973 Triumph Spitfire 1500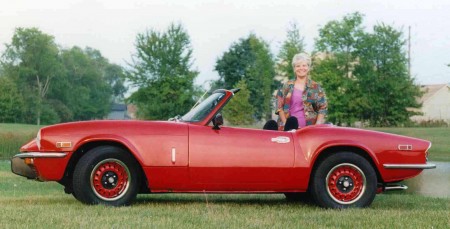 A Little History
We purchased this car in 1986. I drove it back and forth to work while we were stuck in the USA for twenty months. When we moved back to Papua New Guinea we decided to keep it stored in the garage of a house we owned in Brownsburg, Indiana. Beginning with our first extended stay back here in the USA, we decided to start to restore the car. During periods when the car was not in the workshop we used it as our daily vehicle. The car is very beautiful and in excellent condition. There is no rust. The body has been completely restored from the metal out.  The engine, drive train and suspension are all completely restored with many new parts. There is no play in the steering and the car is a joy to drive.
A Partial List of Restorations and Improvements (the ones I can remember)
Body
GM "Torch Red" with matching wheels
Restored from metal out with no rust anywhere
New floor pans
New lower front panel (lower doghouse)
Ugly rear fender join seams removed
Interior and trim
New carpeting throughout the cockpit
New upholstery and cushions on seats
Brazilian Rosewood dashboard
Dashboard upper and glove tray have new covering
New windshield
New folding convertible top
Pioneer stereo system (four speaker) with 10 CD changer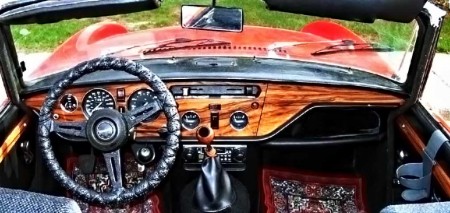 Electrical
New fuse box
All electricals restored – everything works!
New Mallory distributor
New battery
Running gear
Larger radiator with dual thermostatically controlled cooling fans
New Holly two barrel carburettor and new alloy intake manifold
New tubular steel header pipes for exhaust
Rebuilt alternator
New "street performance" camshaft, new valves and springs
New high compression pistons (stock Triumph parts), rings, wrist pins, connecting rods and bearings
New crankshaft and bearings
New clutch
Transmission completely rebuilt (no sync problems on 2nd gear)
New front brakes and new rotors – rear brakes completely rebuilt
New half-shafts and bearings for the independent rear suspension
New rear shock absorbers and new rear leaf spring (no "Spitfire squat")
New front wheel bearings
Front suspension, steering and shock absorbers all new or rebuilt with new parts – no steering play!
New exhaust system with stock Spitfire muffler
New tires when last serviced
It is very hard to find an earlier Spitfire, one made before the appearance of the car was ruined by regulations, in this condition. For beauty, '73 was the finest year for "Spits". One could easily justify a price of $10,000 for this car, considering the cost of putting one into this condition. I am asking $6,000. I will consider other offers. Please contact me. Leave a comment or if you prefer email me at jan@messersmith.name
Tags:
triumph spitfire