Today I have another mixed bag of gibber-jabber and images. My work days on Thursday and Friday last week were severely disrupted by non-glamorous but essential tasks. At the end of Thursday's post I showed a picture of Gosel, one of our Technical Services workers, mowing the grass at one of our houses. He also mowed my lawn that day. I suppose that describing what I have in front of my house as a "lawn" is a little pretentious. It's a big patch of grass full of crab holes. It's not even grass grass. It's more like crabgrass. I guess that's appropriate. On Friday there were two more yards to be manicured. It's is not my usual work to haul Gosel around to the properties which need his weed-whacking attention. It would normally be something that our Administrator of Technical Services would tend to. Unfortunately, we do not have an Administrator of Technical Services. In fact, we are so short-staffed that all of us are doing things which most of us would not normally be called upon to do or have not done before. Our usual work is still there and still piling up.
In most workplaces in which I have been this kind of situation would cause problems of all kinds, mostly in the form of complaints and interpersonal relationship kerfuffles. Since I came back from Australia and resumed my duties I have been amazed and greatly encouraged by the way our entire staff of workers has responded to the drastic changes in the distribution and nature of our work loads. We still face some difficult times, but we are truly pulling together as a team.
Okay, that was pretty boring, eh? I'm sure that you dropped by so I could tell you all about my work days last week. I'm a charmer, I am.
Well, maybe I can amuse you by describing the strange little thing which just happened back in my medulla oblongata. We're talking way down deep here, folks. I have no control over these things. It's a lot like hiccups.
When the words "pulling together as a team" dribbled off my fingertips onto my keyboard, I had a sudden surge of energy from my autonomic music centre. It blasted my one good ear with some lines of the Pink Floyd song Have a Cigar from the 1975 album Wish You Were Here. I have an intense affinity for that album. It's very familiar territory. I can't listen to the title song without crying. Yeah, I know that's an old man thing. The problem is that I've been doing that since the album came out. I wasn't so old then.
It could be made into a monster
If we all pull together as a team.
And did we tell you the name of the game, boy,
We call it Riding the Gravy Train.
Strange, eh? – that the connection was made. Happens to me all the time. Rats have chewed all of the insulation off my wires.
Music can be so powerful. How does that happen? Take some notes, string them together, mix in some words . . . and you get a punch in the guts. Of course, it has to be the right tones in the right sequence and the words have to get your attention at some level deeper than a daydream.
The staticy radio sound of the acoustic guitar lead-in which drifts into a live sound at the beginning of Wish You Were Here is pure genius to me. I'm listening to it right now. And, yeah, you guessed it. . . I won't say it.
How I wish, how I wish you were here.
We're just two lost souls
Swimming in a fish bowl,
Year after year,
Running over the same old ground.
What have we found
The same old fears.
Wish you were here.
Oh, so many absent friends – so many I will never see again.
(Sniff, sniff . . .)  I'm repeating myself. I note that I wrote about this song in a very morose post only last March.
Okay, enough of that. Let's look at some flowers and some other stuff. I have a treat for you at the end, so you may want to skip down to it.
While the grass was being trimmed at one of our houses and I didn't want to drive back to the office and then come back later to pick Gosel up, I took advantage of the time to walk around the yard and snap some pictures. This view struck me as a comment about life these days in Papua New Guinea: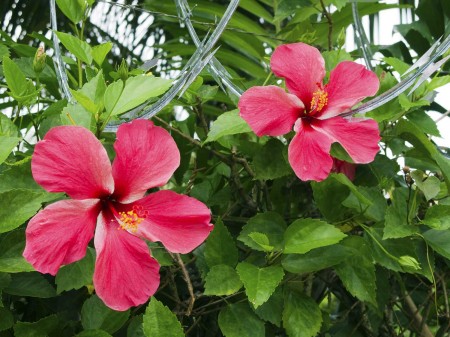 Razor wire and flowers – paradise and danger. How many ways can you say it? Things are not as pleasant as they once were. It is not considered safe now to drive up the North Coast Road. Expatriate volunteer workers are being advised rather strongly not to leave town. I've never been seriously concerned about my personal safety before in Madang. Now I'm not so sure. Tomorrow I wanted to drive up to Blueblood to party with friends. Now, I either have to go by boat or stay at home. I'm certainly not going to risk a carjacking of my new truck (can you carjack a truck?).
All right, let's not dwell on that for too long. Here is a close-up of the business end of a hibiscus flower: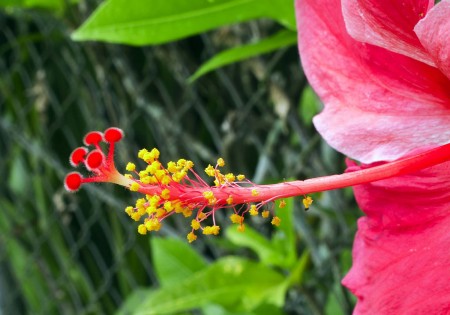 It reminds me of a particularly elaborate cheerleader's pompom or maybe Mother Nature's sceptre.
This hibiscus blossom has just opened. The yellow anthers are still globbed together in a ball: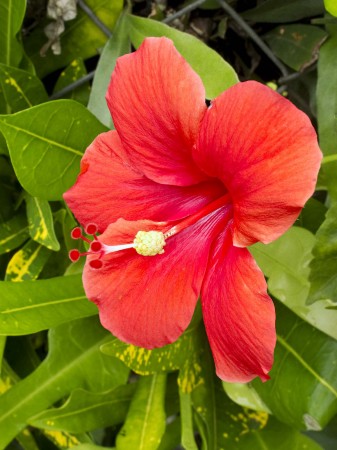 Even after thirty years, I still occasionally see a colour of hibiscus which is new to me: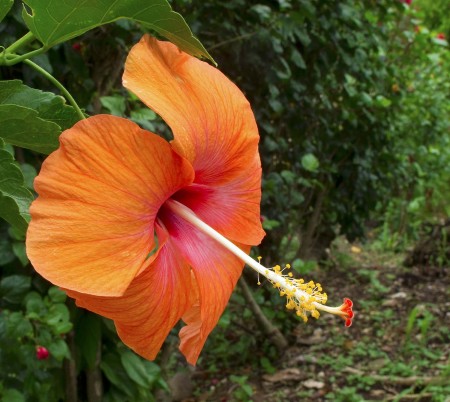 You never know what you will find in someone's yard: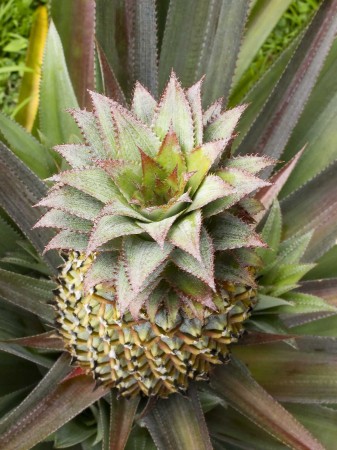 This unusually prickly pineapple plant is not only tasty when ripe, but very decorative.
Where there is lush plant life, you will always find the grazers: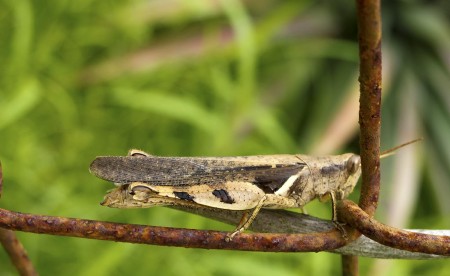 And vegetation is everywhere. This is the fire eaten stump of a huge raintree. In the hollow, a little garden grows: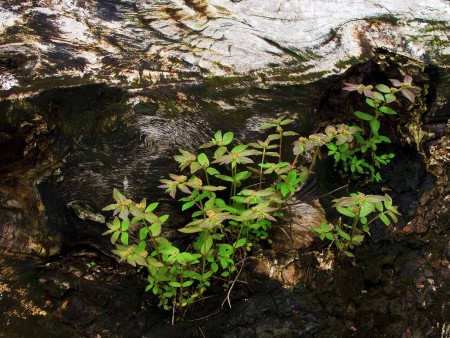 Okay, I think that I have beat that subject to death now. Let's move on.
I've been corresponding with a young lady for a while about photography. Kristy Peacock wants to enhance her ability to take exactly the photos which she wants. It does take a little understanding of some basic technical issues and knowledge of how to make your camera do what you want instead of doing what it wants. Once you begin to put these things to work you can step outside of the snapshot box.
We were talking about the night modes on her camera. I am glad to see that she is experimenting: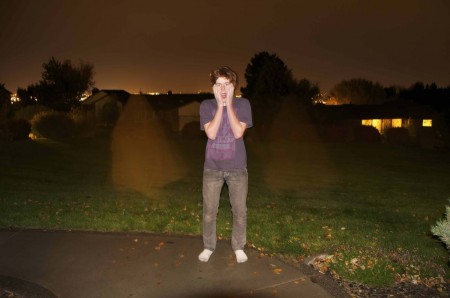 It's a very imaginative shot. I'm not even sure how she did it. Maybe she'll explain in a comment. The phantom images look like a double exposure, but I don't think that is is it.  It's more likely people moving out in the yard behind Kristy during the long exposure time when the "dark" image is forming before the flash goes off to capture the foreground.
I'm very glad that she sent this one to me. I like silky water shots. I'm pretty sure that this one had to be a tripod exposure, as I suspect was the one above. The exposure time would have had to be a second or more: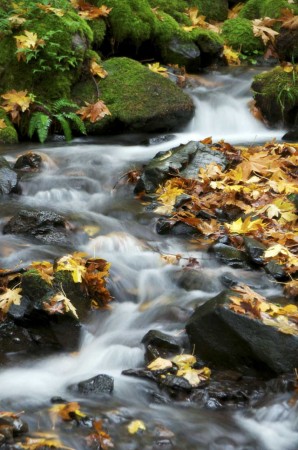 Some cameras have what is called a neutral density filter built in. Otherwise you can add one in front of the lens. The purpose of the filter is to cut down the amount of light getting through the lens. This allows you to use a much slower shutter speed. You have to brace the camera firmly against a solid object or, better yet, use a tripod. The result is that the water is motion blurred while everything else remains crisp and sharp.  Very nice work, Kristy.
Tags:
grasshopper
,
have a cigar
,
hibiscus
,
kristy peacock
,
pineapple
,
pink floyd
,
razor wire
,
wish you were here