Posted in
Guest Shots
on December 2nd, 2010 by MadDog
Finally, someone has sent something interesting which allows me to crawl, all pale and creaky, out of my navel for a while for a bit of sun. Ah, fresh air! I bet it smells sweet. Hey, it's pretty nice out here. Maybe I'll stick around for a few days and see what happens.
Our Guest Shooter today is David Bryan Lile. I stumbled across David via one of those serendipitous "friend of a friend" interactions which sometimes produce surprises which fall outside the proverbial box, er . . . that would be the surprise box, I guess. Think of Forest Gump's mom's box of chocolates. You get the picture, eh?
This one is titled simply Akron Art Museum. David comments briefly, "Blue and yellow building with canopy. Akron, Ohio. Shot at 8:30 in the morning. Nice sun." Succinct, eh?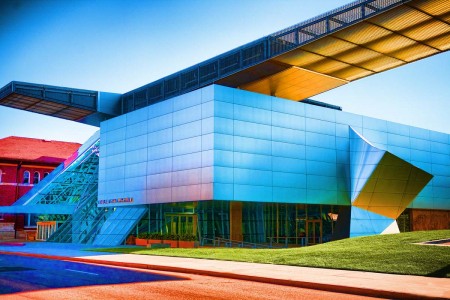 This reminds me of some High Dynamic Range photography which I have seen. It is sometimes taken to extremes and produces very unusual effects. David uses a bewildering array of techniques to create his images. The resulting vision is surreal.
This one is Beatles Image With Water or Aged Beatles. Sometimes I'm not sure what the title is, but it's the image that counts: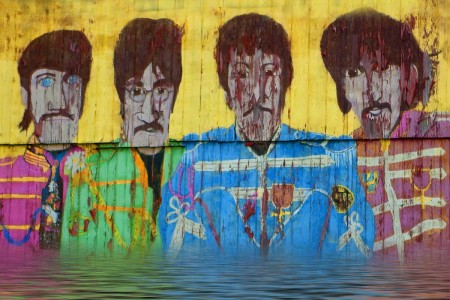 David comments, "This image was painted on the side of an old barn, in Thompson, Ohio. It is out in the middle of nowhere, and as I was driving, I saw it from the road. I stopped at the farmhouse and asked the woman that answered the door, if I could take some photos of it, on their property. She said, "Yes!" and then she told me that her daughter had painted this mural on their barn, 21 years ago. I did, of course, some post production work on it. You could barely see the image, color wise, before I saturated it, because of 22 years of weathering. I really love this image."
I agree.
Here is Birds Of A Feather: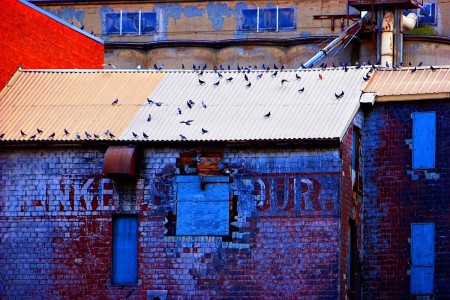 And David says, "Cleveland, Ohio / The Flats, along the Cuyahoga River, as it flows into Lake Erie. Multi layered Photoshop post production work."
And this one is For Whom The Bell Tolls: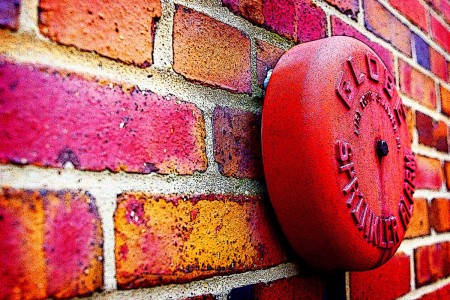 David's description, "Cuyahoga Falls, Ohio. Just a fire alarm on the side of a building. I liked it, I shot it. I post produced it with my special effects!"
Sounds like Julius Caesar – Veni, vidi, vici. I came. I saw. I conquered.
This one is, strangely enough, All Gassed Up: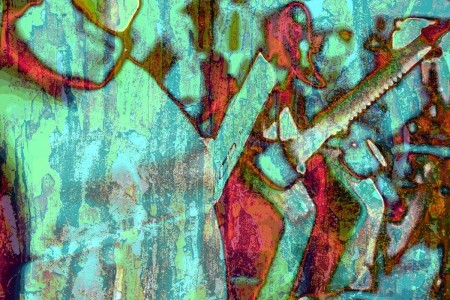 And David is a little more generous with his comment, "One of my favourite images. I was in a juried art show with this image. Please don't tell the secret about this image! Everyone sees a rock band on stage, with the guitar players lined up, or some sort of a chain saw. What it really is, between you and me? Simply a line of one gallon gas (Petrol) cans lined up, on a shelf. I did a ton of post production work to make this image look so different. Keep the secret between us, as photographers!"
Okay, that was fun.
Here is Our Lady: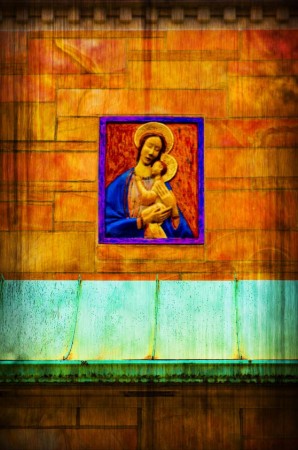 David:  "This is in Cleveland, Ohio – Tremont, which is the arts area of Cleveland. Front of a church. Just liked the beauty of Mary and Christ. Added color and my own David B Design touch."
Try this one – Open Circuits:
And here's David again, "Akron, Ohio. Downtown Akron Erie Canal Lock 3 Section. I just thought that the two circuit boxes and the wires looked really interesting. Added my DBD look to it."
I like the way David takes very ordinary things and makes them extraordinary.
This is Days of Glory: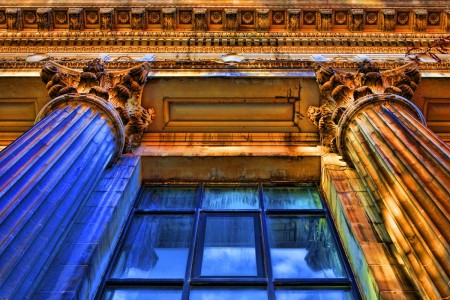 David's comment, "Akron, Ohio. 125 year old, abandoned building with awesome pillars. Loved the pillars and made them stand out. Played with distort and perspective in Photoshop, along with my other effects. Gave them a deeper tone than what they looked like in reality."
This one is Exhausting: (David's word, not mine.)
And David says,  "Pittsburgh, Pennsylvania – 2010 at the Pittsburgh Air Show. This was a very large vent on one of the larger US military aircraft. I simply liked the look of it, shot it and post produced it."
Okay, this is my favourite. Very funky!
And last we have Wing Man: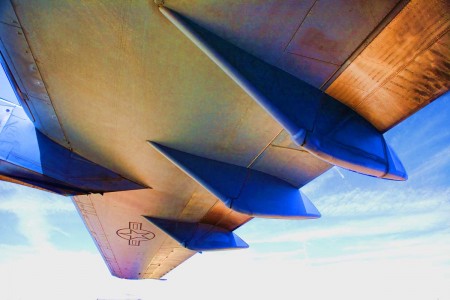 David: "Same Air Show. One huge wing. Loved the look of this wing and the sky behind it. Added just a touch of extra color to it."
Okay, that one got me too.
As one who dabbles in image making I can't help but think of things which I might have done differently. For example, I am a fan of what I call the "plastic look" which has the effect of smoothing out a surface, removing noise, especially colour noise, from the image. David doesn't mind the noise. In fact, he seems to use it as part of the texture of the surface. As for myself, I like a cartoon effect. However, my preferred technique would not work for some of these images. You can see the effect of which I'm speaking here, here, here and here.
These differences of interpretation possibilities are part of what makes playing with images so much fun. If you sat ten image makers down with an interesting photograph and a computer with Photoshop on it you would end up with ten radically different images. Everybody would have fun.
Thanks, David, for sending me your beautiful creations. It's nice to get out of myself.
Tags:
akron
,
david bryan lile
,
hdr
,
high dynamic range
,
ohio