A few days ago Alison Raynor sent to me some long-promised skydiving shots. Toogoolawah up in Queensland in Australia is an action centre for skydiving. Ali is a great source of beautiful photographs and amusing subjects. She has had some very nice Guest Shots on Madang – Ples Bilong Mi. I'm happy to bring you this great story of skydiving in words and images. My thanks to Ali once again for giving me a break from navel diving.
I'll let Ali tell it:
I took these photos at a Ramblers Display team jump at a Bribie Island community event. Doug Stewart is jumping the Aussie flag and has been doing this as part of the team for about 20 odd years. I think of him as "Fearless Fly." The huge flag with all its lead-shot weight is packed very carefully into a big bag and clipped to his harness which hangs off his tummy. He lugs it all into the plane along with his parachute rig on his back and after his parachute is open and is flying safely he deploys the flag and weights. Nine out of ten times he lands it on the target in some really "tight spots." This is one of those tight spots. It's a postage stamp sized beach with a huge jetty on one side, the Bribie Passage (deep water channel complete with a large flotilla of small ships) on the other and a rock wall with about 500+ people looking onto the beach. There are also giant pine trees. Did I mention the raging SE wind blowing in off the sea? Anyway, these blokes are seasoned old skydiving pro's with not one dare devil amongst them. These are calculated events. After weighing up all situations and risks the answer is usually . . . "Geronimo!"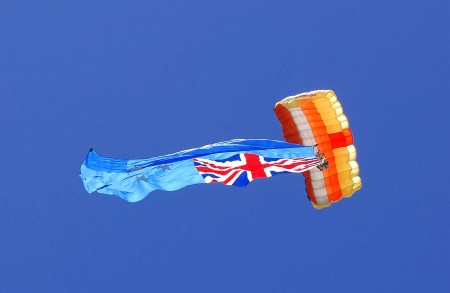 The Demo team has jumped into many situations over the years and this was just another day's work really.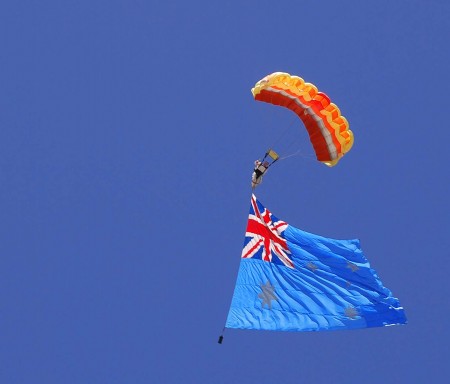 Doug flies a large canopy designed for accuracy rather than speed. It is more manoeuvrable, controllable and much more forgiving on landing.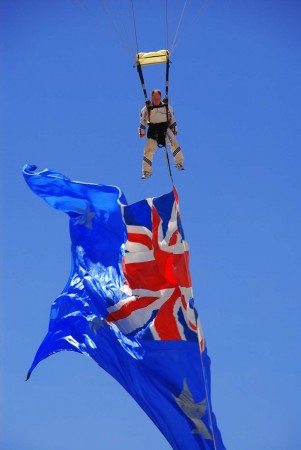 Dave and Sarge land and wait for Doug and the flag to touch down. Egon, the ground crew rushes to the target to assist Doug on landing.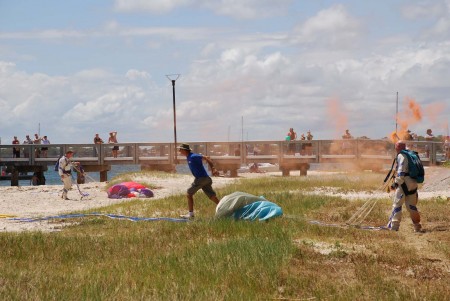 Doug drifts down. Ahhh, the concentration!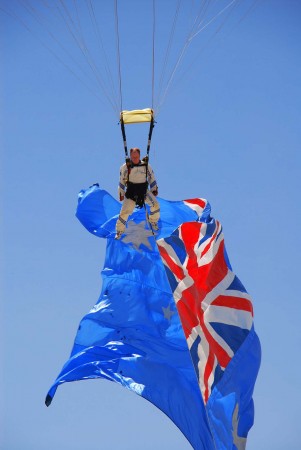 Not yet . . .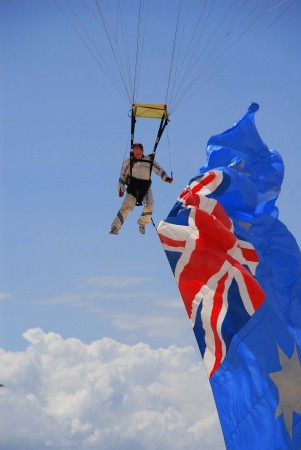 The little bit of yellow in the left bottom corner is the edge of the target (not bad accuracy,considering the conditions). The lead shot bag is about to hit the sand and Doug will hit the ground almost simultaneously- note the distance to the ground – it's all maths for Doug from here really. The bag and harness on the front of Doug is the "flag bag". He deploys the flag after his parachute is open: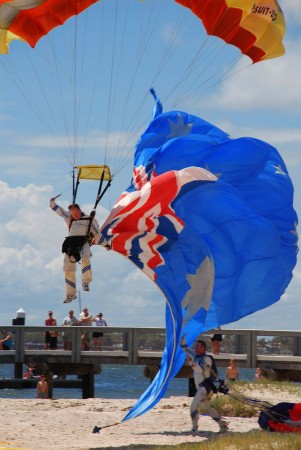 Doug was dragged base over apex while the other two tried to fight their way out from under the billowing flag.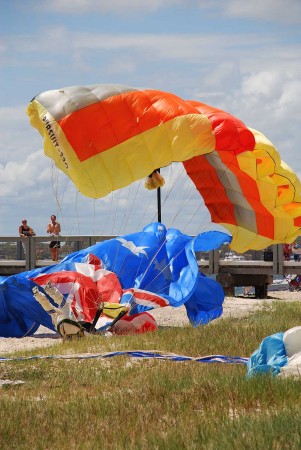 Both Egon and Sarge missed Doug completely as they were enveloped under the flag . . . ha ha!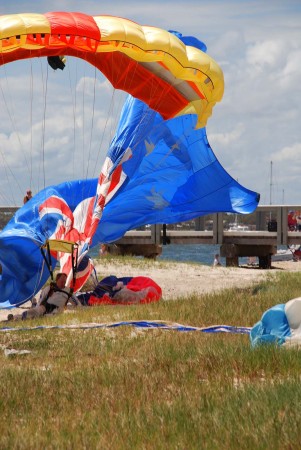 Sarge is also running to help Doug hand when he lands. It is called "catching" and is also done when tandem jumps are landing in stronger winds. The aim is to grab a steering toggle and pull it out to full length, so as to collapse the canopy and prevent it re-inflating in the strong wind and dragging the pilot, but guess what . . .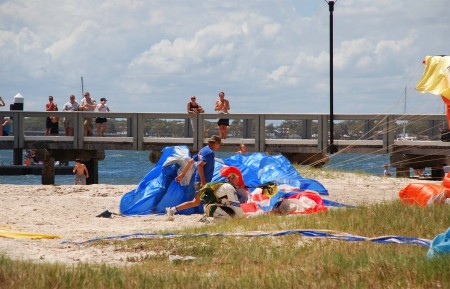 Egon fights his way out of the flag and comes to the rescue as Doug digs his knees in to fight being dragged. Meanwhile Sarge is still lost under the flag and Dave is looking and laughing at the circus.
I may have gotten some of the images attached to the wrong captions. I wasn't quite sure about it. I think that I have the sequence right, but I know little about skydiving. Ali will let me know if I got them mixed up.
Ever since I did my first skydive in Cairns I have wanted to do it again. Since I am going back to Australia again next year, I plan to visit Toogoolawah with my friend Val Jerram who also wants to do some jumps. She has been hang gliding, something which I have not yet done. I was jealous. Now I am even with her. She's done the hang glide and I've jumped out of an airplane. I'm sure that she wants to get ahead of me again in this crazy race.
It's gonna be fun!
Tags:
alison raynor
,
birbie island
,
cairns
,
skydiving
,
toogoolawah