Posted in
Guest Shots
on December 21st, 2010 by MadDog
Tonight it's my pleasure to bring to your screen a young photographer who is learning the craft. Pania Brown and I have been corresponding on Facebook for some time concerning photographic techniques. When Pania started her studies for a Diploma of Professional Photography, I suggested that she gather work from her assignments and others from her favourites collection and send them to me for a Guest Shoot. I really enjoy giving people what is sometimes their first exposure on the web.
It's our great fortune that I'm not in a writing mood tonight. I'm still digesting the events of the last few days and bracing myself for the Christmas holiday. So, I'll let Pania introduce herself and present her images along with her comments. I'll jump back in at the end.
Enjoy!

` ` ` ` ` ` ` ` ` ` ` `
My name is Pania Brown (nee Williams) and I am a proud ex MK (Missionary Kid).  It's been 23 years since I left PNG, but I still call it home.  I consider myself blessed, for my formative years were spent growing up in a beautiful part of the world.  My first 9 years were lived on a variety of remote village mission stations out on the
Ramu River,
and then I was gifted with 5 delicious years from the ages of 9 -14 exploring all that the lovely Madang had to offer.  For me the memories are vivid, full of colour and movement.  For me it will always be a magical place that time forgot.  It is of course all a matter of perspective, and as a child I focused not on the relative isolation that my poor mother must have faced.  I worried little for the pesky weevils that had once again invaded the flour.  Nor did I lose any sleep for the safety of my father as he traversed the swollen flooding rivers, avoided the crocodiles, bull sharks, snakes, spiders and other incredible creatures that lurked within the jungles.  It concerned me not that the truck was bogged, or that the next plane in with all our food supplies had been delayed for another 3-6 weeks by bad weather.  Such concerns were not for me to concern myself with, for as a child for there was always fish to be caught, friends to spend my time with, fresh tropical fruit to be picked and coconuts a plenty. For me the experience was one of total adventure, of true fun and exploration – everything that an ideal childhood should be.  On return to Melbourne (Australia) at the age of 14 I struggled greatly to adjust.  For me the reverse culture shock was extreme.  My beautiful outdoor playground and reef was replaced with trains, buses, tall skyscrapers, millions of people – a relative concrete jungle with danger on every corner.  I yearned for the blue of the ocean, the colour of the reef and the simplicity of life in a land that commercialism hadn't quite invaded…  but that was 1987 –  perhaps it's not the same any more, but for me time has stood still.
These days I call Townsville home in the beautiful Far North of Queensland.  We have a lovely home perched on the edge of a river.  I find myself surrounded once again by stunning examples of natures finest.  I decided recently to do something that I have wanted to do for years – a Diploma of Professional Photography.  It's a far cry from my day job which is founded more in operations management, recruitment, reporting and meeting KPI's. I claim to be no expert by any means and there are many more gifted than I, but to tell a story and to capture a memory is the greatest gift of all.  One that I hope to share with those that I love and hold most dear – and hopefully to extend to those that I am fortunate enough to call friends as our paths cross in life.
Jan has kindly invited me to submit a guest shoot on MPBM with a few samples from my recent assignments.  This is indeed a great privilege and a great honour as I know full well the calibre of his reading audience and the high regard with which he is held, so thank you for sharing your wonderful wall with me Jan.
The first shot I have included is of a beautiful Frangipani flower – it reminds me so much of life in PNG.  Very simple, but the colours are like a delicious bowl of tropical fruit – thus it's common name I guess – "fruit salad plumeria" –  almost looks good enough to eat, but I can tell you from childhood experience they taste like "beep beep"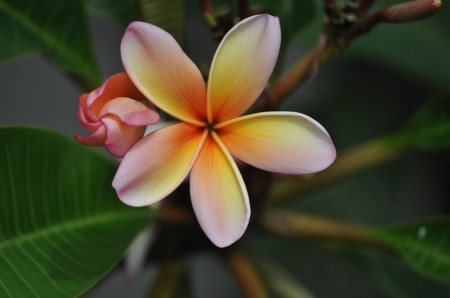 "True Balance" was a bit of fun, a Sunday afternoon project during a beach walk with my family.  I spent ages playing with this one -a simple stack of washed beach rocks towered up and balanced precariously as the waves threatened to knock it crashing into the foam while I darted in and out of the waves and avoided dunking my camera in the sea.  I can still hear the giggles and the yells of "No!" as I got the last shot and a big dumping wave washed it all away.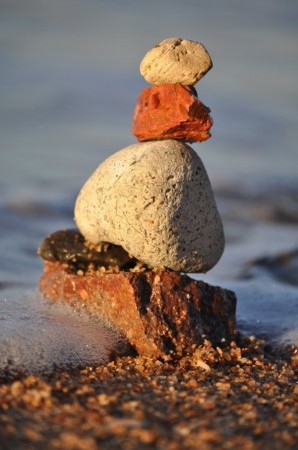 "Nature's Treasure" was taken the same day and I love the fragility of this tiny perfect shell cradled in my little daughter's hand.  There was no way she was going to let this one go – even whilst I tried to capture the image she clung tight and squealed when the waves got too close and threatened to wash her new jewel back into the sea from where it came.  I remember well the beautiful shells we found in PNG and that same feeling I experienced as a little girl when a lovely cowry shell caught my eye, and for a moment I had a tear in my eye for my little girl was experiencing that same wonderful gift of God's finest creations.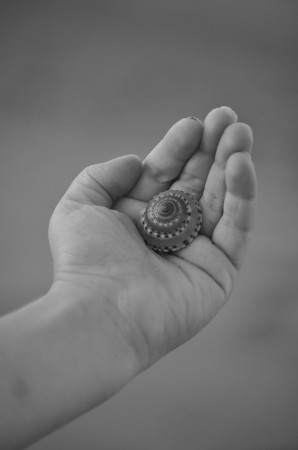 The next group of shots were taken in one of my latest assignment submissions.  The project with which I was charged was to shoot a variety of images for a magazine shoot – to reflect "a sense of place" – to capture the essence of Townsville in a handful of shots.  So I give you now a quick visit to my lovely home town.  I hope one day you will venture here too, for it like Madang is a beautiful and relatively unknown part of the world.
I'll start you off with a lovely view across the bay – shooting back across the water and looking towards Castle Hill with the cheeky Red Baron bobbing in the foreground.  Castle Hill is an iconic Townsville landmark.  There is a strong hill climb culture in this town – new comers are challenged to climb the slopes, whilst many locals are amused by these silly antics and still proclaim that there is no need to climb that which one can drive up in a car.  After 4 years living here I finally mustered the courage to climb the hill and now climb it weekly.  The sense of accomplishment is fantastic and invigorating, some would even say therapeutic.  There are many that run, cycle or climb it regularly and it is considered by many to be a ritual or a right-of-passage to be considered a true local.  The Red Baron is a lovely old floating bi-plane that offers scenic tourist flights over our fair city and Magnetic Island.  It is a pleasure I am yet to experience, but the looks on the faces are certainly priceless as it does low fly-overs and buzzes the unsuspecting tourists lying on the beach.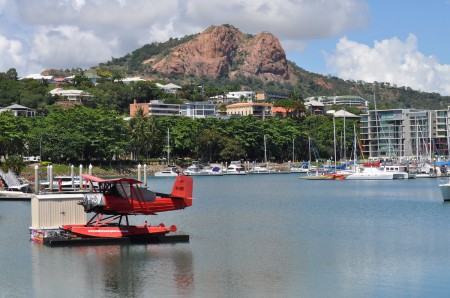 Next stop is the deliciously cool and invigorating "Strand Water Park".  It can only be described as a colourful explosion of bright colours.  Thousands of mega litres of clean water cascade, squirt, spray and pour from every corner of the playground.  This image freeze frames the lovely water, the motion is stalled for a brief second but the squealing and delight of dozens of children still continued as the water dumped out of that fantastic big bucket and onto their heads.   It's how we came to live here, with the prospect of new jobs we came to inspect this new town – our three children agreed unanimously that this would be a good place to call home as nowhere else had such a fabulous water playground.  They were right; it's been a fantastic place to take our visiting friends and relatives and is always talked about long after their visits.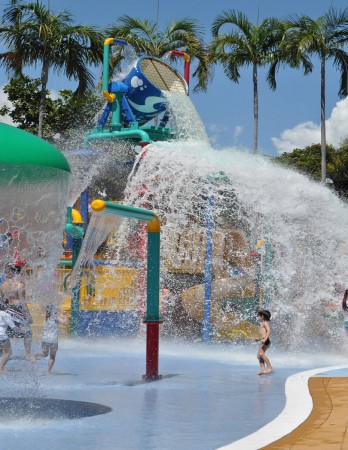 In completing this project I was trying to capture not only the classic and iconic landmarks of our town, but to also capture random snippets that "didn't quite fit'.  This shot of the delightfully French inspired canopies and wrought iron light fittings in downtown CBD Townsville doesn't quite fit with our theme of tropical palm trees and old Queenslanders and reminded me much of downtown Paris.  Perhaps Townsville is a big Shabby Chic, but I was intrigued all the same that I could create an image of one town that looked more like another.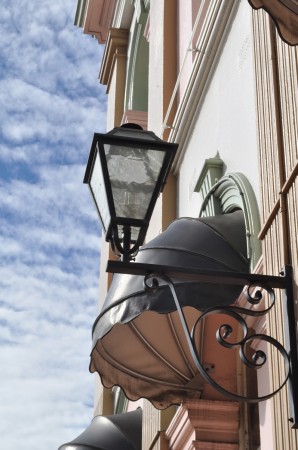 Next stop a quick shot taken under the Bowen Road Bridge.  Relatively tranquil but I loved this shot as it creates a sense of remoteness when in fact right behind that wonderfully talk brick tower is a modern and bustling housing estate.    I loved the reflections and quiet peace in this shot when in reality, above me on that giant bridge thundered hundreds of trucks, buses, cars and roaring motorbikes.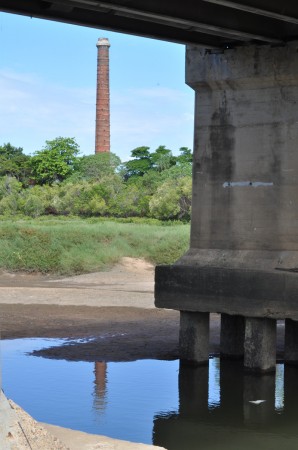 The mystical wall was another location that many have inquired about.  For me it was a bit of an Alice in Wonderland moment. I wonder, I wonder, what's behind the wall?  in fact there is an old run down red brick building that used to be a convent but the building is now quire derelict, and the yards are now cluttered with old broken car bodies, boats, building materials, but from this angle it could take you anywhere.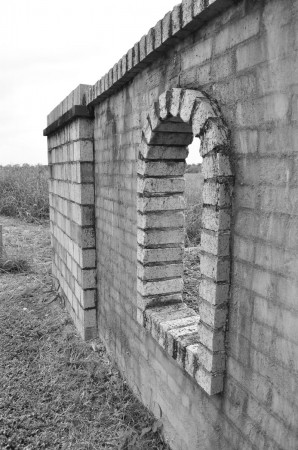 The shot of the mystery swimming man was a matter of being in the right place at the right time.  I giggled with glee as I realised I had caught him mid motion, totally focused on each stroke.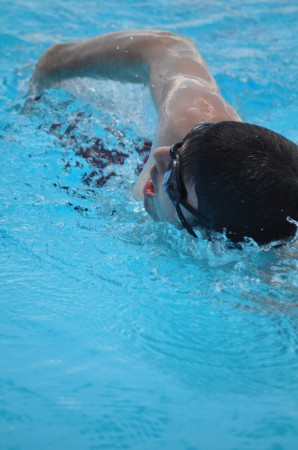 And finally I leave you with one of my favourite shots – "Townsville Pier by Night".  The gorgeous blue is striking, the lens flare a total fluke but I was so happy to have captured a special moment with my beloved husband.  A delicious and rare moment of "two" in a busy life of "five".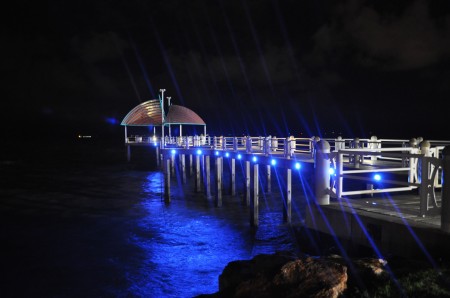 Thank you for sharing my journey, perhaps one day if you are passing through you will stop for coffee and enjoy the view from my veranda as I do . . .  until then God Bless.  May you enjoy every day as if it were your last and treasure most the moments spent with those that have been given to share your journey in this life . . .

` ` ` ` ` ` ` ` ` ` ` `
As a middling good amateur photographer, it is interesting to me to look at Pania's images to see if I can think the way she was thinking when she tripped the shutter. In each of the images I fancy that I can determine how she was giving voice to the vision. I see a good eye for composition, nice use of the rules without making the rules the point of the image. Certainly, I see things which I might have done differently, yielding a different vision, a different voice. Photographers love to look at the images of other photographers. I've seldom encountered criticism, but often answered very pointed questions. We are, in our way, very geeky. That's what makes it fun.
Tags:
pania brown