Posted in
Guest Shots
on December 28th, 2010 by MadDog
Sometimes an image has nothing at all to do with photography and everything to do with the subject. A wonderful example of this is the stack of shots which I received a few days ago from my friend Alison Raynor of Queensland, Australia. You'll find Ali here as the guest shooter in several posts. Ali lives in a magical place and has what seems to me to be a magical life. I think that these images, taken at long range from her veranda, support my somewhat romanticised vision of her habitat. I'll let Ali explain:
I know that there is no quality to these photos at all, but the subject matter and sharing these incredible moments with you is what is important. Taken from the veranda on max zoom – they were not good and so I played with them in my Mac Photoshop . These juvenile male roos were playing at being the "big boys". They would fight to the death in a real battle. The big buck at the right of this picture is the boss man, big daddy, and he is overseeing the young ones. The 3rd photo cracks me up. I would love someone to write a caption. Number 5, standing on their tails to do battle, you don't often see it let alone get the privilege of wrapping your shutter around it. Hope you like them Jan. They are really only for you to look at and enjoy.
Well, I'm certainly not going to keep these to myself. Within the constraints of the image quality of consumer grade "super-zoom" cameras, these are beautiful shots. The extra-long zooms lenses on some cameras loose a great deal of quality when stretched to their limits. They yield usable, but not sparkling images. I'm happy to live with this, considering that an equivalent 600-800 mm zoom lens mounted on a high range digital SLR camera would set me back a significant portion of my yearly income. I would have to give up eating.
Ali did a good job of cleaning up the images. The only thing that I did was to run a noise filter and then balance them so that they are more or less the same tone. Colour noise and fringing are real problems with these super-zoom images, so I followed Ali's lead and reduced them all to near monochrome. The roos are the story, not the photography.
Here's "big daddy" supervising a sparring match between a couple of youngsters: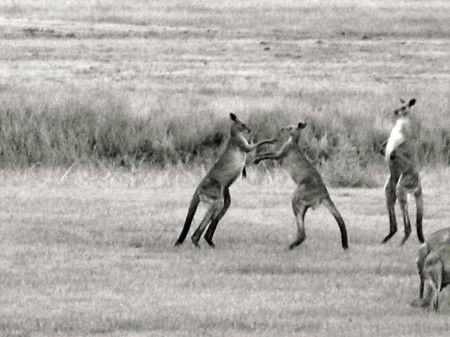 And this is the classic "boxing kangaroo" pose: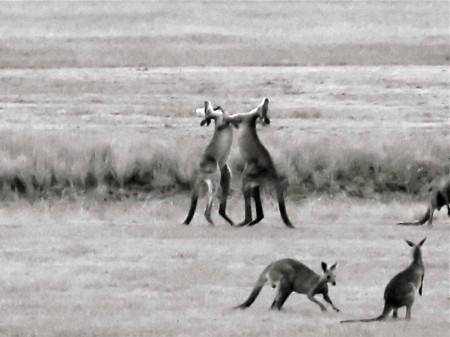 The boxing kangaroo was featured on the flag of the Australian entry into the Ameraca's Cup race in 1983. I remember driving through the Ramu Valley in that year, listening to the race on the radio and cheering Australia on. It's also used on the flag of the Australian Army soldiers clearing mines in Afghanistan.
This is the one for which Ali would like a caption. Care to leave one in a comment?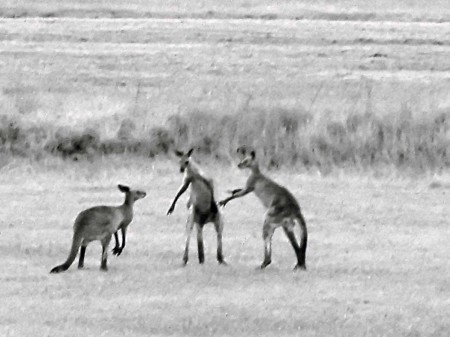 That shot really captures a moment.
Here's another one worthy of a caption: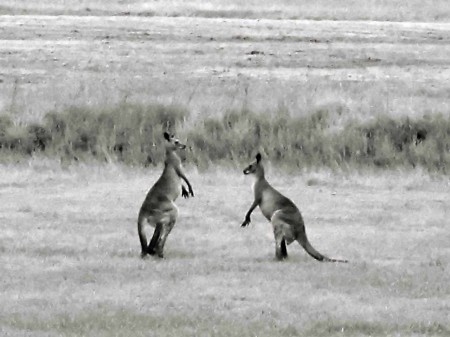 I don't even know what to say about this one: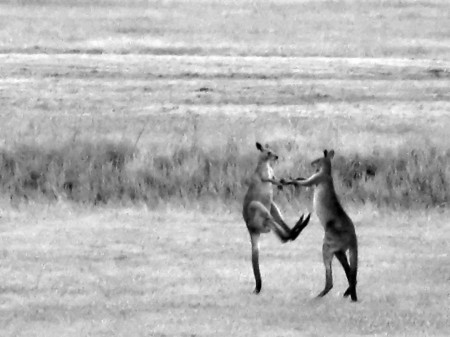 How can they do that?
Finally, when they tire of the game, they hop away.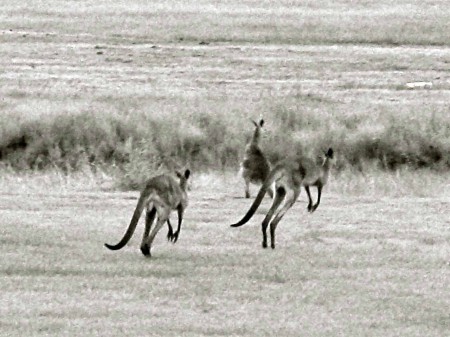 I remember Eunie telling the story to anyone who asked us how we managed to convince our eleven year old son, Hans, to go peacefully off to Papua New Guinea. Hans had only one request. He said that we could go if we promised him that he could go to Australia and see kangaroos in the wild. His favourite childhood toy was a fuzzy kangaroo.
We kept that promise.
Tags:
alison raynor
,
kangaroo
,
toogoolawah