Posted in
Under the Sea
on January 10th, 2011 by MadDog
I'm now one dive behind. Our last Leper Island dive was some time ago. Yesterday, which was Sunday, we did a dive on the wall up at Blue Blood in a spot where I had not been before. I'll be showing some images of the incredible variety of flatworms we found there. That's for later. Today, I'll show some more shots from the Leper Island dive.
With the help of friends beginning on Friday evening, I managed to keep myself distracted over the weekend – Friday at the Country Club for a very difficult quiz, Saturday on Sanguma, with Rich Jones and Jenn Miller and Sunday up at Blueblood with a group of friends. Distraction was particularly important to me, as Saturday marked four months since Eunie's death and I desperately needed to avoid deepening my depression by brooding on it over the weekend.
I imagine that distraction is important to anyone suffering from severe reactive depression. I've been depressed for longer periods of time – this episode is in its sixth month and is pushing me closer to the edge than I have ever been. I've never before suffered depression so profoundly disabling. It is very scary. There is no aspect of life left untouched by it. It drags down every joy and leaves its ugly traces in every dark corner of the mind.
Strange as it may be, I've experienced some significant comfort from a friendship with someone who is equally depressed for other reasons. Comparing notes and discussing symptoms and coping strategies has been very helpful to both of us. The most valuable thing for us, however, has been to have someone to talk to who understands exactly the feelings which are so troubling, someone who is experiencing them at the same time. There is great value in speaking the with the same vocabulary and sharing the same emotions.
Again, a blessing.
On to the pictures.
You've seen the Sailor's Eyeball (Valonia ventricosa) many times here: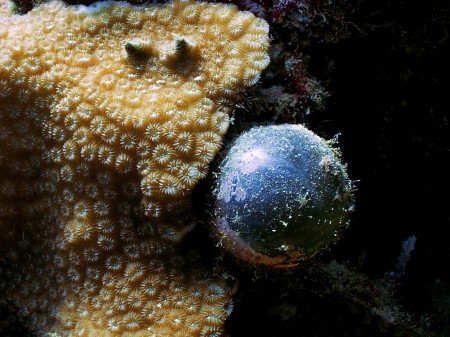 This is a particularly nice one. Repeating myself as usual, I'll mention that this is the largest single celled organism on the planet. It's an algae. The skin is like tough plastic and transparent. It's full of green fluid.
Here is an image of a plate coral that is clearly dying. You are looking straight down on the colony: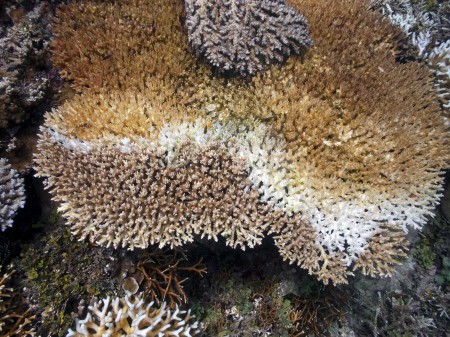 Everything below the white line is dead. The white line shows where the symbiotic protozoans have either died or been expelled from the polyps. Above the white line, the coral appears more or less healthy.
Here is a starfish which has lost part of a leg to a predator. It has begun to grow back, but it appears comically small: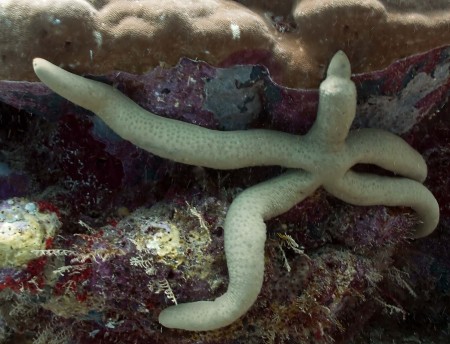 It will continue to lengthen and thicken until it matches up with the rest of the previously stubby leg.
Here is a coral garden shot with a big colony which brings to mind a mountain covered by rice paddies: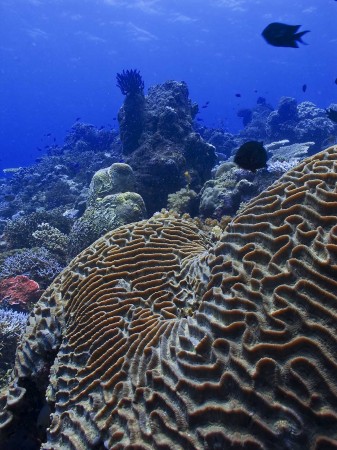 I enjoy trying to make these little reef scenes appear to you as close as I can get to what I saw with my own ancient eyes. It is a pleasant distraction with some minor purpose. It is infinitely better than watching the television set, an addiction to which I have not been able to put aside. Distractions . . . Blessing or curse? I suppose it depends on the nature of the distraction, eh?
Here's another reef scene with a spiky coral: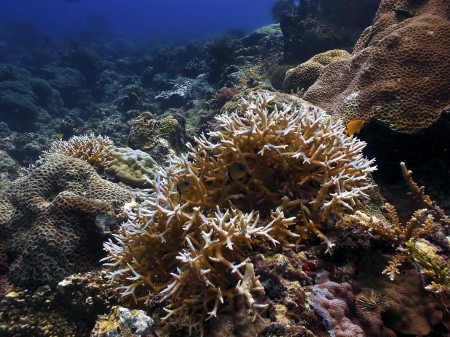 I saved the best for last, hoping to end up with something a little more flashy. Here are a couple of Nemo wannabes for your amusement. Specifically, they are Clown Anemonefish (Amphiprion percula) hovering in the protection of their beautiful Magnificent Anemone (Heteractis magnifica):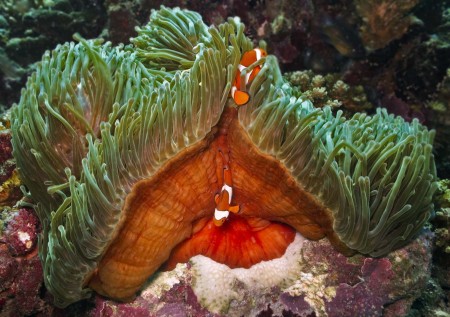 The colours are not natural due to my use of flash, which puts artificial sunlight where it never shines. Still, it does make a pretty picture.
Tags:
Amphiprion percula
,
Clown Anemonefish
,
coral
,
heteractis magnifica
,
leper island
,
magnificent anemone
,
sailor's eyeball
,
valonia ventricosa