Once again I'll avail myself of the opportunity to journal the autumn of my life in my "one-page-at-a-time" autobiography. I can't imagine how some of these things could be of much interest to anyone but me, but some (possibly very bored) people out there keep reading this stuff, so I'll keep cranking it out. Backing off the pace to once every other day or so has allowed me more time to think about what I am writing. I don't expect it improves the quality much or makes it any more interesting, but it lets me feel as if I'm giving more consideration to what I pour into it.
I sometimes wonder if I'll ever go back and read any of it. I rather doubt that I will. After all, this is not a permanent record. None of us knows if we'll be around for another year and when one reaches a certain age and has lived through certain life experiences, the question of "how long do I have" seems less important than "is this still fun?" I can imagine that I might, given the right frame of mind, go back and read certain posts from certain periods so that I can remember more clearly what was going on in my head then. It might someday be helpful to make comparisons.
What I do have to keep in mind is that I'm not making a permanent record here. Someday the server fees will not get paid for one reason or another and Madang – Ples Bilong Mi will tumble into the giant bit bucket never to be seen again or remembered leaving behind scarcely a ripple in the big pond of the web . So be it. In the meantime, I'll try to have some fun with it. It is, after all, a toy for the hopelessly narcissistic.
Saying goodbye to things is becoming somewhat tedious. Fortunately, I don't have much left to say goodbye to. It's just as well. If you've followed recently, you'll know that I recently had the blessing of putting Eunie's beloved 1973 Triumph Spitfire 1500 into the loving hands of my cousin. She and her husband have promised the little beauty a good home. This makes me happy and solves what could have been a very troublesome problem, as I also sold the house where the car was garaged. The Spit, like me, no longer had a home.
Never mind. It is, as we heard Forrest Gump proclaim, "One less thing." Laura was very patient throughout the prickly process of transferring ownership of a car from half-way around the world. The shenanigans required would have been very funny if viewed within the confines of a Hollywood farce. Getting the paperwork doctored to suit the authorities was an exercise in strained patience and perseverance in the face of unmovable obstacles. Finally, the obstacles allowed themselves to be budged. This alone is astonishing, given that we were dealing with inordinately stubborn boulders such as postal authorities and automobile license offices.
What follows is a series of images provided to me by Laura as a chronicle of the voyage of Sweet Thing from her abandonment to her new home.
Here we see her emerging from more than five years of cold storage into the frosty sunshine illuminating the now defunct and useless garage at 8080 East Road 300 North in Brownsburg, Indiana: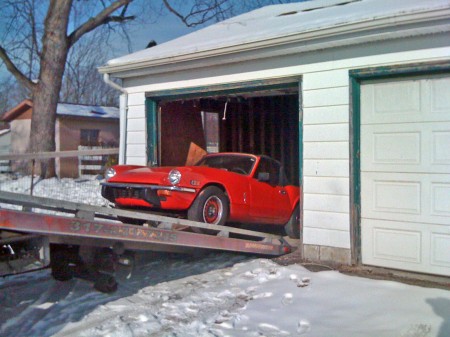 The house, and probably the three car garage, which seem perfectly serviceable to me, will soon be demolished or burnt. There seems to be some confusion as to the eventual fate of the structures. Truthfully, it matters not a whit to me. My nostalgia is confined to the good times. There were good times in abundance.
We'll have one final look at the Good Times house: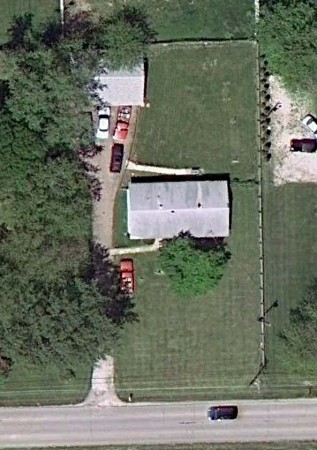 In all truth, there were many good times to come when we moved out in 1981 to come to Madang.
Here is a rather gloomy shot of Sweet Thing being conveyed to her new home in Elletsville, Indiana: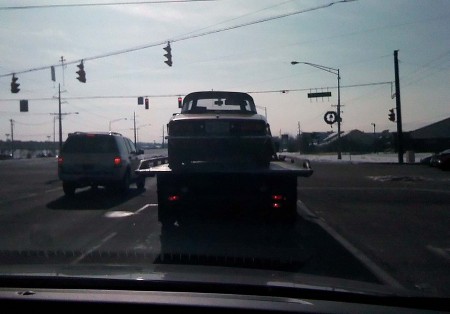 And here she sits on her conveyance ready to be delivered: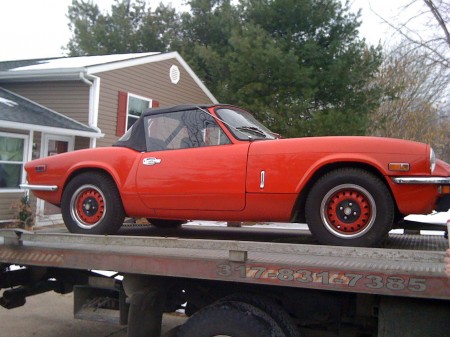 She is a little beauty, eh? By far the prettiest of the Spitfires.
Down she goes. Sadly, the engine refused to start when the time arrived. This was later traced to a cracked distributor cap. This surprised me, since I had recently replaced the distributor with a new one: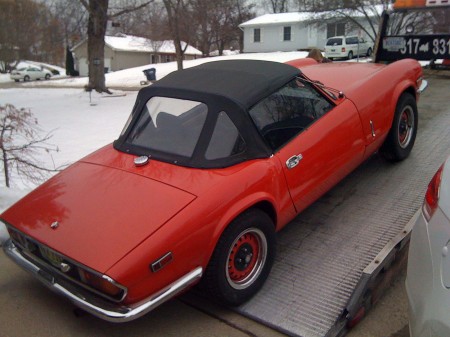 I suppose "recently" is not accurate. The car has been in storage for quite a while. Still, how does a distributor cap crack all on its own with no apparent stress?
In the the frigid grip of an Indiana winter she seems to ask, "What now?" Where am I? Someone pinch me!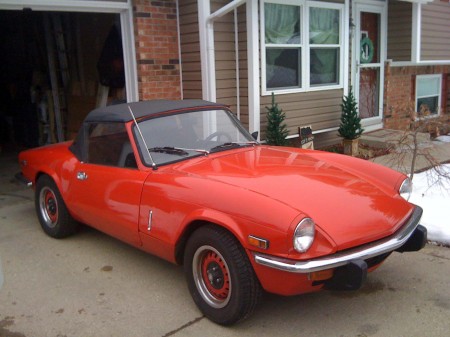 Let's raise the bonnet and have a look: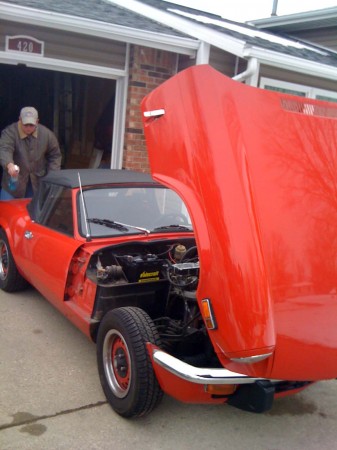 Nobody makes cars like this any more. Possibly it's just as well. It's shocking.
Inside lies a relic from a simpler automotive age. She classifies as a "Classic Car" for purposes of registration. Just don't expect her to pass any emissions test: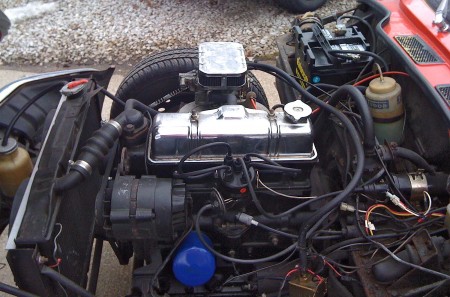 The engine has more new parts than old. There is a new crankshaft and bearings, new high-compression pistons, a new "street-grind" camshaft, new lifters springs and valves and the list goes on and on.
On this side one can see the Holley carburettor and the special intake manifold. Also visible are the tubular steel exhaust header pipes: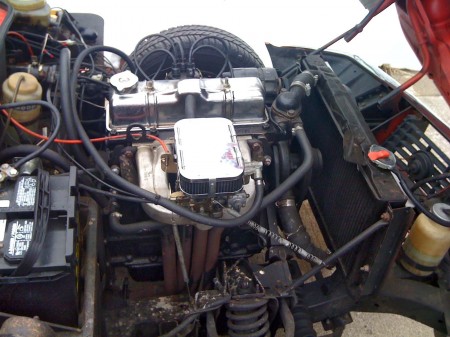 An expert on the mark might note that the radiator is radically larger that the stock model. We made this improvement after our last long road trip to Florida to see a launch of the Space Shuttle. It was a miserable voyage in a scorching summer. The engine overheated several times.
The dash is Brazillian Rosewood. All upholstering and carpeting is new. A new ragtop keeps most of the rain out. There is a Pioneer CD stereo system. Eunie and I did every bit of this work.: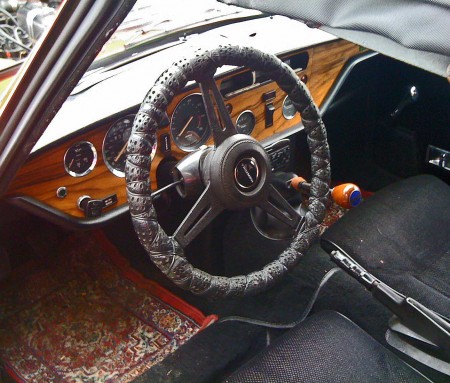 She's a fine machine, but requires the usual devotion from fans of British sports cars. Than means a well fed tool box in the boot.
Since we needed to travel to North America every couple of years, we decided to keep the Spitfire and rebuild her to usable condition instead of renting vehicles on each sojourn. I reckon that over the years we saved money by doing this. At least that was our goal. So, in the end, it did pay off. There is one more fine example of beautiful coachwork and the single minded purpose of building a car that is simply fun to drive which will not be rusting away in some barnyard, neglected and unloved.
Sometimes a plan has an unexpected outcome.
Tags:
brownsburg
,
spitfire 1500
,
triumph spitfire