Posted in
Mixed Nuts
on January 5th, 2011 by MadDog
Sometimes I write more for myself than for my readers. This is one of those times. If you would like to traipse down memory lane with me for a few minutes, then read on. It's not a story of great importance. It is, instead, a modest metaphor of the changes of seasons which affect all of our lives. Like most of life's changes it is neither all bad nor all good. It is simply change. I'll tell the little story in more or less chronological order beginning in April of 2008.
Eunie and I bought the Harley several years earlier because we got a good deal on it and it fulfilled a long standing fantasy. In our first years of marriage I made a very modest living as a motorcycle mechanic and later as a motorcycle repair shop manager. We both had motorcycles and rode nearly daily. Though I worked on a variety of makes, I had never owned a Harley. It was a desire which I kept quiet and locked away. When I expressed it to Eunie a few years ago, she, in her usual practical way said, "Why not. We can't lose money on a Harley."
As usual, Eunie's wisdom turned out to be greater than even I imagined. More about that later. So, in 1998 we bought a nearly new Sportster 883, the largest model which I could pick up if it was on its side. And, it has been on its side a few times.
In 2008, we decided that, since Madang was to be our home for life, we needed to pack up everything which we valued and ship it all home by sea freight. Having these treasured personal items in her home turned out to be a blessing for Eunie for the short time which she had left. They are now somewhat less of a blessing for me, since, with the exception of the Harley, I now have to contend with several hundred kilograms of personal belongings which will someday have to remain in Madang. I have no home to send them to and they mean nothing to anyone but me. That's the bitter sweet part of the story. The rest is happy by comparison. There'll be no tears here.
Here I am in all my glory in an ancient silk shirt a few days before we left the house in Brownsburg, Indiana for the last time, headed for Springfield Illinois to pack the crates: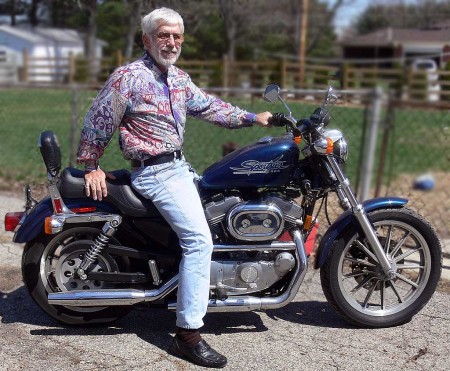 The trip to Springfield was the most miserable motorcycle ride of my life. You can read about it in the link in the previous sentence. I'll simply say that I cannot remember being so cold in my life. Here I am arriving in Springfield looking as if I'd suddenly gained fifty kilos: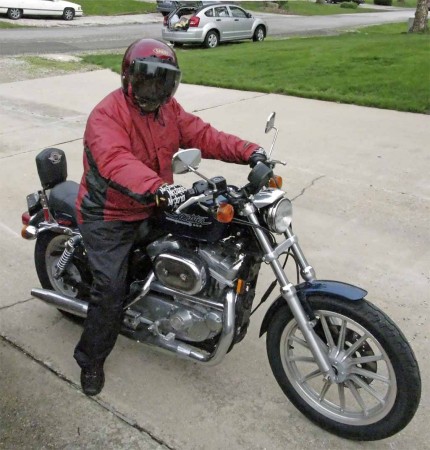 The packing was a tedious chore which would have been far more difficult without the help of Eunie's Sister, Mary Sexton and her husband, Jim. Here are Eunie at the left and her sister Mary amidst the clutter: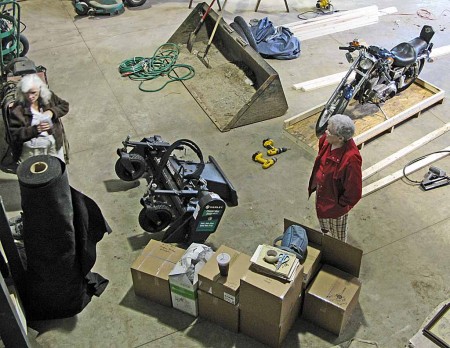 And, here I am with Jim and the partially packed Harley: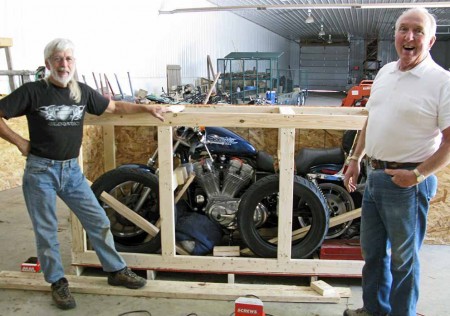 This is my beloved wife beaming with satisfaction that all of the material things which she cherished were safely on their way home: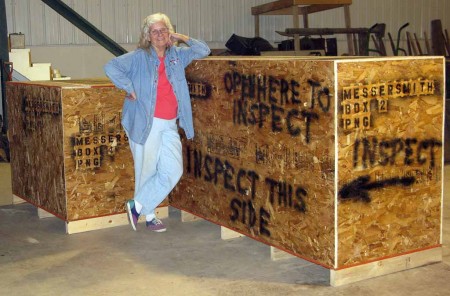 After a rather nervous wait of a few months, the crates arrived in Madang. Here is the crated Harley on it's way from the harbour to our workshop: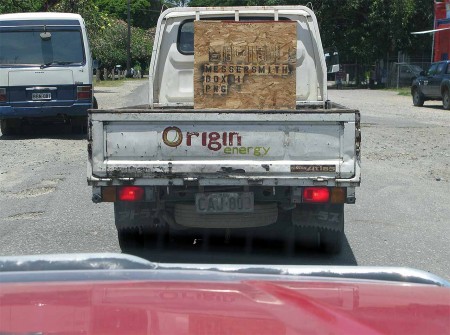 On several occasions I expressed to Eunie that I thought that it might be wiser to sell the Harley in the USA. She was never of a mind to do that for a couple of reasons. First, she believed it was something which would make me happy to have in Madang. She was right, of course. She also told me that selling it in the USA would be a bother and it would probably be worth at least as much here in PNG, if we ever needed to sell it. To her it was like money in the bank, except that you could spend it and still have it. I was always happy to be married to a woman who was smarter than me.
So, we ended up owning the only Harley in Madang: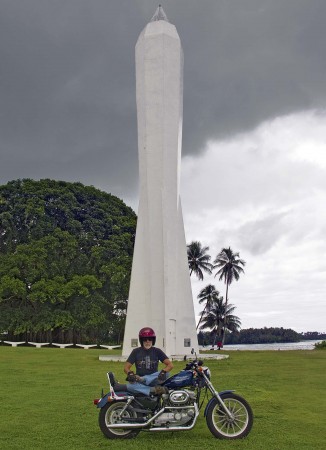 That is the locally famous Coastwatcher's Monument.
In the two years or so after its arrival I seldom rode the Harley. The roads here are horrible and steadily getting worse. There are very few places which are safe to ride. Riding alone never interested me, but we have always been blessed by having adventuresome friends, many of whom took an interest in a ride on the rare machine. Here's Ush Antia 108 kilometres up the North Coast Road at the Tapira Surf Club: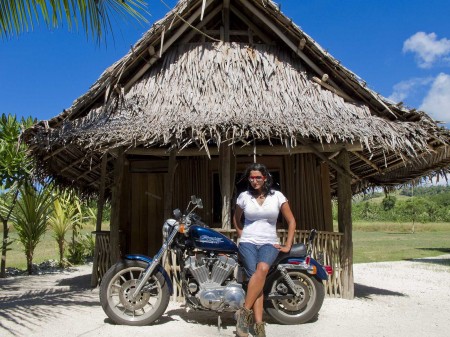 Sadly, it's not even safe to travel up there any more. The criminal activity in that area makes it too risky for my blood.
Another memorable ride was with Jo Noble to the Balek Wildlife Reserve: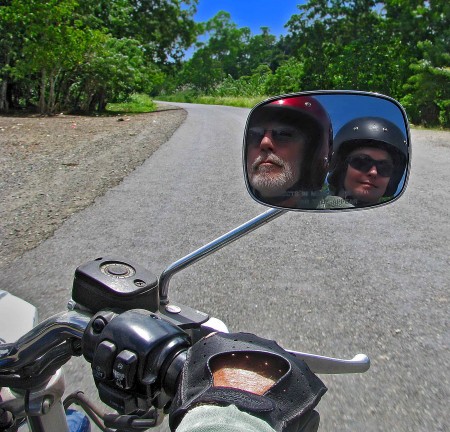 Though I have mixed emotions at present concerning parting with the Harley, I must admit that I have not ridden it once since Eunie's passing. The lustre has departed from many things in my life.  I debated in my mind whether or not to sell it. While it is true that it was "money in the bank", it wasn't money which was in any way contributing to my quality of life. I couldn't imagine a time while I remain in Madang during which I would get much enjoyment from it.
I dreaded advertising it. I did not want to deal with the minor trauma of parting with it any longer than absolutely necessary. As it turned out, it took only two days. I called an old friend, Ron McKenna, who owns a car dealership and repair garage here in Madang. He is well known for his interest in exotic vehicles. He has restored several 1960's era vintage Ford Mustangs, a task made considerably more complex, because they must be converted from left hand drive to right hand drive. I called Ron with the offer yesterday. Today he came to the office and bought it on sight.
Here I sit for my last portrait on a machine which gave me great pleasure. Minutes after this image was taken I had my helmet on and was taking my last ride. I blasted down Modilon Road at a terrifying pace. As always, she delivered a thrill. What a sound! There's nothing else like it: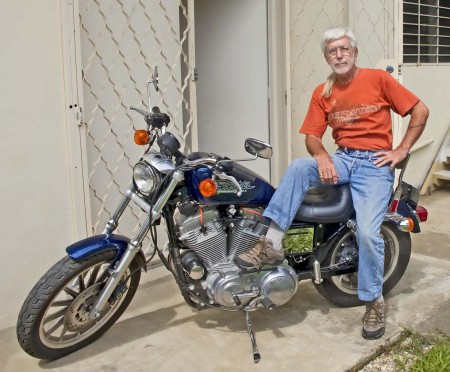 I know perfectly well that Ron did me a great favour by purchasing the Harley. He certainly doesn't need it. Ron has had far more than his share of grief in the last few years. He is a sympathetic friend, a commodity with which I am well supplied. Once again, a friend has come to my aid. I will use the money from the sale to help to pay off the last of my debts. It will get me very close to my goal of being debt-free. This means far more to me at this season of life than any occasional pleasure which the Harley could deliver.
Finally, once again I am compelled to acknowledge the wisdom of my dear wife. She told me that we would never lose money on the Harley. In a way it was a gift that we gave to ourselves without cost. This made it somehow priceless. I'm sure that Ron will smile if he reads this. The price in Kina, converted to US Dollars, is nearly the same as we paid for the machine in 1998.
Eunie was right again.
Tags:
balek wildlife reserve
,
harley
,
jo noble
,
sportster 883
,
tapira surf club
,
ush antia