I seem to be plodding through life at a very uncertain pace. I can see that I've made progress, so I'm not alarmed, or rather I'm not as alarmed as I once was. The eighth of February will mark five months since Eunie left me. I wonder if I'll ever stop counting the months and years. I suppose not. I've heard many friends on many occasions recall such momentous occasions with chronological accuracy. I formerly had trouble remembering how old I am. It didn't seem to matter. There's nothing I can do about it.
I am astounded by what I've accomplished in these five months. When I use the personal pronoun I take far too much credit. Going back to the time early in 2010 when Eunie first became ill and following the events up to this day I can see that my creator's hand has been busy at every turn.  To some this may seem nonsense. Nevertheless, I believe it and find strength in that belief. After each hammer blow I could review the event and the outcome and see that it could so very easily have been much, much worse. After each small step toward my recovery I have asked myself how I could have done it; why was it so much less traumatic than I thought it would be.
There is also the matter of helping hands reaching out to me at every turn. Friends and strangers alike have assisted me continuously and without complaint. It would have been impossible for me to do some things for myself in the first couple of months. I am now shocked by my incompetency and insane thoughts during that period.
This week or next week, according to how much of Cairns, Australia survives the cyclone bearing down on as I write this, the last of the medical bills will have been settled. Some of my friends cautioned me that dealings with a health event of this magnitude could go on for a year. Without my friend, Trevor Hattersley, I would still be hopelessly mired in paperwork. He is a genius. I sold a house, a car and a motorcycle. The house and the car were half-way around the world. I would have said that this was not possible, but an old friend assisted me in ways which seemed inspired to me. Acting on my behalf with my Power of Attorney, he had the house sold in just over one month. I have settled a life insurance claim and numerous other matters arising from Eunie's death. Needless to say, I would much rather not have had to do any of these things and I was often in despair. My prayers were pretty much reduced to asking for strength and wits to get me through the next day. Each time the clouds parted and some kind soul would step forward to help or mysterious circumstances would arise to allow what seemed not to be allowed.
Now that Eunie's headstone for her grave has arrived I hope to have the pedestal completed so that a small group of friends can accompany me to Kranket Island to put her ashes in the ground in the place where she wanted to rest. It is going to be a hard day, but I need the relief of knowing that I have fulfilled my promise to her.
My next tasks are to do all of the things necessary to give myself a more or less graceful and uneventful exit from Madang for a much needed period of rest and rebuilding. I plan to leave Madang on the ninth of March and will not return until at least the 15th of June. I have been around the world at least a dozen times. However, I have never planned the trip. I know that sounds ridiculous. I have been very nervous about doing all of the things which Eunie did to get us from place to place so effortlessly and without me doing anything but stuffing my essentials in my back pack. Millions of people do these things every day. I had to get all flustered about it. I went to Air Niugini today and bought my tickets to get me to Brisbane. I've decided to buy tickets for the other legs of my travel as I need them, because of my uncertainty about when I want to go where.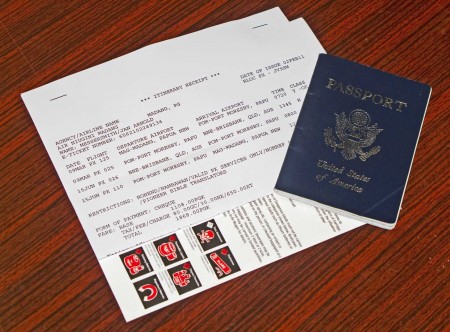 I know that someone is going to say that I should have blurred the details on my electronic ticket. Believe me, terrorism is way down on my list of potential problems. I don't think I'm a likely target.
This modest fisherman's tackle box contains Eunie's lifetime accumulation of jewellery. There is nothing in this box which is worth very much in terms of money. Eunie had exquisite taste, but never wanted expensive things. I was horrified this afternoon to realise that I have misplaced her wedding ring. All of this is going to my granddaughters. I especially wanted to make sure that they received the ring. I have no idea where it went. I remember having it when I returned from Australia. I spent the afternoon frantically searching for it, shaking and breaking out in a cold sweat. I have now gotten to the point at which I am ready to accept that I will either find it eventually or I will not. There is nothing more I can do now.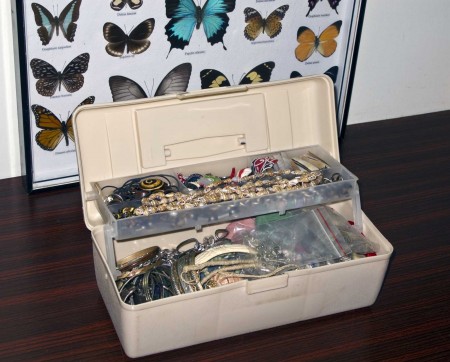 I remember with great happiness watching Eunie each morning as she prepared for work. She would choose her clothes first and then go the the bathroom to select her perfume and fix her hair. She would then return to the bedroom smelling wonderful and select the jewellery which matched her attire. I don't know why this scene always calmed me. Some things are inexplicable.
I am glad that many wonderful memories are now returning to me through the gloom.
So, as I continue to calm myself, I'll show you the latest dazzling display sprouting from my Fishtail Palm. Both of them have now produced fruit several times. This does not bode well for them. My understanding is that they do not last long after fruiting several times. Each event is accompanied by the sound of hundreds of buzzing bees: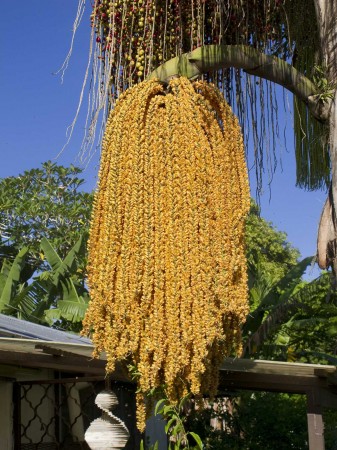 This shot is better for viewing the bees: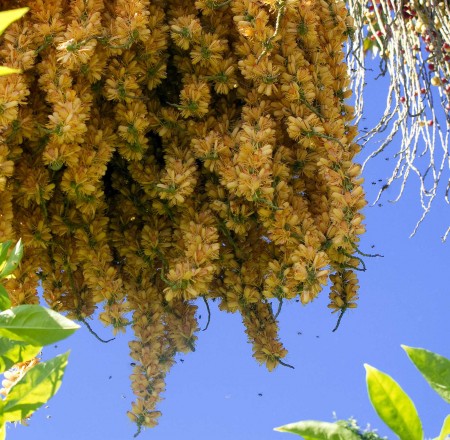 On the right you can see some of the red fruit which takes several months to form after the flowers disappear.
While checking the possibilities for my flight from Brisbane to Honolulu I got help from William Butler to see if my Qantas frequent flyer points would be of any use. It turns out that I had enough points to save about US$500. That made me very happy. I have never used any of the frequent flyer miles. Pushing my luck, I decided to seen if I could use Eunie's frequent flyer points. I reckoned that she must have about a million. After finding her card and guessing correctly her PIN for the account I was disappointed to see that she had ZERO points. I have no idea how they disappeared. First the ring, now the points.
That's two steps back. Never mind. I'll just keep walking.
Tags:
fishtail palm
,
kranket island