On Thursday I went out to Kranket Island with the workmen from Lae Builders and Construction to put in place the monument for Eunie's grave. The bright, sunny day belied my mood, which was dismal. I have been very anxious to finish this unhappy task before I leave for an extended holiday for some rest and recuperation. I was grateful for the company of an old friend, one of Eunie's pals from a decade ago, Regine Neuhauser, who is visiting Madang for a short while. I needed to be propped up a few times during the day.
It was very hot in the blazing sun and the monument was extremely heavy. It is very solidly built. LBC did a good job.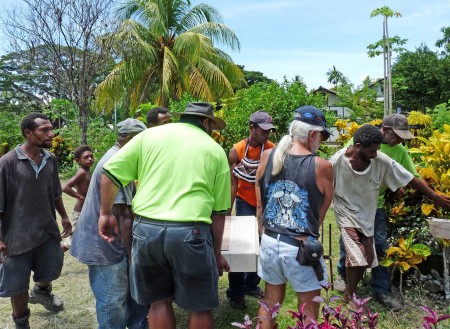 It took quite a few of us to carry it up the hill from the water's edge to the grave site.
I did not attempt to help the workers lower it into the hole. I was feeling shaky enough already. We were there for four hours. We left as soon as the workmen returned to town to get more cement, as they had discovered that they did not bring enough.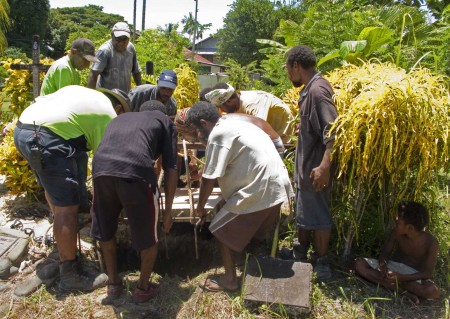 On Saturday morning twelve of us piled into Mike Cassell's boat for the short ride to Kranket Island. Until I got on the boat I thought that I was going to be ok. Then I felt as if I were going to lose it. I asked Mike and Trevor to talk to me. They kept me chatting until we got to the island. Nasty black clouds were gathering over Madang.
I had fretted all evening concerning whether the workmen had dug the hole for Eunie's ashes. As it turned out, they had "forgotten" to do so. I could hear Eunie laughing at me. "Silly man. You expected everything to work smoothly? Did you forget where you are?" After a I made a suitable display of frustration and dismay one of the island residents retrieved a shovel and dug the hole while we all waited inside the small church.
Once again I found that I had no idea what to do. I asked Mike what he thought. Should I pour the ashes into the hole or simply put the whole container in? Mike decided for me that it was suitable to just place the container in the grave and cover it up. Hey, that's what friends are for – to help you when you can't help yourself. We all gathered around and I mumbled a few words of gratitude that we had all worked together to give Eunie the best possible care from the time she became ill. So many people helped – many more than gathered here to say goodbye to her. Finally, I invited all to drop a handful of sand into the grave and speak a few words if they liked. All I could manage was, "Goodbye, Baby."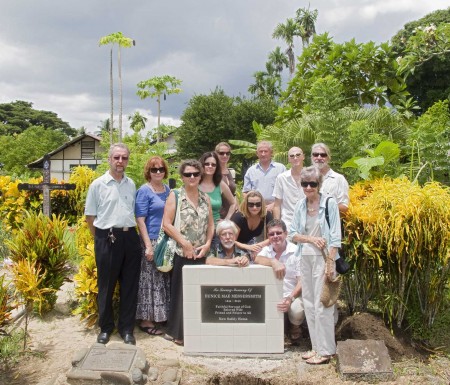 Here is the small, intrepid group who braved the tropical sun at midday and made the trip to Kranket to bid Eunie farewell. In the background from left to right are Monty Armstrong, Di Cassell, Regine Neuhauser, Jenn Miller, Mike Cassell, Rich Jones and Trevor Hattersley. In the foreground are Meri Armstrong, me, Karen Simmons, Pascal Michon and Maureen Hill.
I was only mildly surprised that Di Cassell had laid on a very nice lunch for us at the Cassell home. We were all happy to recover from the heat and refresh ourselves in good company. It was a celebration of life. I could not help thinking that Eunie was enjoying the party. It is just the sort of gathering which she loved.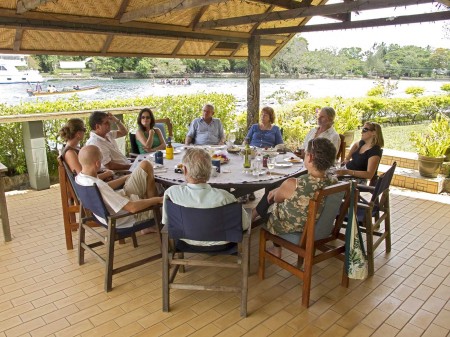 I have been very blessed to have gotten through the complex and uncertain processes necessary to lay Eunie's remains to rest in accordance with her wishes. It was something of which I was always aware while she was with me, but in a detached, otherworldly way. Yes, I knew what would be required, but the details proved to be messy and impossible to work out quickly. It took me five months to do the job. All that time Eunie's ashes rested in my closet two metres from my head as I slept. I can't say that I was in any way uncomfortable with this, except that it reminded me that I had not yet fulfilled my promise to her.
I do feel relieved now, but not as much as I thought I would. I still have much to do to recover and build a new life. Most of what I need to do is not going to be much fun. Some of it is very scary. However, in about three weeks I will be off on a major adventure. Never in my life have I made such a journey alone. That, by itself,  is a little scary to me, but it is necessary for me to learn to do all things in life alone.
That includes learning to enjoy life alone. This is going to be the most difficult task of all.