Posted in
Mixed Nuts
on March 8th, 2011 by MadDog
Tomorrow morning at 07:20 I'll board a flight for one of the most important journeys of my life. That is, I'll board the flight if Air Niugini is feeling like letting me do so. One never plans a flight on Air Niugini. It is more like a gamble. You bet that the aeroplane will be there and it will leave reasonably close to the time you need to leave for your connection and nothing else mysterious will happen to prevent your arrival. It's wise to have a backup plan or, more accurately, a backup hope. Anyway, I'll be there at 06:00 to see if I'll be arriving in Brisbane tomorrow afternoon or not.
In the meantime, while you are waiting anxiously for my next report, I'll soothe you with some random images from recent forays into the heart of Paradise. Here is what I usually refer to as Purple Snow. It is, of course, not snow at all but the shed flowers of a lau lau or Malay Apple tree: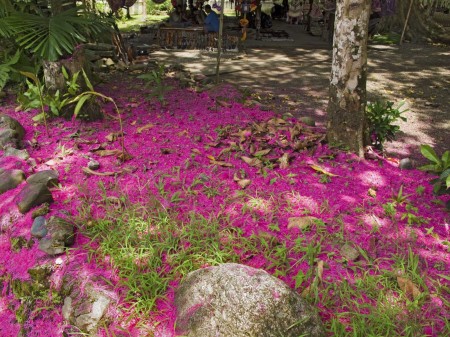 Friend Anne-Marie told me at first that the genus is Eugenia. Then she started Googling and came up with the genus name Sygygium, which, by the way, I find impossible to pronounce. For most plants, she pulls the fancy names out of some deep recess in her fertile mind. If she is unsure, she will not let it go until she has exhausted Google. Apparently, Sygygium is the favoured name now. Taxonomist are an unruly lot. They are forever changing their minds and arguing, presumably in Latin. You can see more Purple Snow here.
This is some kind of bug. It's pretty, but you have to watch out for these. Some of them stink so bad they will make your head spin. I stopped sniffing them a long time ago. Believe me, you don't want to know: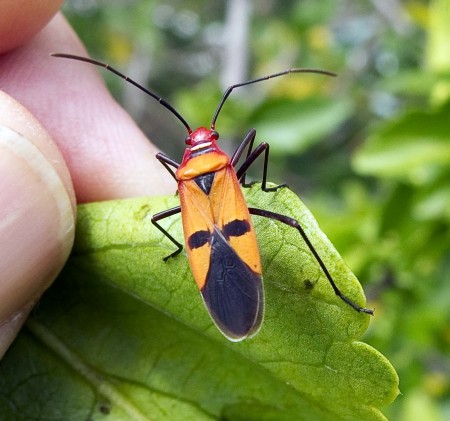 I think this is a non-smelly variety, but I did not check it.
Here are some little yellow flowers at the Tourist Centre. The sun was shining through a picket fence, making an interesting pattern of light across the frame.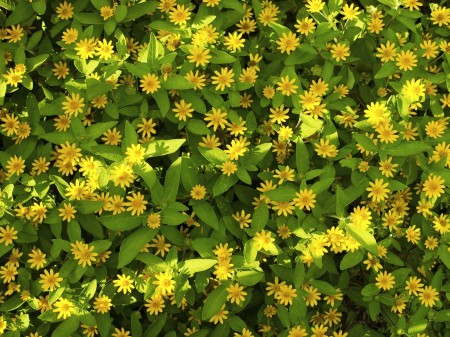 Enough said. Let it speak for itself.
A rather boring hibiscus: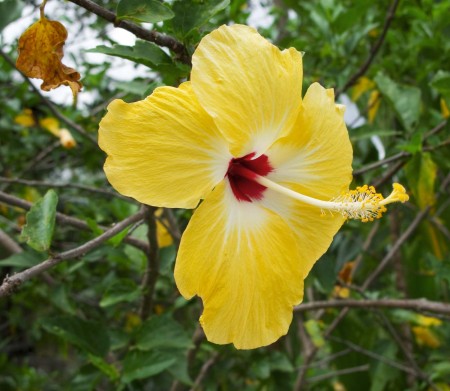 The images will get better when I begin my journey.
At least this one is not something you see every day. These are ferocious ants on a Heliconia flower.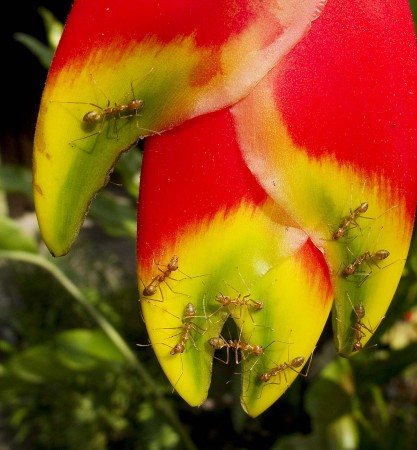 Even if the ants aren't very interesting, the flower is. It's one of the stranger ones. The common name is Lobster Claw. I don't have to explain why, eh?
This is a little baby goat up at Nob Nob. It was so cute that I wanted to take it home. I doubt that my dog, Sheba, would get along with it.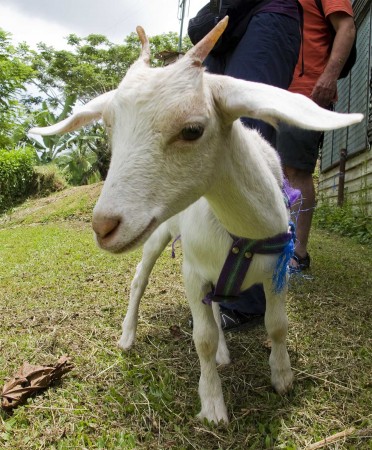 Anyway, it would eat all of my flowers.
It's about time to wrap this up. I probably won't be posting for a few days. It will take time to get set up in Gympie. I had to pack four times. I packed everything three days ago and then decided that I needed a bit more stuff. I removed everything from a smaller black bag and put it into the big red bag you see here.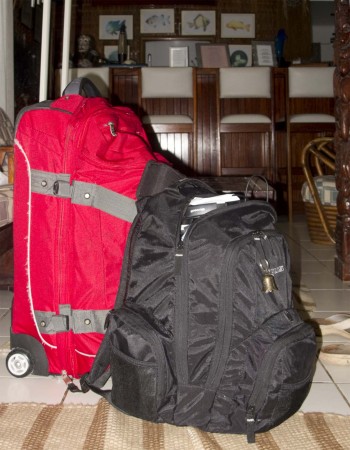 Then the red bag wasn't full. So, I decided to fit everything into the black bag (not the one you see here – that's my backpack). Well, it was a tight fit, so I jumped up and down on it until it seemed ok. Then I broke the zipper while trying to get it closed. Scratch that bag; it is now junk. Okay, now I had to put everything back into the red bag, which was still not full. I rummaged through my clothing to see what else I might need. I found some more warm clothes and stuffed them in. It came up to 19.48 kilograms, just short of my 20 kilo limit.
I guess that I'm as ready as I'm going to get. I have probably forgotten a dozen important things, but I can't imagine that there are fatal flaws in my planning and execution. If all goes well I will be motoring with Val from Brisbane to her home in Gympie by this time tomorrow.
I've done everything I can. From now on it's up to the mercy of God and Air Niugini. I know that I can count on God. I'm not so sure about Air Niugini.
Tags:
air niugini
,
eugenia
,
goat
,
heliconia
,
hibiscus
,
purple snow
,
sygygium