Today is my last full day at Teewah in Queensland, Australia. Like everything in life, it's been a mixed bag of treasure and trash. I began the trip under a cloud on Sunday evening when I finally admitted to myself that I was sick.
I can pretty well predict when I'm going to have respiratory problems; the symptoms are always the same. There's no point in boring you with the details. It suffices to say that we ended up at the emergency room at the Gympie hospital, a place where I would have been very happy never to have seen again. Eunie nearly died there only a few months ago. I was told that (a) it would cost me more than A$200 just to see someone, (b) I would have to go to a pharmacy to get an antibiotic (if, one was prescribed) and (c) no pharmacies were open. Clearly, it was not a place of healing for me. As it turned out, I have been sick for the last few days, but it appears that I will live.
Other than that, it has been mostly very pleasant. I am staying in a house on the beach with five women. That can't be all bad, eh? I've been giving basic photography lessons for a couple of hours each day. That's fun also. I've gotten plenty of exercise and seen some interesting things. If you desperately need to see me before tomorrow morning, you will find me under the red dot: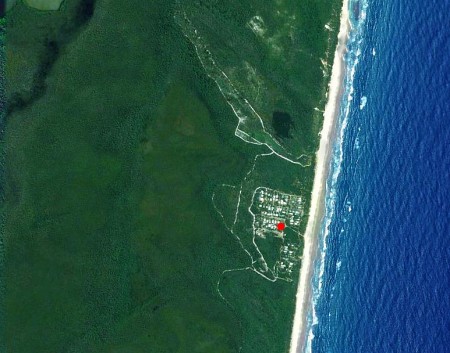 Exotic, eh? Hot, too. The first day was cloudy, but it's been steadily improving. Yesterday, I got a little sunburned.
Speaking of yesterday, I got some nice shots on the beach and up at the picnic table on the low dunes. Here are Martina and Ali strolling up the beach: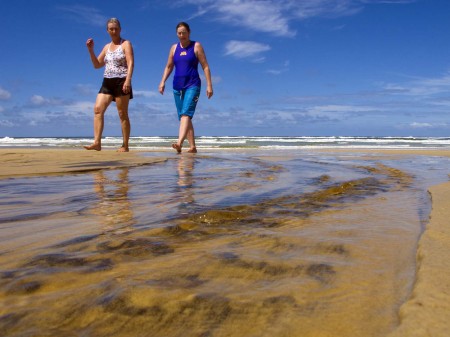 Since I've been doing photography lessons for a while, I'll let you know that I got this shot by placing the camera only a few centimetres above the sand and shooting upward. "Dramatic Angle" is a good rule of composition. We also have "The Rule of Thirds" (well, nearly), and "Diagonal Lines". You can cram a lot of rules into one shot. Don't beat it to death, though. It's a pretty picture.
In the later afternoon, up at the picnic table on the rise behind the beach I noticed that I could see my shadow on the beach: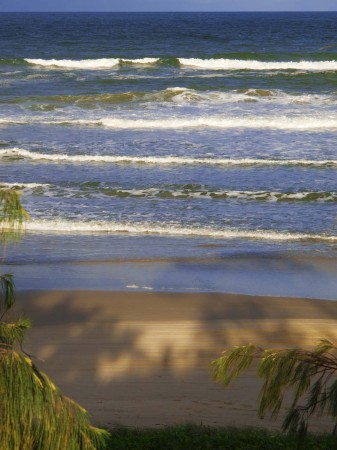 The little vertical shadow in the middle of the bright area on the beach is me. It seems pretty cool to me, as it is about fifty metres from where I was standing.
There were several flocks of birds on the beach. I got lucky with this shot: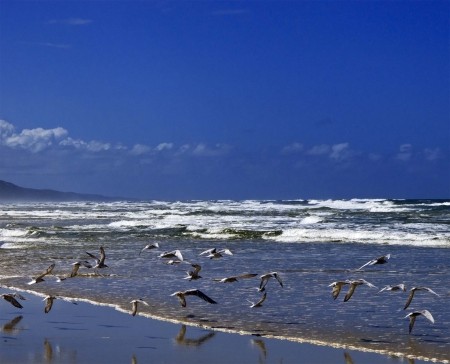 My next camera will have a brighter viewfinder. If I have one complaint with the Canon G11 it is that you can not see a blessed thing on the LCD screen in bright sun. It's pretty worthless. I will say that this is a very common fault with many cameras. For this shot I had to point the camera in the general direction of the birds, since the LCD screen appeared pretty much black.
In this shot timing is the key. I came down to the beach to get some shots of Jann and Narelle on their boogie boards. As it turned out, I couldn't get close enough to get a decent shot without getting me or (horrors) my camera wet. The water felt like ice to me. Ali came along down the beach. When I saw her raise her arms something in my brain said, "CLICK" and my finger obeyed: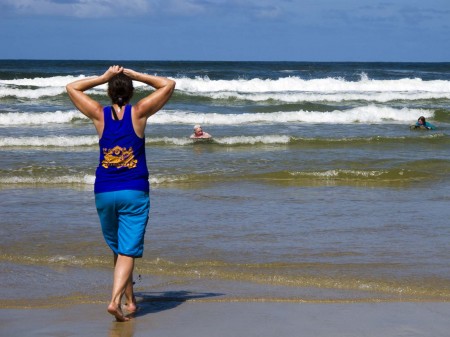 Here an unidentified woman on the beach adds a focal point to an otherwise uninteresting image: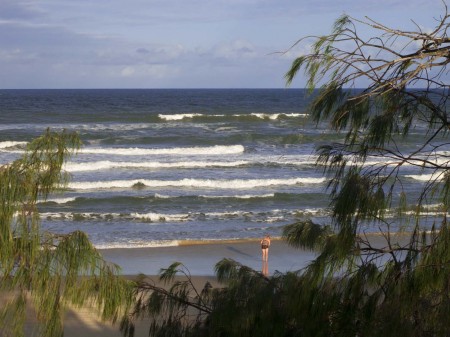 We started off to Lake Cootharaba sometime in the morning. I haven't cared a bit what time it is since I left PNG. I don't want to know. I'm just letting life flow over me. I'm a big, fat rock in the middle of the creek of time. Let it flow, baby, let it flow. Anyway, it soon became apparent that the sign that proclaimed "Lake Cootharaba – 2KM" was clearly insane. It was not even close. We walked and walked. It got hotter and hotter.
We finally arrived at a huge expanse of water that was very pretty, but otherwise not very useful. The water is the colour of strong tea. The average depth is only 1.5 metres: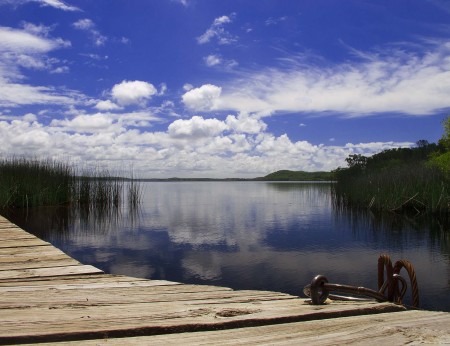 Then we started the long climb up the big dune behind the village of Teewah. We did this for the view. I'm always suspicious of advice that suggests that the view will be much better if you only climb higher. My suggestion is usually, "I can see fine from here." Still, a man must be dragged along in the company of women. I'm not complaining – really . . .
It was not unlike climbing a mountain of pasta, the extra slippery kind. For each step forward, the foot slides back ninety percent of the original stride. Add the heat, the still air, the blinding sun, remember that you're getting hungry and thirsty too – pretty soon you're wondering why you left the house. Being naturally lazy doesn't help much, either.
Finally, we reached the top of the dune. I sensed downhill walking soon. I was much relieved. Even with sunglasses, the bright sunlight was blinding when reflected off the white sand: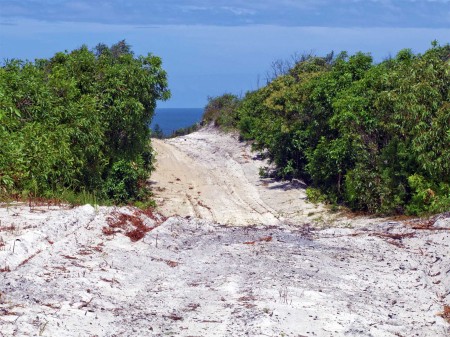 I could see my salvation over the top of the last rise.
The view was amusing. Worth the climb. I guess it depends on how much energy one is willing to spend to reach the goal. Mountain climbing has never been my thing. There's too much I haven't seen from down here. Still, it is a pretty sight:

I can't say that I'm proud of that panorama, but it's not my fault. The contrast between the sky and landscape here was ferocious. It's obvious that I had to bring up the brightness of the landscape dramatically to get some kind of viewable image. It appeared nearly black by the time I got the sky down to a reasonable level.
Bored yet? Hey, wait until tomorrow. It will be class day at Photography Boot Camp.
Tags:
lake cootharaba
,
queensland
,
teewah