Posted in
On Tthe Road
on April 1st, 2011 by MadDog
I really should get in the spirit of things and think of a cool April Fool's joke to play on my unsuspecting readers, but I'm not nearly so clever. So, I'll just play it straight. A couple of days ago, I wrote about my rides in the wonderful Cessna Caravan at the drop zone of the Ramblers Skydiving near Toogoolawah in Queensland, Australia. Today, I'll tell about my tandem jump.
First, I'll show you a picture of my hosts, Dave McEvoy and Ali Raynor. They visited Madang in 2010 and stayed at my house. I was very happy that they returned the hospitality in spades: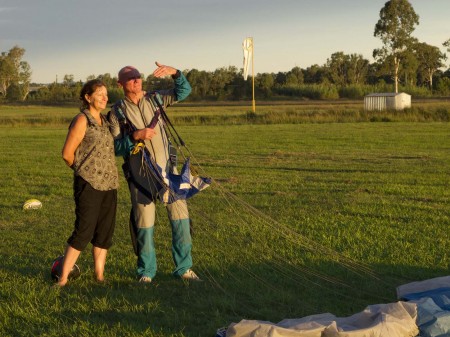 As may be obvious, Dave has just landed after a jump. He doesn't drag a parachute around after him all of the time.
Before I get into the jump, let me show you the wind indicator: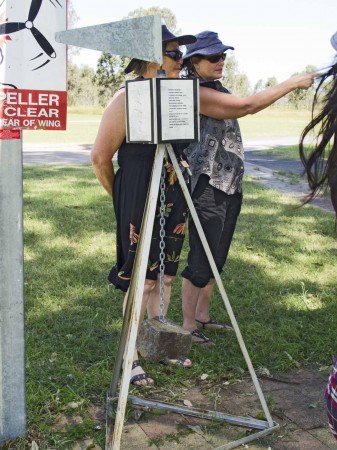 When I first saw this I thought that it was a very poor wind indicator and not positioned right anyway. The vane is too small. It wouldn't be very sensitive. I supposed that the rock was to keep it from blowing away. By the way, that's Ali and Val behind it.
Then, upon reading the sign, I realised that the whole thing is a joke: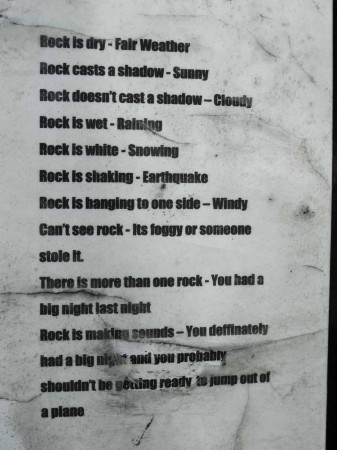 If you read the text, you might get a giggle.
The fellow in white was my Tandem Master, Moci. That's pronounced as "Motsy". It's a Hungarian name. Moci was a paratrooper in the Hungarian Army before coming to Australia. He's a very nice fellow and made the experience comfortable and enjoyable: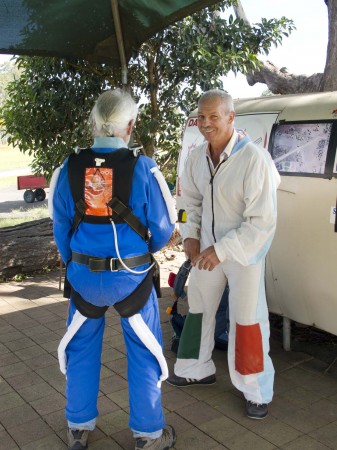 Here he has me strapped into my part of the tandem rig.
Moci has his own business at the Drop Zone. He is a Master Rigger. He is responsible for the maintenance of all of the parachuting equipment: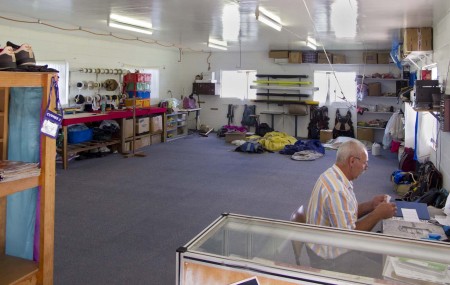 This is a shot of his rigging loft.
It may appear as if we are praying fervently here, which is not a bad idea, but we are only discussing the finer points of hurling ourselves out of the door of a speeding airplane: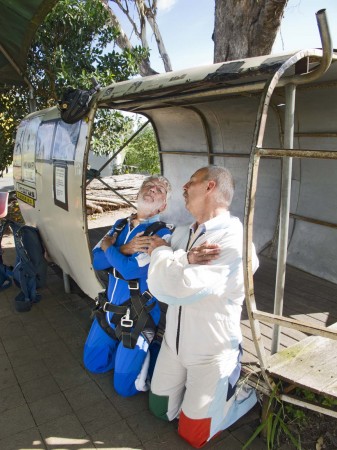 The praying came later.
Here I am with Moci, making my way to the Caravan: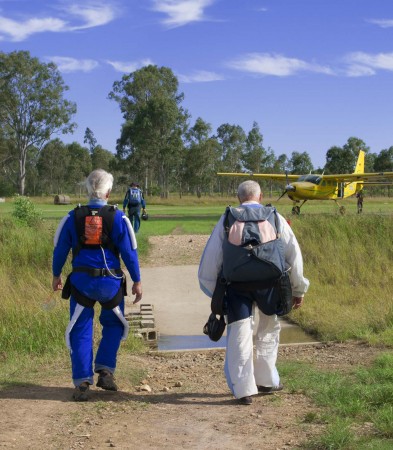 It is very uncomfortable to walk with that harness on. It exerts unwanted pressure in awkward places. You walk very much like a duck.
Here I am strapped firmly to Moci and exhibiting gobs of confidence: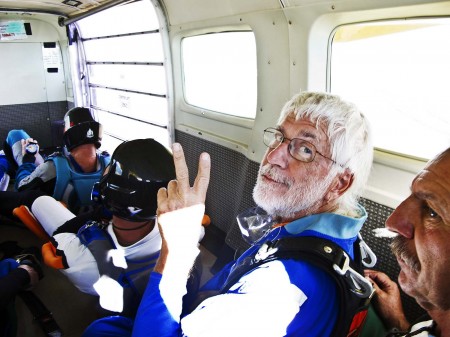 This second tandem jump was much better than the first. I had more time to work up to it and I knew the people with whom I was jumping. I felt no anxiety at all. In fact, I was fairly panting to get out in the slipstream and have a look down.
Once at the door, one has little time to think the situation over. You are going and that's that. As it was, I looked forward to the fall. We jumped from 14,000 feet: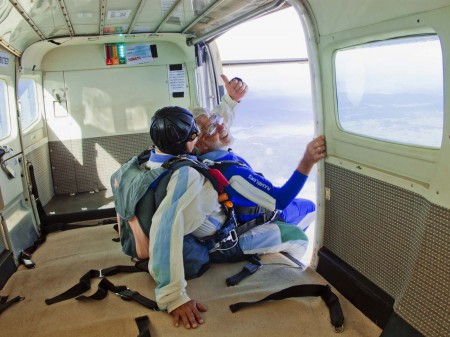 Sadly, I have no images of us hurtling through the air with my hair on fire. If you like, you can check out my first tandem jump to see the "Bart Simpson hair". The free fall segment was terrific. It seemed to last longer this time. It was very cold up high, but you could feel the air warming during the fall. That is a weird sensation. I wasn't prepared for the canopy opening, so it caught me by surprise. I probably didn't hear Moci warn me, as I was screaming like a banshee. It just makes you want to holler!
I don't know if I will ever get another chance to do this, but I'm grateful that this item on my Bucket List is now well covered.
Now I will show you something which I will bet that most of you have never seen: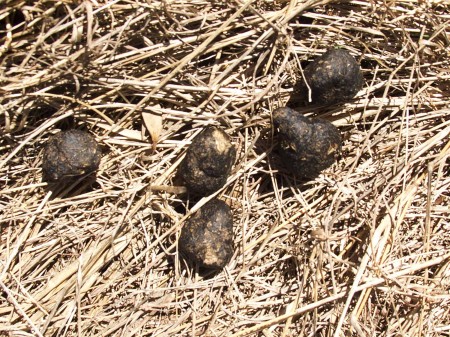 I seriously wanted to get some Kangaroo shots while at the Drop Zone. I saw many, but could not get close enough for a picture, even with the 26X zoom on my Olympus camera. So, I did the next best thing. I took a picture of Kangaroo dung. I hope it amuses you.
I can't leave the area without paying homage in pixels to Beautiful Downtown Toogoolawah: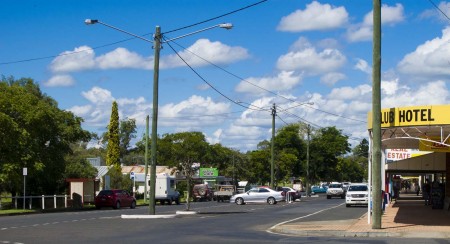 What you are seeing is about half of it. If I had turned around and faced the other direction, I could show you the other half.
Sometimes civilisation comes in small packages.
Tags:
ali raynor
,
caravan
,
dave mcevoy
,
kangaroo
,
moci
,
ramblers skydiving
,
skydiving
,
tandem master
,
toogoolawah