Posted in
On Tthe Road
on April 2nd, 2011 by MadDog
Ali Raynor, my host while I was at Toogoolawah in Queensland, told me that she thought that it was a pretty rare thing for a tourist to get a chance to see and photograph koalas in their natural habitat. I reckon that she must know what she's talking about, since she conducts regular trips to the bush for koala spotting.
At first I couldn't see them at all unless I followed her pointing arm. From the distance we were initially seeing them they looked like black dots in the gum trees. In all we saw about a dozen of them. The place to where she took me is not widely known. In fact, I heard Ali tell one inquirer as to where we were going to see them that, "If I told you, I'd have to kill you." That seems a bit drastic to me, but the idea is, I guess, not to have a gozillion people tramping through the area scaring the ferocious little beasts.
I do, of course, use the word ferocious in a tongue-in-cheek manner. The very idea of a ferocious koala brings to mind the Killer Rabbit of Caerbannog from Monty Python and the Holy Grail. However, later on you'll see a shot which gives you an idea of the size of their claws. I would not want an angry koala, high as a kite on eucalyptus oil, to land on my face.
The thing koalas do best is to look extremely laid back, comatose, in fact. Here is a nearly comatose koala: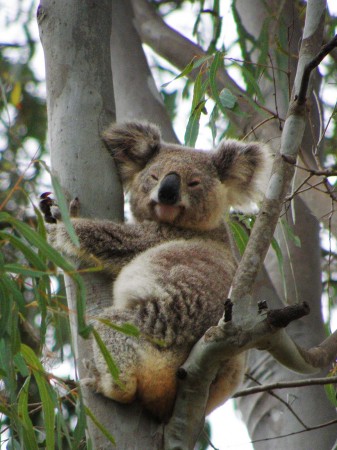 This is the most common pose which I observed. They do notice you walking around. I guess "drowsily observant" would be a good way to describe their natural state. No matter what position they were in, they seem to favour slowly snuggling up to the trunk of the tree to try to blend in. I suppose that they believe they are hiding. It doesn't work, but it is cute. Cute is a word which keeps popping into your mind like a pesky mosquito buzzing around your ear at three in the morning.
You will quickly bore of sleeping koala images, so I'll break this up by showing you this sad excuse for a kangaroo picture: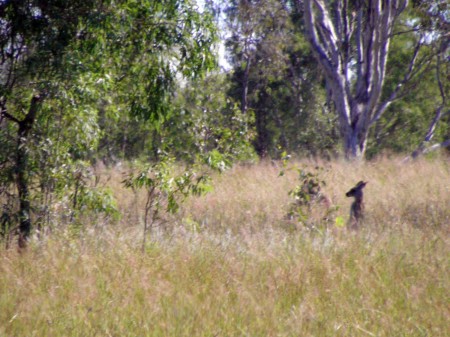 When I took the shot, the kangaroo was so small, even at the full 26X zoom of my Olympus SP-590UZ camera, that I thought that I'd missed it. It wasn't until I got the image up in Adobe Bridge that I noticed that the kangaroo was still there.
Okay, back to the koalas for a while. This was my only shot of a koala on the move: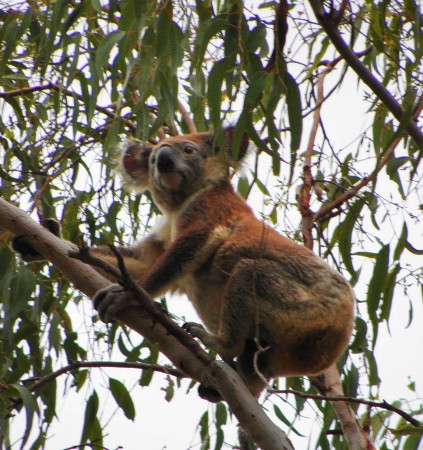 Truth is, they simply don't move around that much. This one was climbing a branch at what I'm sure was a breakneck speed for a koala in a vain attempt to run from us.
As a serious amateur photographer, I can't say that I'm proud of these shots, though I did put a fair amount of effort into making them as good as I could. I was up against a couple of serious problems. First, the light was absolutely ghastly. There is hardly any worse light than a bright grey sky. It washes the colour from everything and makes any sense of depth go as flat as a pancake. If you are shooting upwards, it's even worse. I took about a hundred exposures, half of which were unusable.
The other problem is the miserable performance of the early super-zoom lenses. My Olmpus was one of the first of the super-zoom consumer grade camera. I don't buy professional equipment, because I can't afford to pay thousands of dollars for a high-quality camera and lens. Some things are simply out of my income range. So, I make do with the best I can afford. If I do buy another super-zoom camera, I'll insist on doing some shooting with it first so that I can check the lens perfomance. It took supreme efforts to get these in shape to put here for your enjoyment. Even with all that, if you click to enlarge them, you will see the effects of stretching the camera beyond its reasonable limits.
Uh, did I mention claws? Imagine these tearing into your flesh. Don't let that sleepy look fool you: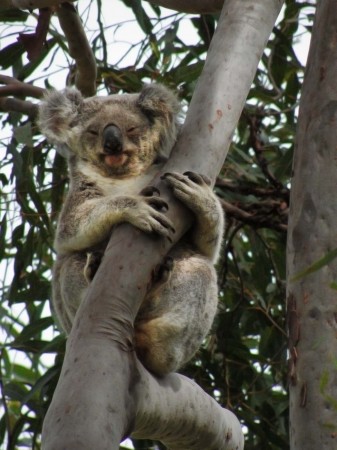 It's only a ploy to lure you within range. This is the rare carnivorous variety of koala.
I noticed many trees with power line insulators banged into them. Ali said that is has only been about five years since the practice was abandoned by the utilities company in this area. It seems terribly rustic: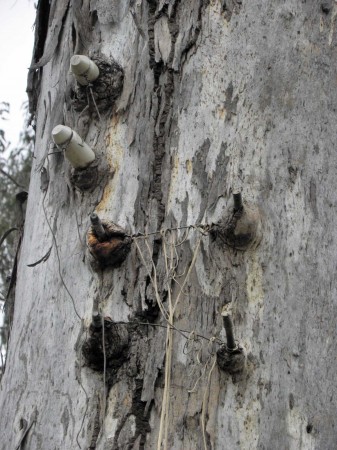 Once in a while you can spot a koala which seems to be uncommonly alert: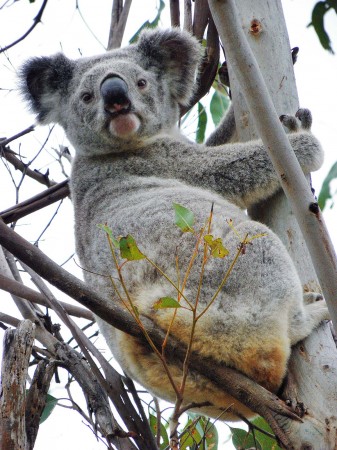 I fact, this one looks a bit peevish. Perhaps it found our presence an affront. Maybe it was just curious.
Of all of the poses, I liked the "Nyaa, nyaa, you can't see me!" the best: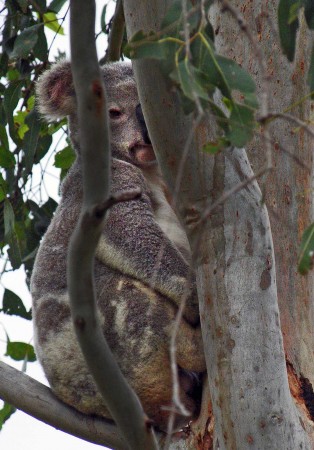 They will try to edge around the tree to become less visible. It's comical to watch a koala when two people begin to walk around the tree in opposite directions. It will slowly turn its head from side to side while trying to decide which way to go. Then it gives up and hugs the tree harder. It's too bad they are so fat. If they were flatter against the tree they would be hard to spot, since the camouflage in their fur is quite effective.
I'll leave you with a shot of the Old Town Hall in Gympie: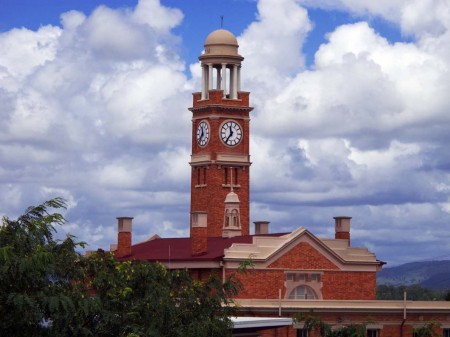 It's about as curious a conglomeration of architectural features as I have ever seen, though the overall effect is not unpleasing. I'd be willing to bet that it was designed by a committee.
Keep in mind that I know absolutely nothing about architecture, except that I love Frank Lloyd Wright's Fallingwater house. For me, that's enough. How wonderful it would be to live in that house.
Tags:
ali raynor
,
gympie
,
kangaroo
,
koala
,
toogoolawah
,
town hall