Posted in
On Tthe Road
on May 2nd, 2011 by MadDog
Today the news is dominated by the execution of Osama bin Laden by a team of US Navy Seals. I'm trying to think of a time in history when so many people celebrated a death. I'm sure that some are grieving and many others are angry. I suspect that they are outnumbered by those who rejoice. This seems to be a pretty sad comment on the man's life. Few will note my passing, but I'd like to think that fewer still will celebrate it.
I am desperate this morning to devise some trickery to make this post interesting. I feel flat and listless. The weather here has been miserable. Sad, grey days with no hint of the warm, cheerful light of the sun. It's depressing weather and it's not helping my mood one bit. At least there is no snow. I've seen one sunny day since I've been here in Indiana.
I'll toss out a few random bits from my so-called adventures of the last few days and see if anything inspires me to vocalise.
My cousin, Jack Stephenson, hauled me around a few days ago for some sightseeing. While we were at lunch he showed me some images he had stored on his phone. Understand that this is still a new thing to me, a phone which takes pictures and stores them. What will they think of next? Anyway, he had two very nice images of a red fox. He got them at Yellowstone National Park. I asked if I could show them. Here they are: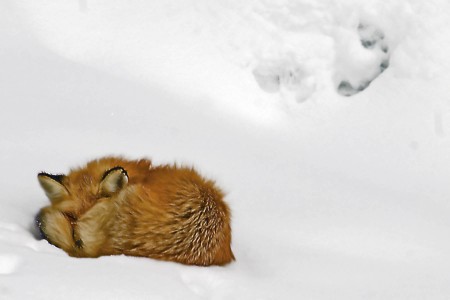 They are both nicely composed.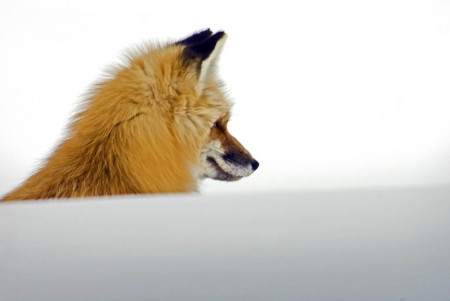 Thanks, Jack.
We had lunch at an ancient tavern in Indianapolis, The Workingman's Friend: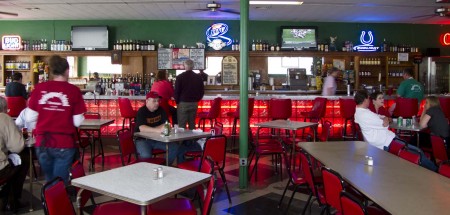 I remember the place from my childhood and high-school years, but I'd never been inside.
Much is made of the quality of the food at TWF. I chose unwisely. I was expecting a huge, hand-breaded Hoosier-style tenderloin sandwich when I ordered, smacking my lips. What I got was this: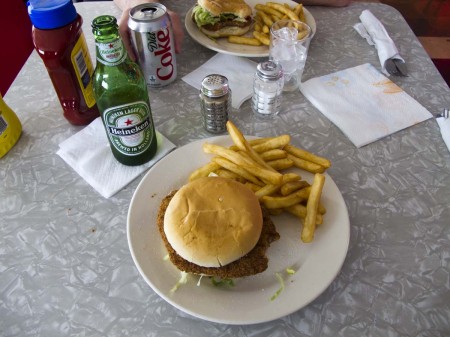 A soggy, manufactured bit of unidentifiable meat covered by some kind of crumbly substance. Don't order the tenderloin.
If you're looking for a down-home American working class cultural experience, stop by here: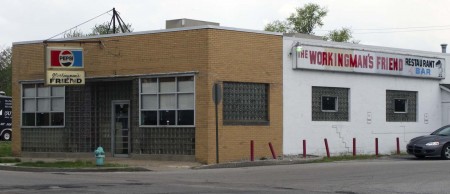 Try the smashed burger. It looks better than the tenderloin.
We also went to the Eiteljorg Museum of American Indians and Western Art. I'd been there before with Eunie, so I once again got that weird feeling and found myself turning my head to see where she had gone. I took a few snaps of esoterica. This is Harry Jackson's, The Marshall, a coloured bronze of John Wayne as Rooster Cogburn: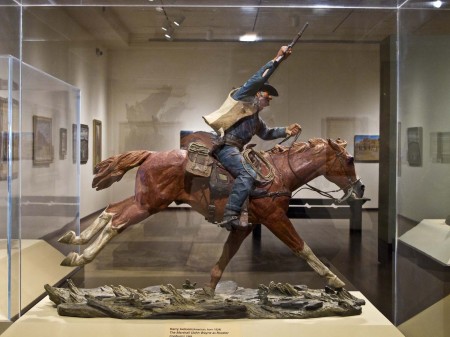 I snapped many interesting items, but the collection of images is too rambling, even for MPBM. Here is one more which I found fascinating – a 2,000 year old duck decoy: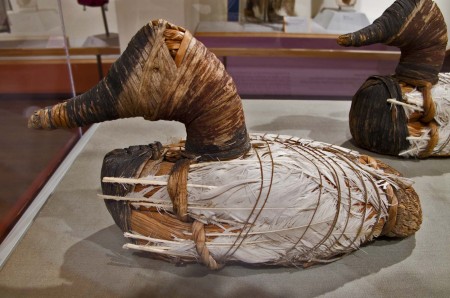 The Eiteljorg is a place which inspires cultural introspection. The history of indigenous Americans is not full of joy. Hopefully, the long sad era of human history which was characterised by conquest is over. There is hardly any place left to invade and dominate, one would hope. There will be, of course, petty thieves who will hop borders to pillage and loot, but these will be mere fly-specks on the pages of history. No, we've simply run out of profitable targets.
I have but a week left here in gloomy Indiana. Maybe the weather will clear. My son, Hans, will drive from Canada to retrieve me from Brownsburg, haul me to Illinois for a few days visiting with Eunie's family and thence to Wisconsin for a meeting with a supporting church. Then it is off to Canada, Hamilton, Ontario, to be exact. I'll be there for two weeks. I'll then fly away to Sedona, Arizona for a while. All of my meetings and stressful obligations will be finished when I arrive in Canada. I plan to allow myself to unwind and rediscover some joy.
Some have asked when I'll return to Madang. I can't answer that exactly at this time, because my time here is doing me a lot of good and it's limited only by the number of couches I can crash on. I'll spend not a dollar on a hotel, so I'm looking for hospitality. I've been given leave to take as much time as I need. I know my work is waiting for me when I return and I am more grateful for that than I can express.
Healing comes month-by-month. I'm infinitely grateful.
Tags:
duck decoy
,
eiteljorg museum
,
harry jackson
,
indianapolis
,
john wayne
,
red fox
,
rooster cogburn
,
tenderloin
,
the marshall
,
workingman's friend