Posted in
Arizona Images
,
Sedona
on October 19th, 2011 by MadDog
It was a "do it yourself" marriage ceremony on Saturday afternoon at Beaver Creek near the ranger station at Rimrock, Arizona. It wasn't covered by TV crews and no circling helicopters were heard. The attire was modest, "Sedona Chic", as Grace calls it. There were no invited guests, only the participants and local family members. In other words, it was the kind of marriage which maximizes satisfaction while minimizing the fuss.
So, for the second time in my life, I am a married man. I had intended only one, but that was not in accordance with the "Plan." Paul Simon possibly stated it best in Slip-Slidin' Away:
God only knows. God makes his plan.
The information's unavailable to the mortal man.
I say this not to revisit or show a morbid regret for the past, but to celebrate and proclaim my happiness and gratitude for my present blessings. My plan was not the plan of my maker. It took me a long time to stop seeing that as a tragedy. My life has been transformed by some wonderful second chances. All of the love and hard work that Eunie put into molding me into a better man now benefit me even more than in my former life. I have opportunities now to care more, do things better and be aware of and sensitive to things which formerly escaped my attention. I am going to make the best of it, for Grace and for myself.
On Friday afternoon we went to the Safeway store in Sedona to get flowers, a cake and some ice cream for Saturday's event. We spent most of the evening arranging the flowers into the appropriate bouquets for each of the ladies of the marriage party. I was not, of course, competent to make up the arrangements, but my fingers are nimble enough to wrap the stems with ribbon and tie the knots. We sat them outside to keep them cool overnight. It's beginning to get very chilly at night here in the high desert: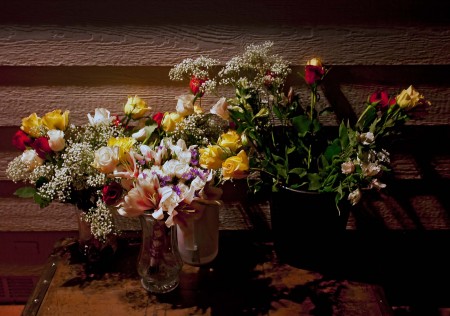 Grace chose this quiet spot at Beaver Creek for our marriage because it has long been a place of solace and comfort for her. When I saw it first I was also captured by its beauty and simplicity. Next to Grace is Dodie, who stood with Grace during the ceremony. I have no pictures of the marriage itself, because I was rather busy being the groom: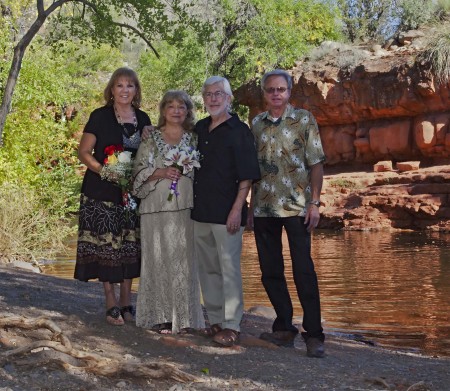 To my right is Verle, Dodies' husband.
Here is Charity, Grace, me and Pastor Scott of the Montezuma Chapel church near Rimrock. Believe it or not, it's located on Rusty Spurs Road: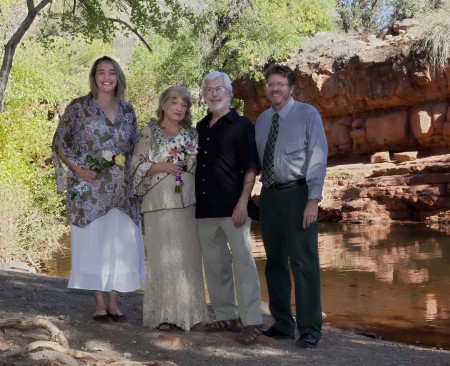 The ceremony was very traditional. Grace and I wrote our vows, which were simple and to-the-point. Pastor Scott covered the usual ground eloquently. I appreciated the low-key tone of our marriage from the planning stage through the ceremony on Sunday. It was a marriage suited to a man's tender nerves. I had only a couple of days of pre-marriage jitters. This will make it much easier on me when we plan and carry out our "wedding" in April of next year.
Little Tana, Grace's granddaughter, is on the left. She did not care much for the camera. Next to Grace is Diana, her daughter-in-law. Next to me is Jay, Grace's son, who stood with me: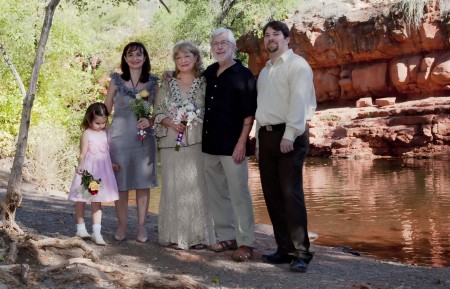 It was all over in about an hour. We had swimmers in the background for most of the time, but they kindly removed themselves when they noted that we were taking pictures.
We had a very small reception back at home with Grace and I, Jay, Diana and Tana. We could not find any wedding theme decorations for the cake, so we settled for Minnie Mouse lounging on a sugary beach while watching Mickey hanging ten on a frosting wave: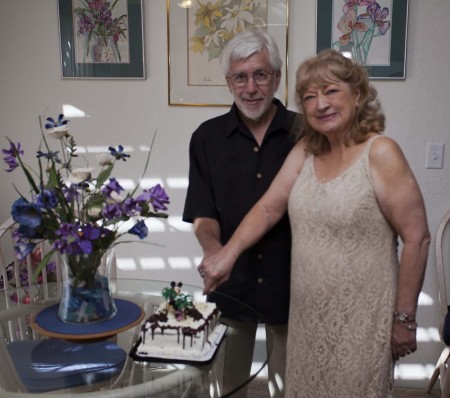 We gave all of the flowers to Diana and Jay to take to their church the next morning. We took that remaining ice cream and cake to church with us on Sunday. We don't allow such deadly dietary items to remain in our home.
Finally, we have the obligatory "hands with rings" shot: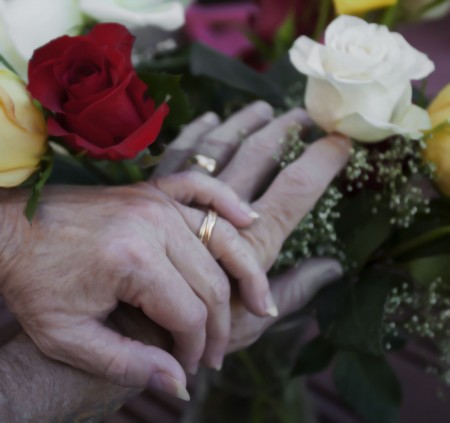 I can't escape the notion that I ought to be writing a great deal more about this life-changing event for Grace and I. However, words escape me for the time being. It seems as if nothing more need be said. Our decision to marry came as naturally as a warm summer rain. Our decades-long friendship serves us well. Disagreements are few, usually trivial and easily settled. We share a comfort with life as it happens that comes with maturity, no small amount of wisdom, deep love and some very hard knocks.
Life can be perfect, if you squint your eyes a little. I like the way Grace puts it, we are "Perfecting the perfection."
Tags:
beaver creek
,
marraige
,
sedona