Posted in
Photography Tricks
on April 22nd, 2012 by MadDog
Life continues to be far busier than I imagined it might be here in Sedona. In fact, my hope of "simplifying" seems to be dashed. I sometimes thought that living in Madang was overly complex, considering the physical and social environment.  Our most common refrain was, "It's always something!", implying that just when things seem to be in control some forgotten detail or requirement rears up and makes its obnoxious presence known. It would be ungrateful of me to complain, so I'll just make the observation that simply maintaining an existence in America is far more demanding of time, immensely more complex and requires the absorption much more information than does drifting through life in Madang. I'm barely keeping my head above water. I find that I barely or not at all understand much of what I'm doing. Most of the time I'm following the instructions of someone who's paid to guide me through some thing or another and signing on the dotted line when required. I think I'm managing the big picture, but I'm being dragged along by the nitty-gritty.
Fortunately, I can escape the circus once in a while for an hour or so of  clear thinking and working my craft. It's an amazing thing to have my hands on the kind of equipment I've always dreamed of. The title implies that this post is all about macro stuff, but I have some other images today. My Canon 70-300 zoomer has been neglected lately. It's a workhorse lens with no particular glamorous features, though it performs its mundane tasks superbly, as this shot of a full moon rising behind a dead tree across the street attests: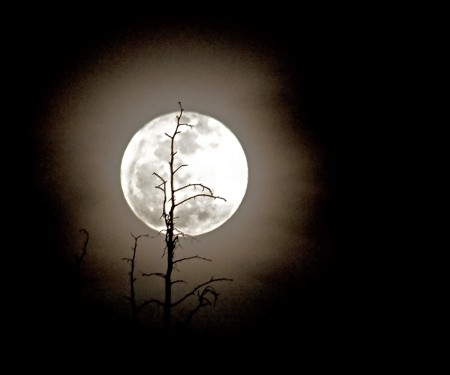 Luna is partially obscured by a thin Cirrus cloud layer, softening the details of its topography and creating a soft halo. The tree is about 150 feet away and the moon is about 24,000 miles from the front of my lens. I might have stopped the lens down to ƒ32 and gotten them both in focus, but that would have required a tripod and a long exposure. This shot was taken at 300mm, ƒ22, 1/13 second with image stabilization. This combination just barely allowed me to capture the image hand-held.
Another task for which this workhorse lens excels is bird watching. Serious bird watchers will want more powerful zooms, but for my modest efforts this glass is my ticket to ride. We have some lovely birds visiting our back yard daily. One of my favorites is the Western Scrub Jay (Aphelocoma californica).  I tossed a handful of peanuts on the ground near the bird bath in the back yard, set up the Canon on a tripod and started recording HD video while I went about my business with other things:
The Western Scrub Jay from Jan Messersmith.
After about forty minutes I copied the video file to my laptop and edited out the blank spots, added a little public domain music and some titles. You can listen to the song of the Western Scrub Jay here.
Changing lenses now, I'll blather on about my new favorite, the 100mm macro. This piece of glass is not simply a microscope for the little things. It's a great all-round lens for many situations. I like the flattening effect of the mild zoom for portraits and its tack-sharp images and very wide range of apertures make it my favorite carry-around lens. Here's an example of a "normal" shot in which the lens excels: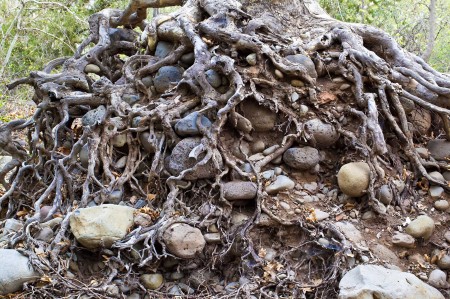 In the full resolution image from the camera the level of detail in this image is amazing. Even in the 2000 pixel wide shot, it conveys a lot of visual detail. A lens like this is really wasted on web images. It takes a full magazine page printed well to make it shine. I wish I was still in a position to sell some articles.
The shot above was taken at Red Rock Crossing, one of my favorite places for a calm walk in the woods. While walking down the shore of Oak Creek we came across an amazing example of fossil ripples in the red Schnebly Hill Sandstone formation: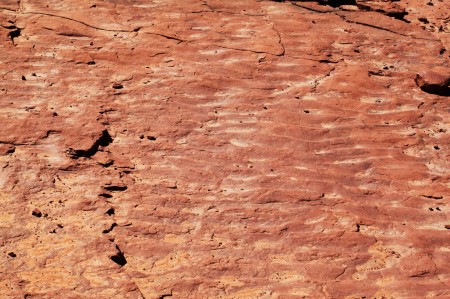 After doing a little Googling on the subject I conclude that this example of fossil ripples is one of the best which is easy to visit. Here is a shot of another location nearby: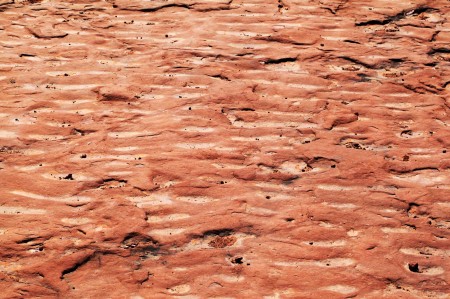 The 100mm focal length of the Canon macro lens is perfect for this shot. The slight foreshortening of distance accentuates the effect of the ripples in the red sandstone. We found three examples of the ripples within an area of a hundred feet or so.
Green being my favorite color and the high desert being particularly short of this shade, I'm snapping everything green that I can find: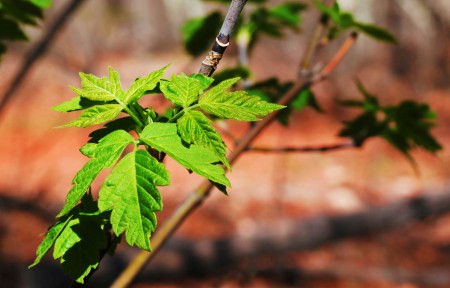 Spring is coming on strong. I'm waiting for the rains which will hopefully paint the desert with flowers. I'm wishing for scenes reminiscent of the old Oscar-winning Walt Disney The Living Desert movie which I remember seeing when I was about ten years old, a very long time ago.
While I'm still showing big things shot with the macro lens I'll show you a mysterious (to me, anyway) series of holes in a Schnebly Hill Sandstone layer at Bell Rock, a famous formation just on the edge of The Village of Oak Creek where we live: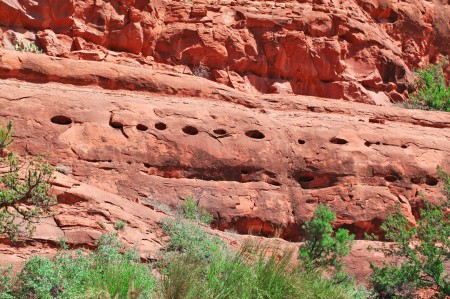 It's interesting to speculate what might have caused these holes. Being lined up in the same strata implies that whatever caused them was fairly brief in nature and rather unique, since I see no other examples in the area. My personal favorite explanation is that some event caused a large number of stream-rounded boulders of soft rock to be deposited more or less at once on the flat layer of material which later became the red sandstone of the area. When the Schnebly Hill Sandstone eroded, these soft rocks eroded more quickly, leaving the cavities. If you can do better than my guess, please wade in with a comment.
Here's a nice shot of an ancient looking tree on the side of Bell Rock. The 100mm macro is a great lens for this kind of shot: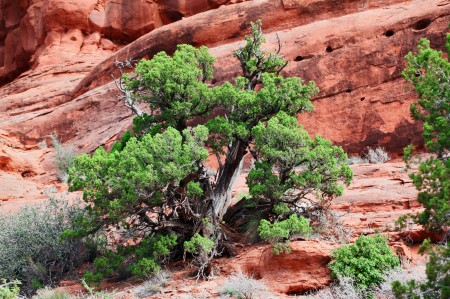 But, of course, the raison d'être for this chunk of glass is the little stuff: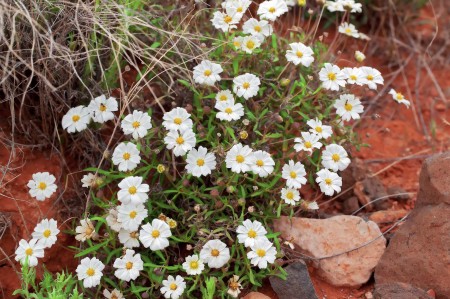 Popping up everywhere in the desert are a variety of tiny blossoms which appear to me to be daisies of some kind. I'm hopelessly uninformed about the local flora. I've come from a place where I knew quite a bit to a place where I know nothing. (UPDATE – Within minutes of posting this I got word from my friend Anne-Marie Gregory in the UK that this is a Blackfoot Daisy – Melampodium leucanthum.)
But I I can appreciate the beauty and capture the images: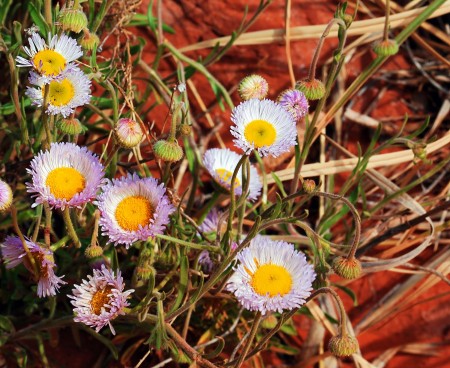 That will have to be enough for now. (UPDATE – Inspired by Anne-Marie, I found a good site for local wildflower identification. This look to me to be the Spreading Fleabane or Layered Daisy – Erigeron divergens.)
Cacti are mysterious to me. I never realized there are so many kinds: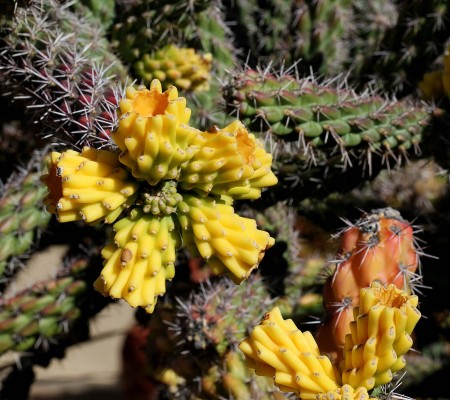 There is no shortage of new things to learn about here in the high desert.
Tags:
Aphelocoma californica
,
arizona
,
bell rock
,
blackfoot daisy
,
cactus
,
Canon EF 100mm f/2.8L IS USM 1-to-1 Macro Lens
,
daisy
,
Erigeron divergens
,
fossil ripples
,
layerd daisy
,
Melampodium leucanthum
,
moon
,
oak creek
,
red rock crossing
,
schnebly hill sandstone
,
sedona
,
spreading fleabane
,
western scrub jay