Posted in
Photography Tricks
on April 16th, 2012 by MadDog
Our encore performance of Wedding Day is now securely in the past, most of the major time consuming tasks to create a whole new life are accomplished and my new work assignments are finally beginning to trickle in. I have about a month to get myself oriented with my co-workers and begin the climb up a couple of steep learning curves before another trip to Dallas and then St. Louis, which will take us to the end of July. So, I decided to take a few hours of "personal time" to exercise some of the many capabilities of the new Canon EF 100mm ƒ2.8 L IS USM 1-to-1 Macro Lens. Aside from being a mouthful to describe, I have to say that it is more fun to fool with than any other lens I've ever owned (quite a box full over about fifty-five years of photography).
When I decided that my new work required a radical upgrade of my equipment, I settled on a Canon 5D Mk II camera body, mainly because it seemed the most bang for the buck and its HD video capabilities are so good that many independent film makers are using it as a prime capture tool for raw footage. For lenses, I compromised and bought two Canon zooms, a 17-40 and a 70-300. These choices created an awkward "hole" in the focal length range right at the "normal" focal length of 50mm, but I reckoned that I could live with that.
However, this left me without a decent macro capability. Neither of the new Canon lenses were significantly better than the macro capability of my Canon G-series cameras, the latest of which is the marvelous G-12 which I gave to my bride as a pre-wedding gift. Gracie now has no excuse for not taking great pictures. I have always  been captivated by the creative wonders of macro photography, but I've never had a purpose-built lens with which to fully explore the tiny landscape.
Enter the Canon 1-1 macro. This was my first serious image with the new lens on the night before our April Fool's Day Wedding, a Hydrangea purchased at Safeway to decorate the church for our do-it-yourself ceremony. If you click to enlarge you'll see that the image speaks for itself: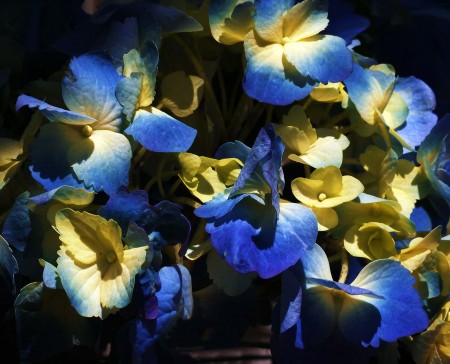 I'm now using it as a desktop background on my Toshiba Tecra. It feels strange to say that I take little credit for this picture. It's 90% equipment. I pretty much just pointed the camera and clicked. I'm used to fiddling incessantly in Photoshop to coerce an image file to comply with my imagination. Using the right gear makes most of that unnecessary.
Another thing which impressed me immediately is the amazing increase in working distance one gets with the 100mm 1 to 1 macro. I'm used to sticking the lens right up in the bug's face to get an image on the sensor large enough to work with. Even with that, I usually had to crop and enlarge, meaning that I was losing detail on every shot. Careful sharpening can bring back some "apparent" detail, but it's really faking it. I snapped this shot of the funny little black bee at nearly two feet and it suffered only minor cropping for the sake of composition: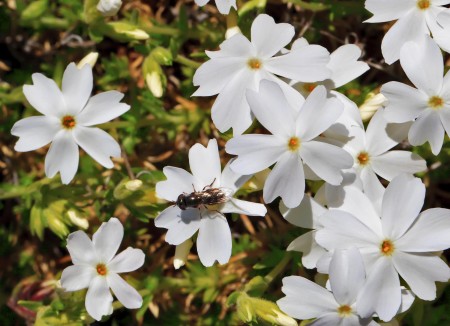 The amount of  adjustment required to get used to shooting from much farther away is disconcerting. I was sitting on a rock down at Beaver Creek with Gracie when this lizard crawled up into the greyish light about three feet away. I had only to lean forward a little to grab him with the heavy Canon.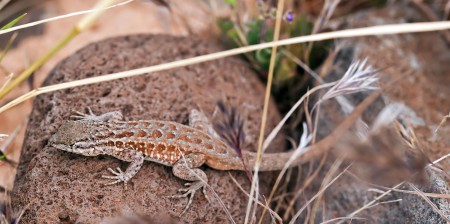 In fact, it's very easy to get too close at first and have trouble finding your subject. It sometimes seems like trying to find a star in a telescope. I feel like I need a "finder" scope.
Another thing which I am really loving is the range of creative effects that you can squeeze from the enormous variety of tricks one can conjure up from the very broad selection of apertures ranging from ƒ2.8 to ƒ32. I'm sad that this might be getting a little too geeky for some readers, but there's really no way to talk about it without the technical terms. If some of it seems befuddling, have a look at my post on The Exposure Triangle. In this shot of pretty orange flowers which are blanketing the high desert now, I wanted a slightly blurred background to showcase the detail of the blooming plant while maintaining full sharpness for the subject: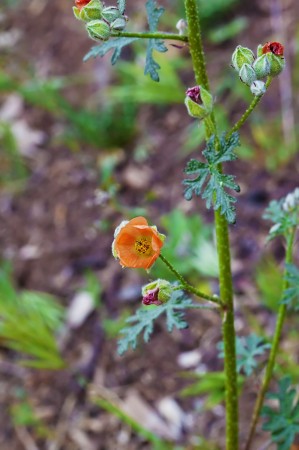 This was dead easy. I just set the 5D to show me the live image on the screen, put the body in the Aperture Priority mode and twiddled the aperture control wheel until I could see that the entire plant was in focus while the background was blurred just the way I wanted it. I never had it so easy. I could achieve a similar effect with Photoshop from a fully focused image, but it would take a lot to time.
Just a little more twiddling of the aperture control produced a very arty shot right out of the camera: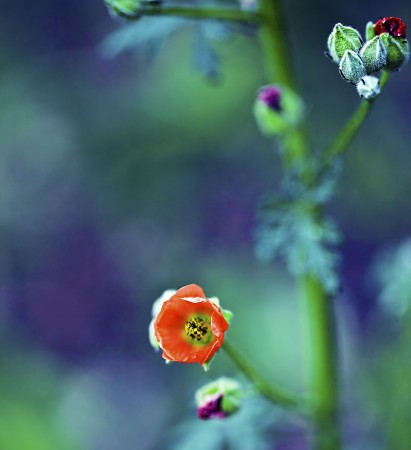 Here I opened up the aperture to 2.8 to reduce the depth of field dramatically, creating a bare suggestion of the plant itself, tightly focused points of interest and a cool, furry canvas of contrasting colors. Really, the lens is doing all the work for me. I'm gobsmacked!
This shot proclaims, in a tiny little voice , that spring has arrived: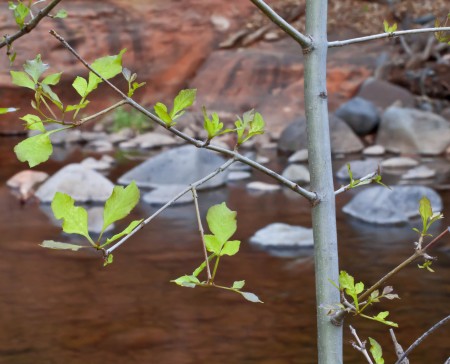 This image shouts, "Spring has arrived!" by zooming the focus of attention onto the crisp young leaves: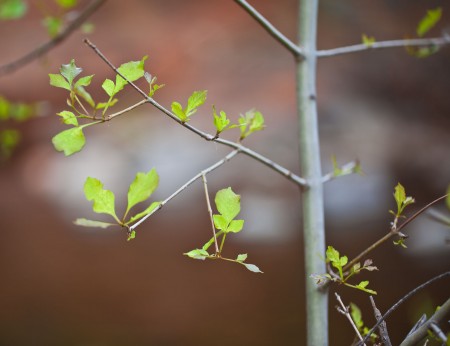 Again, the effect was created by a few clicks of a little black wheel about the size of your fingernail
This shot was spoiled only by the unfortunate position of the sun. Had our shiny giver of light and warmth been over my shoulder, as any photographer knows it should be, the dark pinnacle would have been magnificently red, contrasting nicely with the blank blue sky. However, I would have lost the dramatic back-lighting which makes they fuzzy flowers glow so brightly. The big Canon macro lens comes with a hood about the size of a beer can, so flare and dimming of contrast from internal reflections are very unlikely. You can turn it around when you don't need it, shortening the lens by about four inches.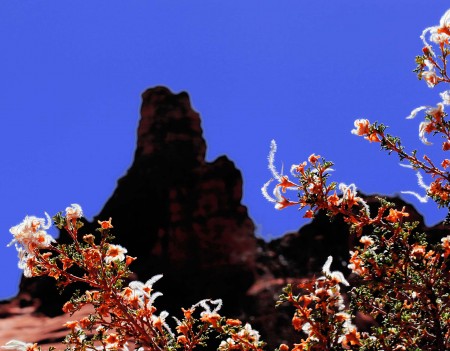 Which brings to mind matters of weight and size. Unobtrusive, this rig is NOT. Here are some bananas for comparison: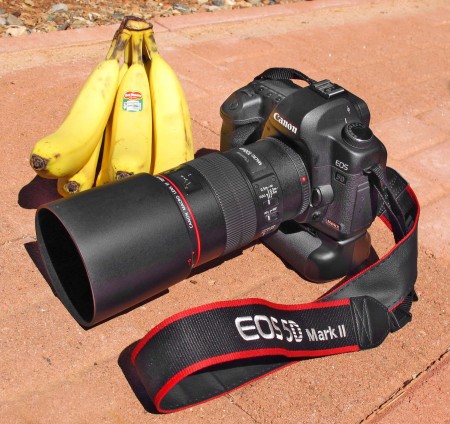 By the time you get the lens on and a twin battery grip you have maybe eight pound of gear to lug around, not to mention another fifteen in a back pack with spare lenses, and two flashy things.
Still, the exercise is good for me and my Geek Index has risen astronomically. And, I can take cool , super sharp closeups such as this: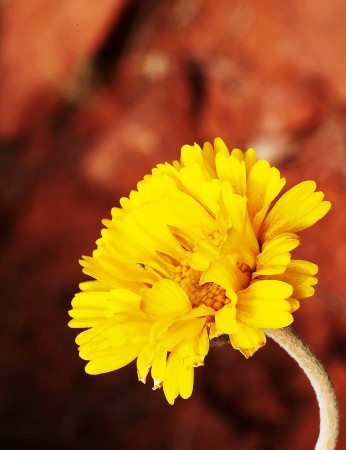 Bugs . . . where are my bugs?  I hope things liven up around here.
If I'm in an arty mood, I can back off another few feet and do this: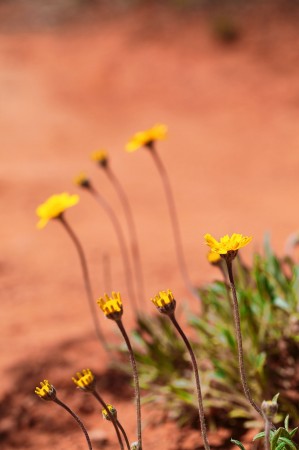 Get ready for many little things.
Tags:
arizona
,
Canon EF 100mm f/2.8L IS USM 1-to-1 Macro Lens
,
lizarrd. hydrangea