Posted in
Arizona Images
,
Photography Tricks
on June 7th, 2012 by MadDog
One year and a week ago I arrived in Sedona for a visit. I'm still here. It's going to be a very long visit. It makes my head spin to think that I've been here for a year. It seems impossible.
I've been enjoying the delights of my new Canon EF 100mm ƒ2.8 L IS USM 1-to-1 Macro Lens. A few days ago I hiked along the highway leading from Sedona to The Village of Oak Creek where we live. When the new highway was built the county agreed to plant high desert wildflowers along the way as a part of the deal for funds. Though we have had a very dry spring, it is still beautiful. We've had no rain since the last snow melted. Yellow flowers predominate this time of year and bees were busy everywhere: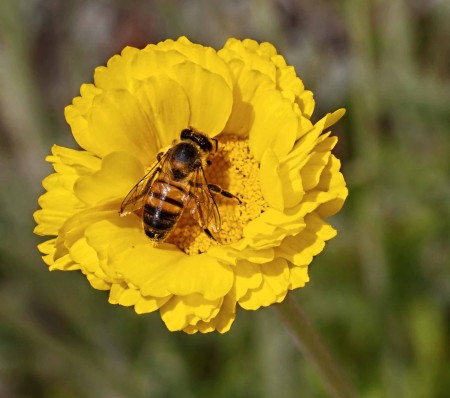 On the side of our house I saw the latest alien to vacate its flying saucer and to take up residence in Sedona: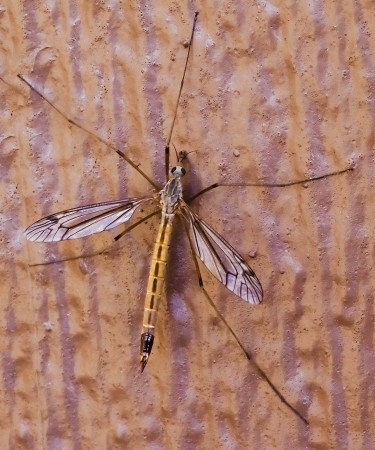 It's easy to see this as some sort of machine.
I found this incredibly tiny grasshopper, about 4mm long, crawling around on my Sweet Basil. It was very adept at avoiding my camera lens. I finally had to coax it out onto the pavement to get a shot: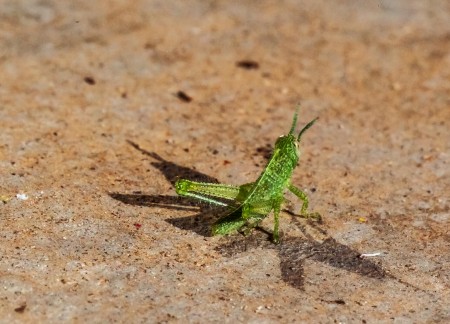 While hiking down Oak Creek from Red Rock Crossing with Jo Noble, our visitor from England, we came upon a man who suggested we follow the trail for another mile to a place called Buddha Beach. There is a middling-sized pool there and a long sandy beach. Just inside the scrubby forest there is a large area of rounded river rocks. Visitors there have erected thousand of small stone cairns. The image below is a compilation of about eighty shots processed with Microsoft ICE (Image Composite Editor) and uploaded to Microsoft Photosynth:
I've heard some complaints that such activities ruin the natural beauty of the area. I think that's a little picky. The next time Oak Creek floods, if we ever get any rain, these will all be put back into their proper places.
On the way I saw this tiny blue flower sticking up from the earth with no leaves of any kind, just the stem. It was about the size of a pencil eraser: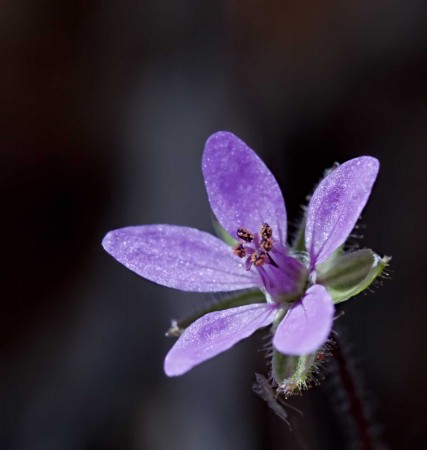 I think I see the empty shell of some insect hanging from the lower petal.
Okay, things are getting pretty random now. Here is a Madang sunrise that will soon be printed out on a seven by two foot canvas to be mounted in the corner of our bathroom over the Jacuzzi. I'll put up a picture of it when I get it hung. Gracie has art all over the house, so I'm presently consigned to hanging my work in the bathroom:

I'll have to make a point of offering  the "master" bathroom to visitors when they are of a mind to refresh themselves.
Wandering further afield, I'll show you a picture from our visit to Glendale Glitters, a mid-winter festival held in Glendale, Arizona each year. What you see here is only a small portion of a large park set alight. I can't even imagine putting up all of those bulbs. They are electronically controlled so that the light patterns change and move about on the trees: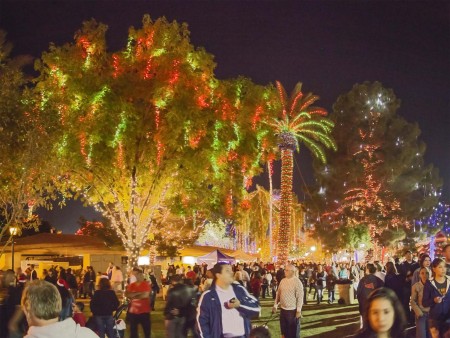 Finally, I'll show you Jo's nice legs, which she, quite unreasonably, says that she hates. I don't get it: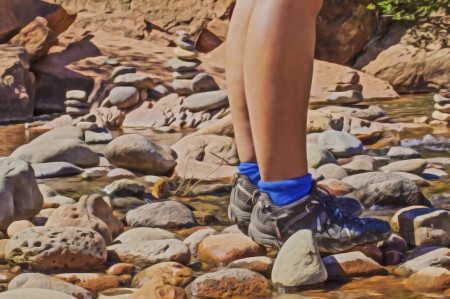 She was standing on some rocks in Oak Creek in her cute runners and her Air New Zealand freebie socks. I had to lay down on my side on the creek bank to get this shot of her with a few cairns in the background. I used the Oil Paint filter in Photoshop CS6 to give the image some interesting twisty-ness. It's becoming my favorite. It's easily the most versatile and amusing one-click artistic enhancement filter in Photoshop. Its combination of sliders offer a cornucopia of effects varying from subtle to goofy.
We're off to Dallas tomorrow for a week of conferences and integration with the Media Arts Team who are my coworkers in my new job. I've been working on an assignment for a few weeks. It's time to get the bugs out and produce the first project of my fresh start.
Tags:
bee
,
buddha beach
,
bug
,
cairn
,
flower
,
glendale glitters
,
grasshopper
,
jo noble
,
madang
,
oak creek
,
sunrise