The drivel continues . . .
Visit High Desert Journal
Among the hundreds of thousands who have visited Madang – Ples Bilong Mi since its creation in September of 2007 there are a few who have visited regularly and know the history. I won't recap that here, as it is revealed by the more than 1,000 posts, over 5,000 images and about a million words. Only the terminally bored will pursue this past.
I have a new wife, a new life, a new home, new interests, and regained happiness. I'm reborn. My new home is in The Village of Oak Creek, a few miles from Sedona, Arizona. It's about as far as one can get from the tropical paradise of Madang. I've traded one paradise for another. My new wife is an old friend of myself and my late wife, Eunice Messersmith. Grace Preval was Eunie's friend from the age of four. Despite considering carefully, we could find no reason not to marry. I have made a few very excellent choices in my life. The decision to court Grace was on the very short list.
At sixty-nine I can truthfully say that I have few regrets and unbounded gratitude for a truly splendid life. Recovery from tragedy is a mighty rough road. I sincerely hope I will not have to travel it again.
This little web site has meant much to me. It has provided an outlet for my modest talents while allowing me to amuse myself and, hopefully, a few others who appreciate my whimsical style. However, it's time to give it a rest. This will be my last post here. I invite the curious to visit High Desert Journal, my new site which will reflect the blessings of my new life and the "Splendor of Northern Arizona".
To all my past visitors I convey my gratitude for the encouragement, comments and superb Google ratings. These images are all over the web and I get new comments daily. Thanks for reading, my friends. I'll see you at the High Desert Journal.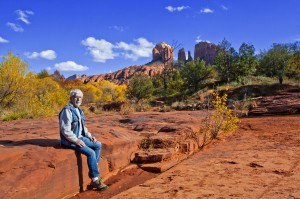 Tags:
arizona
,
grace preval
,
sedona