About
Jan and Eunice Messersmith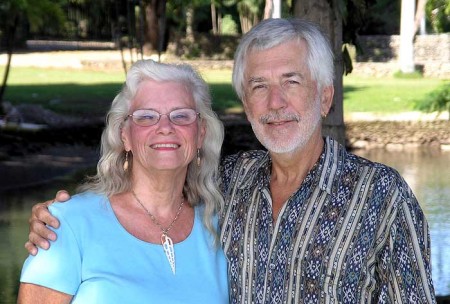 UPDATE – April 2011: I have thought often of changing this About page since the death of my beloved wife, Eunice, on 8 September 2010. However, I have decided to leave it as it is as a testament to a rich and wonderful fifty years with a good woman. No man could ask for a greater gift than I received from her in the form of her constant love and able partnership. I miss you, Eunie. I always will.
WHEN I WAS A KID my Dad often told me fascinating stories of his adventures in New Guinea during World War II. He didn't have much to say about the war, as such, but he had many tales of his forays into the mountains of the Milne Bay area and his contacts with the villagers. He had a big box of treasures that held my attention for many hours. There were bone daggers, Cat's Eye sea shells, bits and pieces of soldier paraphernalia, photographs, and many other items of wonder for a small child. Like many young men of many nations, Dad was a soldier because he felt it was his duty to defend his nation and the principles of his culture. I honor him for that, as do the sons and daughters of other fathers and mothers who have taken up the sword for honorable causes.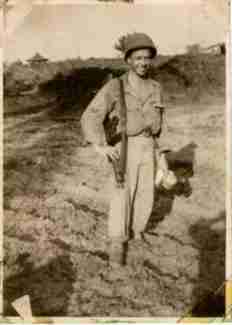 In my wildest dreams, it never came to me that I too would someday take up a sword and journey to do battle in the same land in which my father's comrades-in-arms spilled so much blood. The sword I carry is the Word of God. Our enemies are fear, pestilence, and evil. The prizes of the battles are spiritual and intellectual freedom, a life made healthy by the grace of God and knowledge of the nature of his creation, and a peaceful society living in harmony within his will and according to his laws.
God saw fit to mate me to a fellow warrior. Together we have done battle here for since 1981. It has been a good fight. With God's blessing and the loving support of our fellow warriors in our supporting churches, we hope to continue as long as we have the strength. Eunice and I have found our home. It's right in the middle of a WAR ZONE.
IN THE MID '70s Eunice and I were working hard at building a business in Brownsburg, Indiana. We had a son in grade school and life was chugging along. As time went by, we became less and less happy with our situation. Our business didn't provide the stimulation and satisfaction that it had in the beginning. Feelings of unease and discontent began to dominate us. Finally, we found it impossible to continue on a road that seemed to have no direction or purpose. By 1978, we were seriously desiring to get off the planet. We began the tedious process of selling our business with no clear idea of what was coming next. We knew we wanted a drastic change. That's just what we got. I had gone back to Lincoln Christian College to finish a BA degree in Church Growth & World Missions which I had started sixteen years before. Eunice stayed in Brownsburg to manage the business while I spent four days a week going to school and living in a dorm with what seemed to me to be children. One of my professors told me about a small Bible translation mission that had just gotten started. He was also the vice-president of operations for the board of directors. He knew that I was interested in computers and that Eunice was a bookkeeper and office manager in our business. He suggested that we apply for support positions in the mission since those were the positions they were wanting to fill.
I HAVE TO SKIP NOW, over a lot of tedious preparations that aren't very interesting. By April of 1981 we were in Madang, Papua New Guinea ready to start our work. As I look back at the pictures today, I think we look awfully young, but we were in our mid thirties. Suddenly, and somewhat overwhelmingly, life was exciting again. We found ourselves seeing and doing things of which we never dreamed. Most of it was stimulating and just plain fun. A big part of it quickly became the daily grind – actually the part that felt normal. Some of it was just plain misery.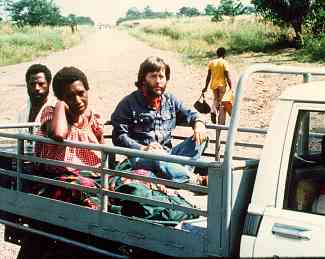 We quickly found that God knew what he was doing when he put us in a town situation. We really didn't like life in a village setting. We needed quite a bit of training before we could be effective. Most of it took place during a four month long 'Jungle Camp' session conducted by the Summer Institute of Linguistics.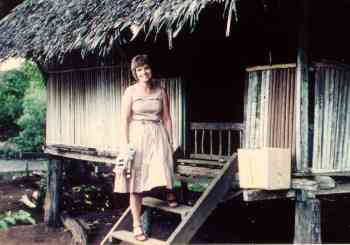 We did, however, enjoy learning the common language of PNG, Neo-Melanesian or Pidgin, as it is commonly called. Many of our experiences during that time taught us lessons that were valuable to us in the coming years.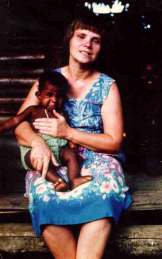 One thing we did appreciate about our training experience was that it gave us time to experience being a family in a situation in which we had to function together as a unit. Some of the things we did as a family, while not being much fun at the time, still provide us with a storehouse of memories that are even more valuable to us now that we are separated from our son by half a world. I have clear memories, for example of the day we spent waiting for our plane in the "Bunapas International Airport Departure Lounge."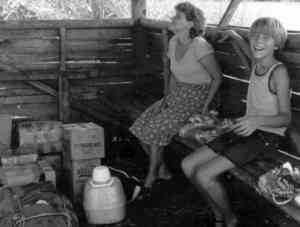 A fourteen year old boy mowing an airfield with a tractor and a 'bush hog' may not seem unusual if you live in the country, but for us city folk, it was worth a picture.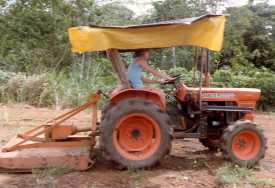 That tractor is the source of many memories for us. A village a few miles away needed the tractor to help build an airstrip. Our job was to find a way to get it there. A few miles doesn't sound like much of a problem for a tractor, but you can hardly even walk through virgin rain forest. The roots of the giant trees are so high off the ground that you have to climb over them every few feet. The villages were connected by a river, adding even more miles to the journey, and you can't drive a tractor in a river. Orcan you? The solution seems obvious once it occurs to you. But the execution is a puzzle that requires a lot of planning and cooperation. It also created a good deal of anxiety.
After a few dozen what if sessions and much head scratching, we borrowed a couple of very big (and very valuable) Sepik canoes and tried carefully to drive the tractor onto them so that it was safely balanced in the middle. We then lashed the canoes securely together so that everything would float as a unit. Did I mention that we weren't actually sure that the canoes would float with the tractor on them?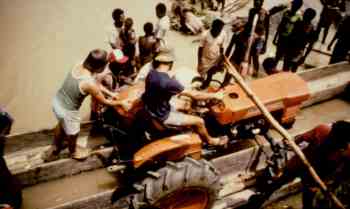 Though we were desparately short of experience, we certainly had enough advice. People are the same the world over. They are always ready to offer their expert opinion concerning projects that are completely beyond their experience. After several anxious and stressful hours, it was time to test the theory. My main thoughts centered on how long it would take me to get the tractor out of the river and make it run again. I suppose I don't need to mention that there was a lot of praying going on about that time. Our plan was that three or four workmen would go on the canoes to see the tractor safely to its destination. Well, that was the plan. Several other people suddenly remembered an urgent and immediate need to get to the other village. One thing you discover very quickly in this part of the world is that once a person has his gear loaded on a canoe and has made up his mind to go, there are no logical and reasonable arguments that will remove him from the passenger list.

This includes pointing out that there are only a couple of inches of wood above the water. We all probably witness minor miracles many times in our lives and don't see them for what they are. There was no mistaking this one.
BACK IN THE TOWN SCENE, we were soon well into our respective assignments. As a bookkeeper and general office manager, Eunice was comfortable in her work. Though the surroundings were different and there was much to learn about 'doing business' in a different culture, she was obviously suited to the job from the first days. Aside from her usual familiar office functions, she also became a radio operator. Communications with the teams working in the bush is obviously one of the most important tasks of the support staff. There are three regular radio schedules each day.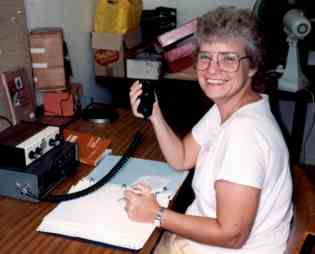 Each team checks in on at least one schedule each day so that the support staff will know that everything is OK. Orders of supplies, messages to and from village residents, and just general person to person chat are other important needs that are satisfied by the regular radio schedules.
Computers have become a very important tool not only for the assistance they provide to translators, but to the administrative operations of the organization. Our first efforts were pretty crude. The desktop computer was born at about the same time as our organization, so they have grown up together. If you are an old timer from the early desktop days, you might recognize an Imsai computer being coaxed into life in this picture.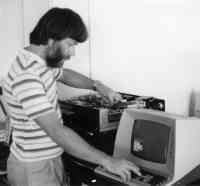 We were amazed at what we could do with them, but by today's standards, they are laughable. Today we have ten networked computers in our administrative offices alone and many more operating in the bush. It wouldn't be too strong to say that our task would be nearly impossible today without this technology. It is a stimulating challenge to work with high technology in a low-tech environment. Until we were able to connect to the internet, we had to figure out everything on our own. There simply wasn't anybody to ask for help with technical problems. In 1986 we went to the USA for a 20 month furlough so I could obtain a BA degree in Computer Information Systems from Butler University.
BEING SUPPORT TROOPS in a war zone is never boring. Getting up each morning brings a day full of potential adventure. Being one of the few individuals having detailed topographic maps of the area and an ex-military helicopter pilot, I was once 'drafted' by the Royal Australian Air Force to go out to help in the search for a missing airplane.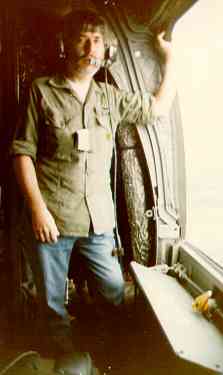 When a severe earthquake struck in the mountains near Madang the Provincial Governor asked us to organize a work party to build a temporary government services and church meeting building near the area of damage. Thousands of villagers were displaced by landslides.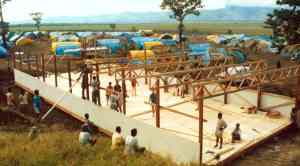 One thing you learn not to say in this job is, "I don't know how to do that." At least without adding, "But I'll figure it out as I go." We feel that one of the greatest blessings of our lives has been the opportunity to work here in PNG. Our work is intellectually and emotionally stimulating as well as rewarding to our spiritual lives. Sometimes I feel as if we really came to life when we started our work here. God is teaching us so much, and making school so satisfying. It has become nearly impossible to imagine doing anything else.
SPIRITUAL WARFARE goes largely unnoticed by most of the world. We are acutely aware of it here. Here men prepare part of an old canoe as the coffin for a family member who has suddenly died. The concept of disease as a cause of death is given little credence in the traditional belief system. Nobody dies primarily of disease. Death is a direct result of spiritual conflict, most often caused by the purposeful actions of another person, or sometimes by an evil spirit.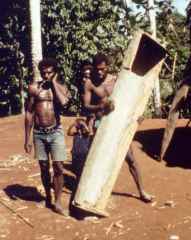 The most important thing one must remember about the indigenous beliefs is that their foundation is the co-equal existence of the spiritual and the physical. In truth, the traditional beliefs are entirely animistic. Nothing physical exists without a spiritual component. Furthermore, the physical world does not contribute to the troublesome moments in life. If a Papua New Guinean stubs his toe on a rock, he would not typically say, "I hit my foot on a rock." He would instead say, "That rock hit my foot!" The difference is most definitely not subtle. Rather, it is profoundly indicative of the difference in our world views.
Unimaginable fears and suspicions are generated by death. The need to discover the spiritual cause of the death is paramount. No person in the village is safe until the murderer can be exposed. If this turns out to be a person, the community must see that justice is done. Papua New Guinea has laws dealing specifically with death by magic. Since disease also is usually seen as a result of a malicious spiritual act, medical treatment and hygiene are seldom accepted as being relevant to overall well being. Furthermore, vengeance killings often lead to bloody and merciless feuds.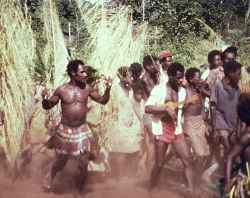 OUR SPECIAL FORCES TROOPS are the translation teams. Bible translation requires, aside from linguistic and theological studies, a thorough investigation of the culture. It's not as if you are translating a camera owner's manual from Japanese into English. Even that relatively simple task often produces a document more interesting for it's unintended humor than its usefulness. A Bible translator must reach deep into the cultural idioms of the Hebrew and Greek texts and transfer the meanings of the texts into the appropriate idioms of the recipient culture. Please visit other pages in this site for many examples of the difficulties (and the joys) of this process.
EVERY SOLDIER NEEDS R & R and we have plenty of opportunities for it in Madang. It is a great blessing for Eunice and I to live on the shore of the ocean. Our house is thirty feet from the South Pacific. Our activities on, in, or under the water provide exercise, relaxation, and a lot of fun.

Eunice likes to drive the boat, snorkel, and just float in the water chatting with friends. I find my fun deeper and have worked my way up to a PADI Divemaster certificate. I also love to water ski, but my enthusiasm has made that somewhat hazardous to my aging body.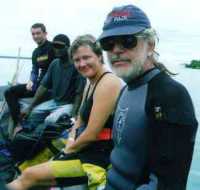 Eunice has been a member of Country Women's Association, a women's community service organization affiliated with the Associated Country Women of the World. She has held several offices in CWA over the years, including National President and National Treasurer. Eunice has enjoyed great satisfaction from her activities with CWA. The Madang chapter of CWA has long been an important influence in matters concerning women's and children's health. The chapter also directly supports the women's and children's wards of the local hospital. We also have a rich social life within the expatriate community. Americans are rare in Madang. Our friends are a rich mixture of Australian, English, and a variety of European nationalities.
Nobody IS MORE SURPRISED than we are by how life is turning out. Mostly it is surprisingly good. We are astounded daily by our blessings.
Birthdays:
Jan – December 23
Eunice – June 23
Wedding Anniversary: