Posted in
Divine Word U.
,
Mixed Nuts
on September 29th, 2008 by MadDog
I recently went over to Divine Word University to visit my friend Chandana Silva, "The Guru of Gurus" when it comes to computer stuff in these parts. As usual, I went to beg for help. As usual, Chandana was most helpful.
And, as usual, he had something interesting to show me.
Probably everybody on the planet has already seen the "One Laptop Per Child" computer – except me. I had, of course, heard about it. I don't think you could be conscious on Planet Earth without hearing about it. But, this was the first time that I'd seen one: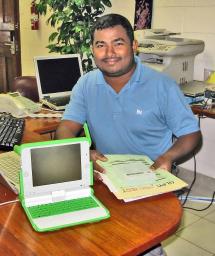 Chandana is in the thick of the battle to overcome the problems of creating a sustainable technological strategy for getting these amazingly capable little notebooks into the hands of kiddies who need them.
He told me that there are about 135,000 school children in the third and fourth grades in PNG. This is the target group.
Divine Word University is working with the Department of Education and some other NGOs and missions to get the ball rolling.
Not surprising to us old-timers in PNG is that power to charge the batteries of the OLPCs (how does one pronounce that?) is the primary stumbling block. The planners are considering solar cells, wind turbines, and windup gadgets.
There are about a million ways a motivated teacher could stimulate learning with these gizmos. Chandana told me about sending the kids to go out to take pictures of flowers with the built-in webcams. Then, when they get back to class, the teacher can set the controlling computer to show each student's photo on all of the other students' OLPCs. They can discuss the photos while all looking at the same thing on the screens.
Another advantage that I had not considered is that, since the software is all 'open source' (available at the code level at no charge), then the language in use on the screen can be changed by simply editing the files and reassembling all the programs. That's a slight simplification, but you get the idea.
What a gas, man! It's a whole new world out there.