Posted in
Dangerous
,
Food
on February 12th, 2008 by MadDog
Looking forward (NOT!) to my upcoming roamings in North America, I thought it best to scope out the lay of the land.  I found something that should be of interest to anyone heading that way who wishes to escape alive to return home.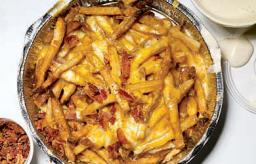 Now, is that a dog's breakfast or what?  Have a peek at The Worst Food in America.  (More likely, the Worst Food on the Planet.)
If you're worried about travel safety, I'd avoid the Outback Steakhouse Aussie Cheese Fries with Ranch Dressing (Yes, kiddies, the USA does have an Austrialian-themed eatery.  It also features Koala Burgers.)  If you venture down this risky path, you will be down 2,900 calories before your main course arrives.
Tags:
america
,
aussie cheese fries
,
koala burgers
,
outback steakhouse
,
worst food