Posted in
Hash
,
Madang Happenings
,
Parties
on November 5th, 2007 by MadDog
This from Bigus (Shane McCarthy):
Madang Hash House Harriers (Madang H3) had their 1200th run on Saturday 3rd November. Normally Madang H3 runs on Monday nights except for big "Jungle Runs" like this, when we run on weekends.

Twelve hundred runs represents twenty-four years of Hashing in Madang – not bad for a bunch of "Drinkers with a Running Problem"!

Twenty-four of us assembled at the Madang Club and were marshalled onto a truck being driven by "Nob."  All the regulars were there, Biggus Dickus, Pocohontas & Family, Cum, Goanna & Family, Snob, Earful, Earless, Barbie and Questionmark. Bondage & I Cum Once came later. We were also joined by some "New Footprints":  Ilene Dover, Joachum, and Henau & Kimberley.

We travelled to Gum Village, where the run was to start. Our "Hares", Barbie & Biggus, gave us directions and off we went at lightening fast pace on "Flour" as our marker.

Our run took us along the Gum River, through villages (where the local kids joined us), then through thick jungle. After an hour we came to a clearing where a soccer field had been carved into the jungle. Thanks to our local guide Aki Melling.

We had a couple of well deserved "Cold Drinks" here, then climbed back on the truck to head back to the Madang Club for the "Circle." The Circle is the place where we enjoy "Down Downs", which are charges levelled at us for indiscretions on the run.

A geat day (and nght) was had by all – just ask the New Footprints how much fun Hash is!

Madang H3 meets every Monday at 5:30 P.M. If you enjoy a walk & a bit of social itertaction, please join us.

Enquiries to Biggus (Shane McCarthy) – 852 2499 or email: madang@lbcgroup.com.pg
Here's a photo of some action along the run.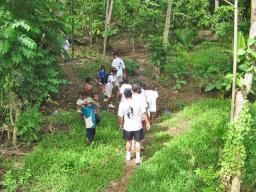 This is the group at the finish along with the local people.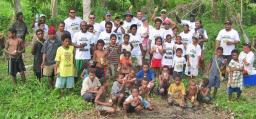 Here's the circle of Hash-folk at the aftermath do at the Madang Club.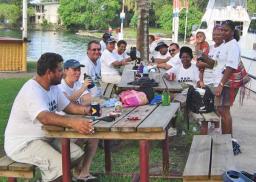 Cheers!
Tags:
bigus
,
Hash
,
hash house harriers
,
shane mccarthy