Posted in
My Garden
on December 25th, 2011 by MadDog
I've been keeping a low public profile since I left Sedona on a snowy day in early December. After a couple of nights of layover time in Brisbane I arrived in rainy Madang and began to trudge through the seemingly endless list of tasks which will allow me to exit my home town of thirty years. I was planning to take some pictures of the inside of my house before I left, but I watited too long. It is now in a sorry state. I have to avert my eyes from the bare walls, empty shelves and vacant bookcases. It is not the home I once thought. I discovered late in life that home is not a place or a house. The old expression seems trite – home is where the heart is – but it is profoundly true.
My garden is still a cheery place. I've enjoyed several quiet walks there, accompanied by my trusty old Canon G10. I sold my G11 and its underwater housing. I was going to sell the G10 and housing also, but I think I'll keep it. I seriously doubt if I'll ever dive again, but it's possible. The G10 will make a great camera for Grace. She wants something that will let her grow. It's a perfect camera for an enthusiastic amateur. I can't see much sense in letting it set on a shelf while spending the money on a new G12. For most shots the difference in the images is undetectable.
You won't be able to tell much about cameras from these shots. They all have been heavily Photoshopped for "artistic" purposes. This hibiscus has been smoothed, despeckled, outlined, enlarged, shrunk, posterized and massaged in other ways until it bears little resemblance to a photograph: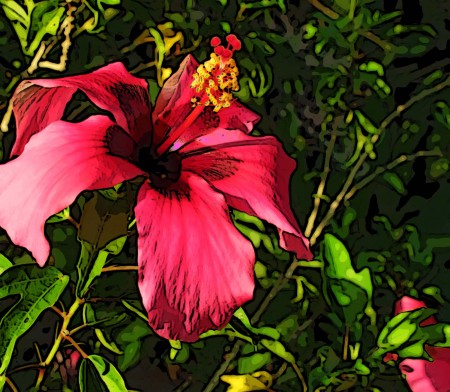 And the spider in this shot has been stretched, sharpened and colorized within an inch of its life: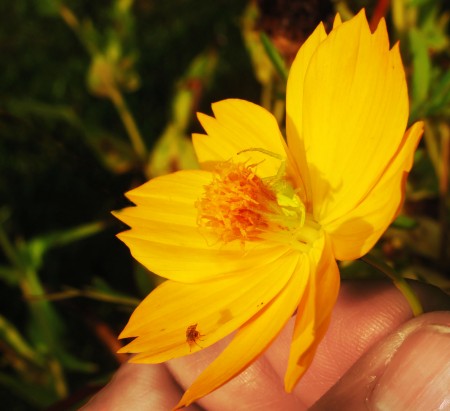 The colors in this shot are nothing like the original photo, but the grasshopper looks exactly as it does in my head: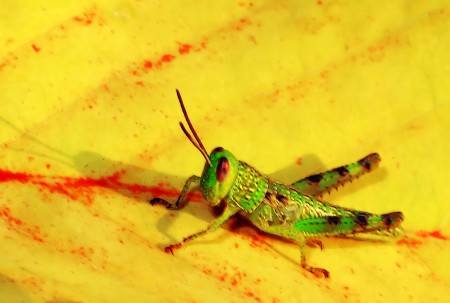 I wanted a grasshopper which might take up residence behind the looking glass.
These jasmine flowers smell so sweet as to make the head spin. They affect me much the same as orange blossoms: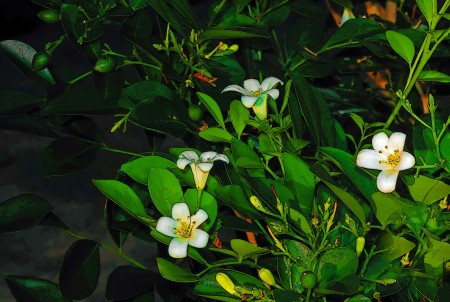 I remember driving once through an orange grove with Eunie and getting so light-headed from the intensity of the aroma that I had to ask her to drive.
This night-blooming jasmine has much the same effect on me. After nine in the evening stepping out my front door is a mind-bending experience: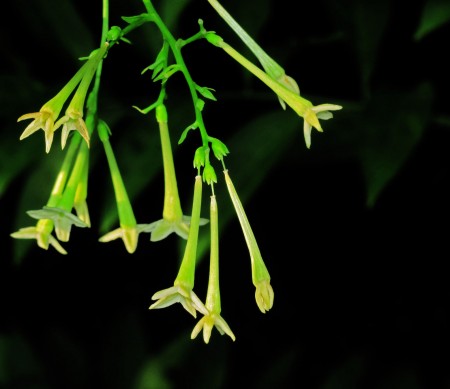 Visceral experiences are common here in the belly of the tropics. Redundant as that might be linguistically, the metaphor holds true. I find the high desert austere in comparison. That is not a measure of value, but an observation upon which I need to reflect so that I may learn to appreciate it and discover its secrets. When I arrived in Madang I was a gawker. I could not appreciate it properly because I had so little knowledge. As I gain knowledge of my new environment I will come to love and appreciate it as much as I ever have loved and appreciated Madang.
Lush . . . the word which comes to mind so often. Bathed in perfume and perspiration – I'm enjoying being wet again – I stand in simple awe of the outrageous palette displayed by humble vegetation: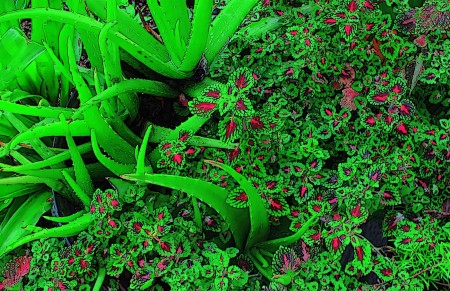 A little super-virgin olive oil with a dash of balsamic . . . voila! A tasty and festive salad. I wonder what coleus tastes like?
I am having little trouble bidding goodbye to most things in Madang. Friends are the hardest . . . Some things I won't miss:  melting roads with potholes so deep that you have to turn your lights on, power outages that are timed by Satan himself, phones that work when you don't need them . . . the list goes on. I'll live without my boat. I can survive quite happily in the absence of the verdant landscape. Diving gave me decades of fun and learning, but I will find other pleasant pursuits. I think that when I look back over a few years to catalog the things I miss the few pages will be occupied with simple notations of things I thought of as uniquly mine. My smart, pretty dog, Sheba, my lovely house, my orchids in my garden: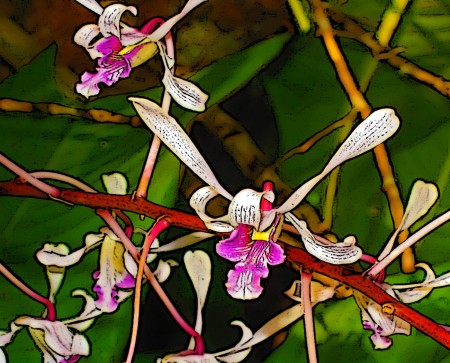 The funny thing about this is that you can't really own any of these things. The way things are going today I sometimes wonder if we can own anything. Maybe some of us are beginning to realize that is it just so much stuff. It's not the actual stuff that is of value. The value lies in the feelings we get from thinking that we own it and it is ours. It's my stuff. It's your stuff.  It's good stuff . . .
Ah, well, since it's only the feelings and memories that get the endorphins flowing freely, juicing me up nicely and making me jingle like a pocket full of silver dollars, I'm going to develop a philosophy of Gratification by Means of Virtual Ownership.
I'm going to start with a virtual spin in my new virtual Corvette on the virtually smooth North Coast Road.
See you later . . .
Tags:
coleus
,
grasshopper
,
hibiscus
,
madang
,
orchid